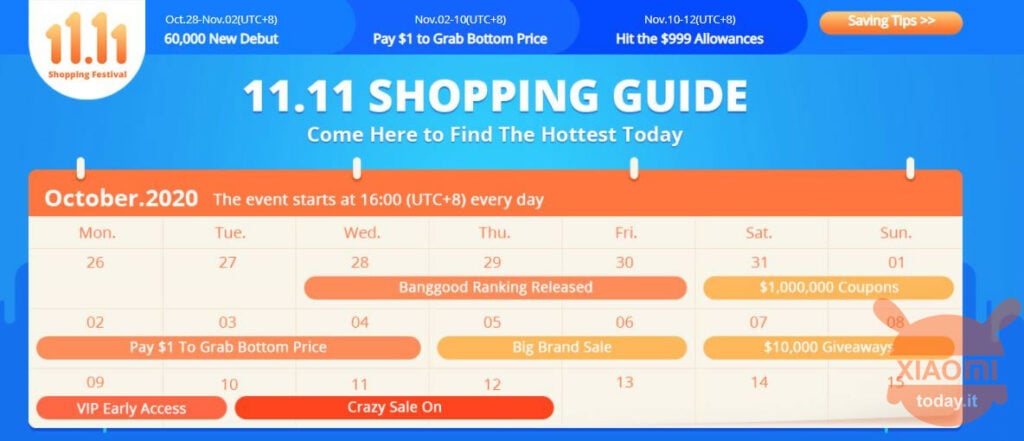 As November approaches, Banggood, one of China's most popular online shopping platforms, will hold a big sale called Banggood 11.11 Shopping Festival which will start on October 28th and end on November 12th.During this grand annual shopping carnival, the shopping benefits and discount rate will break previous records to bring you the best prices. For example, $ 1.000.000 worth of coupons Rain (the famous "Coupon Rain") will be distributed. In addition, Banggood's most popular brands such as Xiaomi, Blitzwolf, DJI will offer you mouth-watering discounts with discounts of up to 70%. Furthermore, the benefits of the Sale are not limited to these brands. Additional shopping discounts and coupons will be prepared for you in many ways and the shopping service will be improved as it aims to take the shopping experience to the next level this year.
During this 16-day sale, Banggood 11.11 Shopping Festival will be scheduled in three different phases:
La first stage (October 28 to November 2) will show you the list of products from the Banggood "hot" seller ranking, the list of the most popular products and the product list of the official Banggood ranking, where all the best products will be offered with unprecedented excellent discounts (on average up to 60%).
La second stage (November 2nd to November 10th) will amaze you with the most advantageous offer as you can pay a deposit of $ 1 or $ 3 to reserve the item of your choice and you will get a higher discount than ever to purchase it. For example, Xiaomi Fimi X8 if 2020 and Creality 3D® Ender-3 V2 3D Printer Kit. Not to mention the high discounts. Also, the $ 1.000.000 coupon rain will be released to contribute to the best shopping party and here you could walk away with $ 999 off.
The first wave of "coupon rain" will start on 2nd and end on 10th November. At this stage, the main sales page is also available, with all product categories available. Here you can find some of the best deals, some examples: Zeblaze GTS Smartwatch is offered for only $ 19,99. And ZLRC SG906 PRO, equipped with a three-axis mechanical self-stabilizing gimbal which can bring you the best shooting experience. During this time, it will release for just $ 149,99, which is $ 100 less than the full price.
E the third phase (from 11 November to 12 November) will be the one you really can't miss! From the "Double Eleven Sale" downturn you will find hundreds of unmissable Coupons, certainly better than the most famous Black Friday.
Therefore, the advice is to follow all the events and to save the link of the 11.11 Festival Halls
🗓From October 28 to November 12🎊🎊🎊
14 special sections will be launched in sequence
Do you want to know what surprises there are? 💻⌚️🪐🎥🔌
👇Click the HELP PAGE for details !!!
????【Big Sale Guide】(I.e.
THU➡https://xiaomi.today/37SKNeU
🏮The first phase has begun! 🪐🎈✨
🔔 【New Arrivals Section】 🥳
Ranking of new arrivals!
THU➡https://xiaomi.today/3oA8YEB
🔔 【Bestsellers Section】 🤩
Ranking of the most sold!
THU➡https://xiaomi.today/3oEGJVi
🔔 【Most Popular Section】 🥰
Lists of the most popular
THU➡https://xiaomi.today/35EVK0M
🔔 【Global Trend Section】 😎
Banggood official recommendation
THU➡https://xiaomi.today/3mqoSzE
🔔 【Coupon Center】 🤑🎁🎁
$ 100,000 coupon coming out now!
THU➡https://xiaomi.today/37TlARw