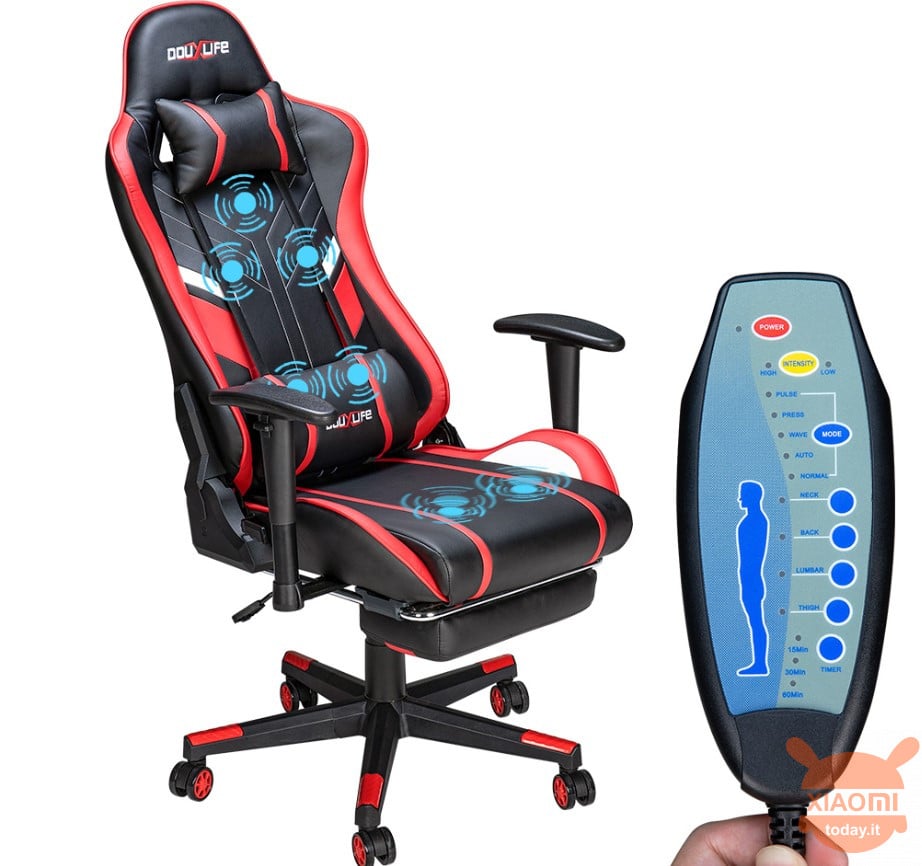 Are you interested in OFFERS? Be smart and subscribe to our Telegram channel! Lots of discount codes, offers, pricing errors on technology from Amazon and the best online stores.
€110 €244
GOOD BANG
🇪🇺Fast Shipping from Europe Included (No Customs)
Massaging Gaming Chair Douxlife GC-RC03 reclining up to 175 ° degrees, with lumbar cushion, headrest, retractable footrest, adjustable height, with 5 massage modes on Neck / back / lumbar / thigh.
specifics:
Brand: Douxlife
Model: GC-RC03
Material: Custom PU upper material / high density stereotype cotton
Reclining: Max 175 °
Height adjustment: 10 cm
Cushions: removable headrest and lumbar cushions
Maximum load: 330 lbs
Massage function:
Part: Neck / Back / Lumbar / Thigh
Modes: Pulse / Pressure / Wave / Auto / Normal
Times: 15/30/60 Min
Features:
[MASSAGE] The perfect fusion of gaming chair and massage chair. Handle control, seven intelligent massage elements, five massage modes, four massage parts switching, three time controls and two intensity controls. Allowing you to enjoy the most formal and professional massage therapy while you work and have fun.
[MULTI-FUNCTIONS] This is a game chair with footrest and a game chair with massage function. Comfortable and ergonomic design, the product has the features of 360 degree rotation, adjustable height (10cm), retractable footrest, adjustable headrest, angle adjustment (max 175 °), tilt mechanism. This reclining chair can offer the most comfortable experience whether it is used in the office or in the game and double your efficiency.
[MATERIAL] Brand new updated custom material. The inside of the gaming chair is filled with high-density styling sponge and new custom PU leather, which is more breathable and comfortable even after sitting for a long time without deforming.
[SAFETY] The bottom is made with a high quality steel forged frame, which has excellent bearing capacity. It can easily hold adults weighing 150kg / 330lbs. Two control bars provide a safe and stable seat lift function and a backrest angle adjustment function. The thickened support frame ensures the stability of the chair and the thickened steel frame ensures the reliability of the chair.
[WARRANTY POLICY] Shipping from CZ, 5-7 working days. After receiving the product, if you have any questions, please contact us in time, we will reply you within 24 hours. Product warranty period: ONE YEAR