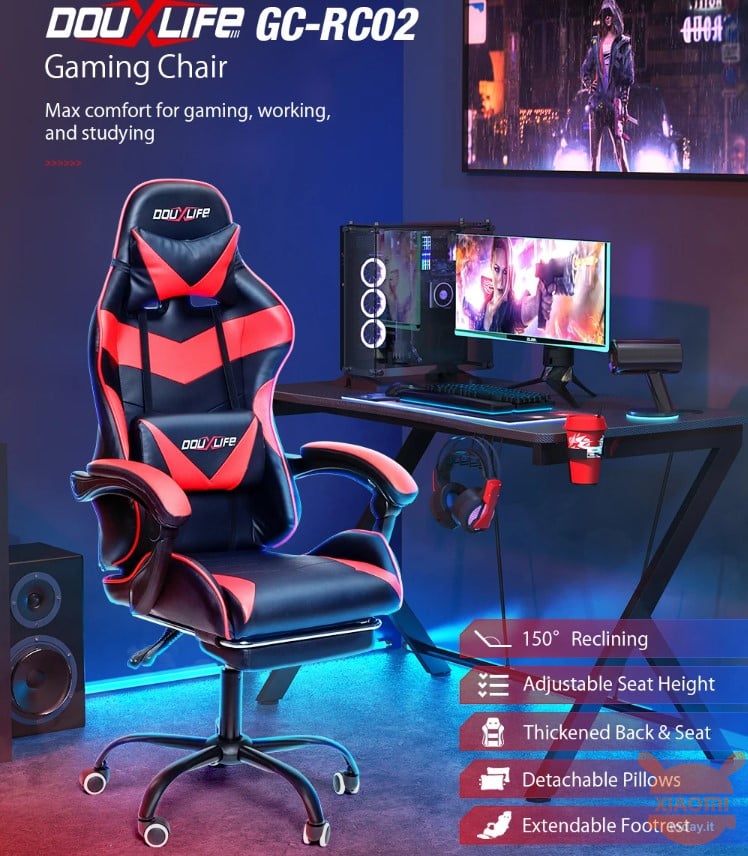 Gaming chair Douxlife GC-RC02 reclining up to 150 degrees, with lumbar cushion, headrest, retractable footrest, adjustable height.
Features:
- 150 ° Max Reclining: Extreme comfort for every demand.
- Adjustable Seat Height + 360 ° Swivel: Designed to meet your desired position.
- Thick Padded Back: Raw cotton, soft and skin-friendly, breathable and hygroscopic.
- 40cm Added Seat Cushion: Comfortable stereotype cotton.
- Retractable Thickened Footrest: Let you put up your feet and relax for hours.
- Removable Headrest & Lumbar Pillows
- High Strength Iron Frame
- Thick Explosion-proof Baseplate & 120mm Gas Lift Cover
- 32cm 5-Point Electroplating Legs
- PU Casters, Pass SGS and BIFMA 5.1 Test
Specification:
Brand: Douxlife
Model: GC-RC02
Material: High Quality Leather / Stereotype Cotton
Raeclining: Max 150 °
Height Adjustment: 11cm
Pillows: Removable Headrest & Lumbar Pillows
Maximum Load: 330lbs