18 March. 18 March. 18 March. ... ok maybe I exaggerated ... but this date is to be marked in red on the calendar because it is finally time for Xiaomi to unveil the redmi 7, Notes redmi 7 Pro (in China) and the new and highly anticipated Black Shark 2! In short, there will be fun!
XIAOMI Mi 9T 128GB BLACK - BLUE Global 6 / 128gb
ATGRATIS Shipping from Italy 24 / 48h

Let's put aside that slight sense of envy for Beijing's Xiaomi friends who will be able to watch what will surely be a conference to remember and let's focus on the devices that will be revealed. I would start from what many are waiting in Italy, or the Notes redmi 7 Pro.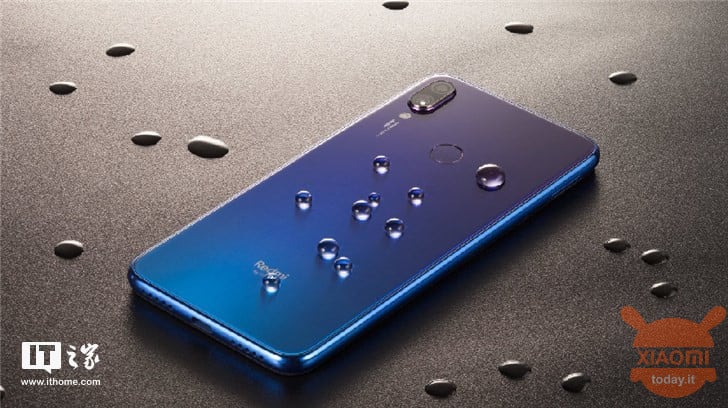 Redmi Note 7 Pro: first flash salt to scream!
The first flash salt for the Redmi Note 7 Pro in India lasted only a few seconds. For the uninitiated, in fact, India was the first country to see the Pro version of the device that Xiaomi yesterday presented in Milan marketed - here for more details. In this case defining it as "Pro" is really a must since, unlike the standard variant, it has some features that stand out: processor new generation, water repellent treatment and 128 GB of internal memory exclusively present on this variant, make the Notes redmi 7 Pro the real best-buy!
We will not go back to the excellent features of the phone, but we emphasize a feature that has remained muted: indeed, let's let the image speak for itself ...
What you see on the right is the coating on the back of the Redmi Note 7 Pro. The patented system is called P2i and nothing more than a film of polymers with the thickness of 50 nm capable of rendering the device water repellent. In this way, Xiaomi ensures that you will avoid damaging buttons, antennas, speakers and internal components without compromising functionality.
Technical sheet Redmi Note 7 Pro
SoC Snapdragon 675 - Octa-core (2 × 2.0 GHz Kryo 460 Gold & 6 × 1.7 GHz Kryo 460 Silver)
6.3 Display ″ (1080 x 2340 - 19.5: 9)
Adreno GPU 612
RAM and Storage: 4 / 64 GB and 6 / 128 GB (expandable with microSD up to 256 GB)
Rear camera: 48 MP, f / 1.8, 1 / 2 ″, 0.8µm, PDAF + depth sensor from 5 MP, f / 2.4 with Dual Flash Led (video recording in 4K @30fps)
Front camera: 13 MP, f / 2.2, 1.25 µm
4000 mAh battery with 4.0 Quick Charge
MIUI 10 with Android Pie
Hardly the prices seen in India will be respected in the European market, but for the record we tell you that the 6 / 128 GB version of the Redmi Note 7 Pro was put on sale at around 210 euros (1600 yuan), while the 6 / 64 GB to 170 euro (1300 yuan). Probably in Italy we will see an increase of around 50 euro considering that the 6 / 64 GB version of Redmi Note 7 has been launched at 199 euro.

Redmi 7: a Redmi Note 7 Pro under the 100 euros?
Agree. The comparison is really a gamble considering the specifics of the two devices, but woe to consider the redmi 7 a trivial low-end ...
Lo Snapdragon 632 which should be confirmed on board the new Xiaomi "small" is the natural evolution of the appreciated SD 430 (Redmi 4 / 4X) and of the SD 450 (Redmi 5). Instead it is detached from the choice that the company had made with Redmi 6: the presence of a MediaTek was considered a very ambiguous choice at the time and, in view of some statements made by Xiaomi executives, it seemed strange last year that had turned back.
Here then that Redmi returns to focus on Snapdragon with a device that promises to be absolutely cheap. There is indeed talk of less than 670 yuan for the launch in China of the next 18 March, for a price that in Italy will be around 100 euros or a little more: I don't think there is anything to add, except that a device of this range has this price could become for many the forklift to keep always with them.
Xiaomi Black Shark 2: new modes but also innovation!
And we come to the hot moment of the presentation which we will witness in a few days. Black Shark 2, the second edition of the Xiaomi gaming smartphone.
Among the exciting new features we find the new liquid cooling system that Xiaomi introduced inside the body: unlike the previous model, this time the CPU will not be cooled exclusively but the dissipating circuit will be distributed on all the hardware components. And if we add that the technology of realization of the processor (Snapdragon 855) is that of the 7 nm, we can really expect extreme temperatures ... down!
In addition to these innovations, Wu Shimin, CEO of Black Shark, promises to launch a device that can fully enjoy the gaming experience, without compromise and without worrying about battery life. Among the posts published on Weibo by the official Black Shark channel, in fact, much has been insisted on the fact that effects of gaming on the battery have been reduced by 60%.
We do not know precisely how Xiaomi wanted to act on this aspect and therefore we can only wait to discover together what will be the launch price of the new Black Shark 2, hoping that it will have greater diffusion also from us in Europe.