18 marzo. 18 marzo. 18 marzo. …ok forse ho esagerato… ma questa data è da segnare in rosso sul calendario perché è finalmente arrivato il momento per Xiaomi di svelare il redmi 7, Notes redmi 7 Pro (in China) and the new and highly anticipated Black Shark 2! In short, there will be fun!
Let's put aside that slight sense of envy for Beijing's Xiaomi friends who will be able to watch what will surely be a conference to remember and let's focus on the devices that will be revealed. I would start from what many are waiting in Italy, or the Notes redmi 7 Pro.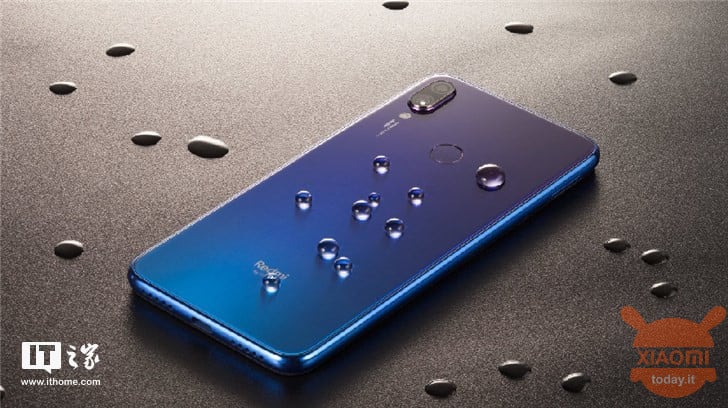 Redmi Note 7 Pro: first flash salt to scream!
E' durato solo pochi secondi il primo flash sale per il Redmi Note 7 Pro in India. Per chi non lo sapesse, infatti, l'India è stato il primo Paese a vedere commercializzata la versione Pro del device che ieri Xiaomi ha presentato a Milano – qui per l'approfondimento. In questo caso definirlo "Pro" è davvero un must in quanto, a differenza della variante standard, possiede alcune caratteristiche che spiccano: processor new generation, water repellent treatment and 128 GB of internal memory exclusively present on this variant, make the Notes redmi 7 Pro the real best-buy!
Non ci addentreremo nuovamente sulle ottime caratteristiche del telefono, ma sottolineiamo una caratteristica che è rimasta in sordina: anzi, lasciamo parlare l'immagine..
What you see on the right is the coating on the back of the Redmi Note 7 Pro. The patented system is called P2i and nothing more than a film of polymers with the thickness of 50 nm capable of rendering the device water repellent. In this way, Xiaomi ensures that you will avoid damaging buttons, antennas, speakers and internal components without compromising functionality.
Technical sheet Redmi Note 7 Pro
SoC Snapdragon 675 – Octa-core (2×2.0 GHz Kryo 460 Gold & 6×1.7 GHz Kryo 460 Silver)
Display da 6.3″ (1080 x 2340 – 19.5:9)
Adreno GPU 612
RAM and Storage: 4 / 64 GB and 6 / 128 GB (expandable with microSD up to 256 GB)
Fotocamera posteriore: 48 MP, f/1.8, 1/2″, 0.8µm, PDAF + sensore di profondità da 5 MP, f/2.4 con Dual Flash Led (registrazione video in 4K @30fps)
Front camera: 13 MP, f / 2.2, 1.25 µm
4000 mAh battery with 4.0 Quick Charge
MIUI 10 with Android Pie
Hardly the prices seen in India will be respected in the European market, but for the record we tell you that the 6 / 128 GB version of the Redmi Note 7 Pro was put on sale at around 210 euros (1600 yuan), while the 6 / 64 GB to 170 euro (1300 yuan). Probably in Italy we will see an increase of around 50 euro considering that the 6 / 64 GB version of Redmi Note 7 has been launched at 199 euro.

Redmi 7: a Redmi Note 7 Pro under the 100 euros?
D'accordo. Il paragone è davvero un azzardo considerando le specifiche dei due device, ma guai a considerare il redmi 7 un banale low-end…
Lo Snapdragon 632 che dovrebbe essere confermato a bordo del nuovo "piccolo" di Xiaomi è la naturale evoluzione dell'apprezzato SD 430 (Redmi 4/4X) e dello SD 450 (Redmi 5). Si distacca invece dalla scelta che l'azienda aveva fatto con Redmi 6: la presenza di un MediaTek venne considerata una scelta molto ambigua all'epoca e, in ottica di alcune esternazioni fatte dai dirigenti Xiaomi, sembrava strano già l'anno scorso che si fosse tornati indietro.
Here then that Redmi returns to focus on Snapdragon with a device that promises to be absolutely cheap. There is indeed talk of less than 670 yuan for the launch in China of the next 18 March, for a price that in Italy will be around 100 euros or a little more: I don't think there is anything to add, except that a device of this range has this price could become for many the forklift to keep always with them.
Xiaomi Black Shark 2: new modes but also innovation!
And we come to the hot moment of the presentation which we will witness in a few days. Black Shark 2, the second edition of the Xiaomi gaming smartphone.
Among the exciting new features we find the new liquid cooling system che Xiaomi ha introdotto all'interno della scocca: a differenza del precedente modello, questa volta non verrà raffreddata esclusivamente la CPU bensì il circuito dissipante sarà distribuito su tutti i componenti hardware. E se aggiungiamo che la tecnologia di realizzazione del processore (Snapdragon 855) è quella dei 7 nm, possiamo davvero aspettarci temperature estreme …verso il basso!
In aggiunta a queste innovazioni, Wu Shimin, CEO di Black Shark, promette di lanciare un dispositivo in grado di far godere appieno dell'esperienza gaming, senza compromessi e senza preoccuparsi della durata della batteria. Tra i post pubblicati su Weibo dal canale ufficiale Black Shark, infatti, si è insistito molto sul fatto che gli effects of gaming on the battery have been reduced by 60%.
We do not know precisely how Xiaomi wanted to act on this aspect and therefore we can only wait to discover together what will be the launch price of the new Black Shark 2, hoping that it will have greater diffusion also from us in Europe.