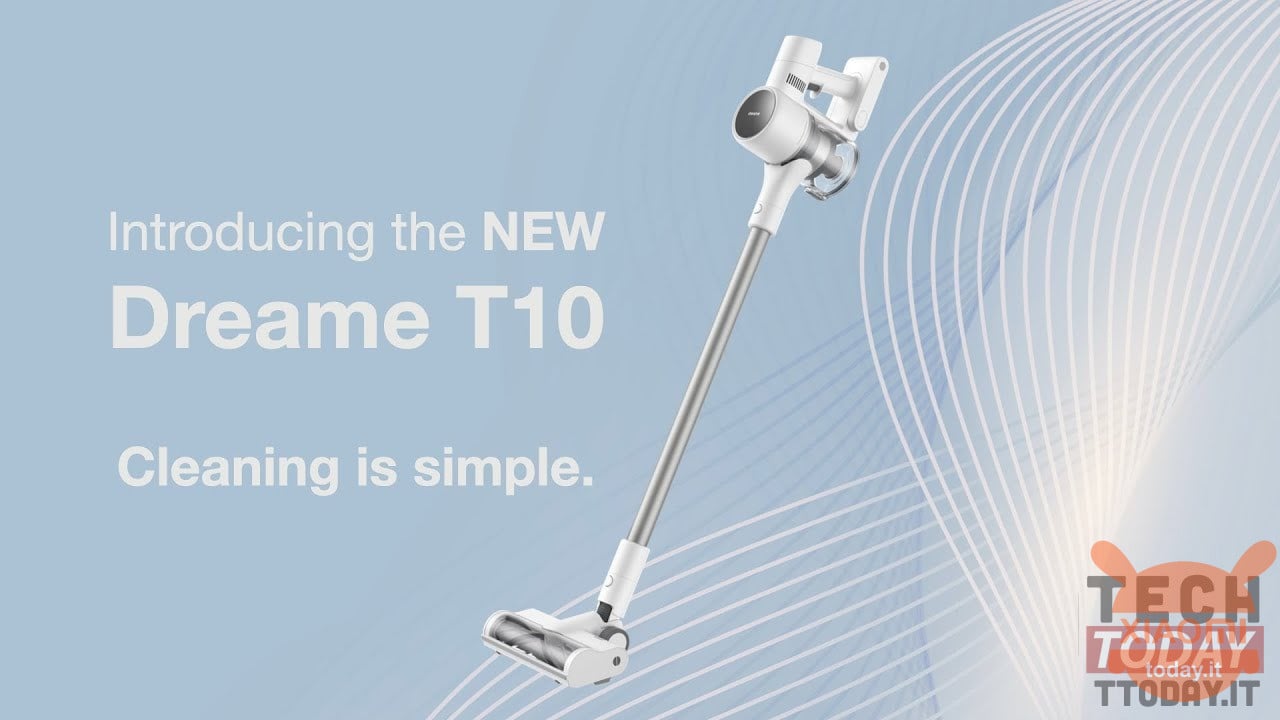 Are you interested in OFFERS? Be smart and subscribe to our Telegram channel! Lots of discount codes, offers, pricing errors on technology from Amazon and the best online stores.
Dreame T10 Wireless Vacuum Cleaner with 100000rpm high-speed motor, 20000Pa / 120AW suction power, 60 minutes autonomy, HEPA filter, noise reduction technology, complete with accessories.
Key Features:
● Powerful suction: 20000 Pa, uses super powerful motor with powerful suction, more useful for renewing dirty floor and keeping home clean.
● V-shaped brush for all types of floors: impressive floor cleaning performance to meet your needs.
● 60 minute battery life: 2500mAh high quality batteries and intelligent power system, the vacuum cleaner controls the current output steadily and effectively without suction loss.
● Electronic automatic lock: change the working mode according to various cleaning needs with a simple touch. Easy to use, capable of handling larger area cleaning and separate cleaning tasks.
● Replaceable Lithium Battery Pack: Purchase the large capacity replaceable standby battery to double the range. Clean up to 240 m² of space.
● 12-Cone Self-Cleaning Cyclone System: I t can reach the dust rate and air separation up to 99,63% simply through the blast of air. Such a strong centrifugal force can effectively shake the pollutant and dirt in the dust cup without blocking the filters.
● Up to 99,9% of the mite removal rate: the Powerful suction effectively removes allergens such as dust, mites and dandruff in all types of surfaces, including beds, sofas, fabric furniture, etc.
● Lightweight design: the device is light up to 3,64 lbs. With its center of gravity at the rear of the handle, the design is ergonomic
● Low noise: clean quietly with less disturbance for family and pets.
● Dust cup large capacity from 0,6 liters: la higher capacity captures more dirt and bacteria. When unloading, simply click the release button without touching any pollutants. The dust cup is also removable and can be rinsed with water to keep it clean.
Specifications
Brand: Dreame
Model: T10
Voltage: 110-240V
Power: 400
W Suction power: 120 AW
Vacuum degree: 20000 Pa
Charging time: 3,5 hours Working time: 60/28/8
min Gear adjustment: 3-speed dust cup capacity: 0,6L
Noise: 84dB
Battery information
Battery type: Li-ion battery Battery capacity: 2500mAh
Dimension
Main Unit Weight: 1,65
kg Package weight: 6,2 kg
Package dimensions: 76,20 x 33,80 x 15,00 cm
Package Contents
1 x vacuum cleaner, 1 x extension rod, 1 x 2-in-1 brush, 1 x extension tube, 1 x crevice nozzle, 1 x 2-in-1 wall mount, 1 x V-shaped roller brush, 1 x electronics Mite removal brush, 1 x manual, 1 x EU plug (we will send you an adapter which according to your country)