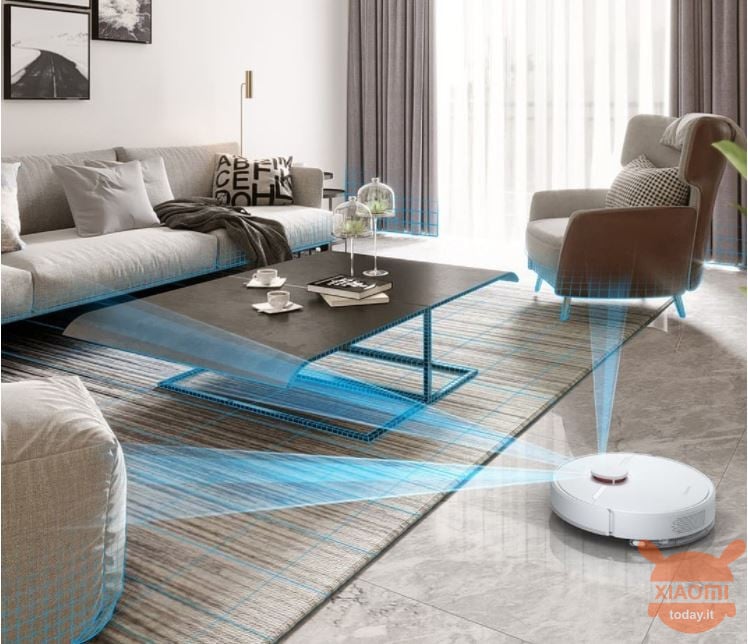 Dreame D9 robot vacuum cleaner with LIDAR navigation + SLAM algorithm, 3000Pa suction power, 2 in 1 cleaning and washing, 270ml tank, 5200mAh battery with intelligent management, app control, compatible with Amazon Alexa.
Dreame has integrated a Japanese NIDEC motor into its robot vacuum cleaner which is capable of delivering super powerful 3000Pa suction. It is therefore able to remove dirt and thoroughly clean the floor and your carpets. To do this, it has 4 modes.
The side broom has a speed of 190 rpm, which allows it to collect every corner of the dirt. The microfiber roller brush is large enough to collect all the dust on the floor or carpets. And the 570ml dust container has double filtration of particles down to 0,3 µ.
The brand has decided to offer a 2-in-1 model which therefore has the cleaning function. The electronically controlled 270ml water tank has leak proof water control technology. It has 3 levels of water flow which can be easily changed via the Xiaomi Home APP (Low, Medium and High).
The cleaning cloth is made of super dense microfiber. Provides antibacterial cleaning that removes 99,99% of bacteria for a healthier cleaning experience.
4 levels of suction modes with a suction power of up to 3.000Pa
5.200 mAh battery for an operating time of up to 2,5 hours; and further extended when combined with the "Smart Top-up" function. This feature allows the Dreame D9 to recharge for more power during a cleaning session; and continue cleaning when the appropriate battery level is reached.
A 570ml dustbin and a 270ml smart electric water tank with adjustable water level for more precise cleaning.
The removable microfiber roller brush can be easily disassembled for easy access to remove tangled hair and for general maintenance.
Specifications
Brand: Dreame
Type: Robot Vacuum Cleaner
Model: D9
White color
Suction (pa): 3000Pa
5200mAh battery capacity
Water tank capacity: 270ml
Powder container capacity: 570ml
Noise (dB): 65dB
Package Contents:
1 x Robot vacuum cleaner
1 x Side Brush
1 x power adapter
1 x Mop Rack
1 x Waterproof Pad
1 x Manual