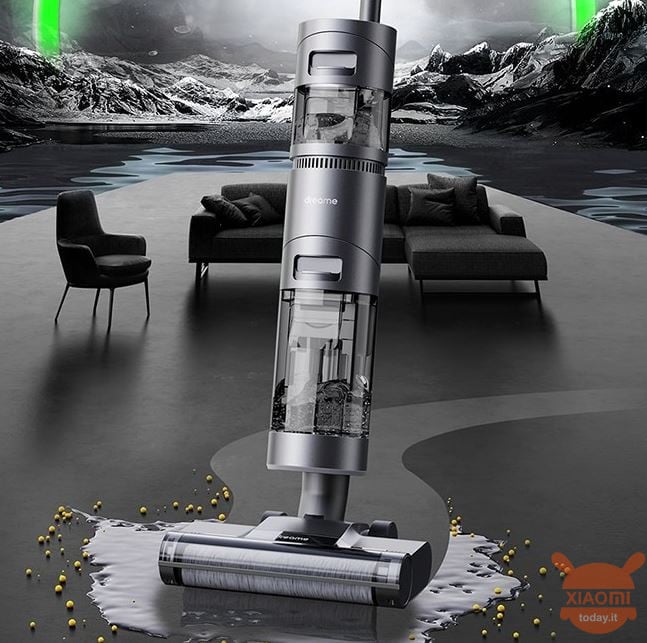 Dreame H11 Max Wireless Vacuum Cleaner with suction, cleaning and washing functions, self-cleaning of the roller brush with a single button, 900 ml water tank, 36 minutes of autonomy, LED screen.
Main features
1. Suction, cleaning and washing in a single gesture to offer efficient and powerful cleaning
2. Self-cleaning of the roller brush with a single button
3. Large water tank and long life for uninterrupted cleaning
4. Dry & Wet brushless motor, which simultaneously removes dry and wet waste
5. Multiple noise reduction engineering, reducing noise to just 76dBA
6, Dirt and stain sensors, frequency conversion suction adjustment
7, intelligent LED display, clear machine status at a glance
8. Intelligent voice assistant, for clear and precise guidance
Erase household messes, both wet and dry.
Vacuum and clean at the same time by brushing the floor 560 times per minute. Especially useful for the bathroom, kitchen and balcony. With Dreame Cleaning Solution * in the box, your floor is even cleaner than it looks. Cleans with the best possible suction
In Auto mode, H11 Max adjusts the suction level based on the disorder detected by the sensors. The battery is spent wisely. Clutter is treated properly.
Self-cleaning, as long as it is switched on.
Only a clean brush cleans well. The scraper rubs the roller brush deep down to the root with one row of teeth. The mess is safely vacuumed, and the roller brush is cleaned during cleaning. With a simple click, the H11 Mas also cleans itself on the base.
Deep cleaning up to 200 square meters
There is no need to refill the water tank over and over again. H11 Max is equipped with a 900ml clean water tank that covers up to 200 square meters in the lowest water flow mode.
Runs for up to 36 minutes on a full charge.
With a battery capacity of 6 * 4000mAh, H11 Max is suitable for large houses. Receive a notification. Whenever you need.
Get a view of cleaning when the remaining battery, cleaning and working status are displayed on the LED screen. Voice prompts are also supported.
Powerful traction, incredibly easy to push.
Generated by the roller, there is traction in the front to help you effortlessly push the vacuum cleaner forward once it is turned on.
Easy to store, easy to load.
H11 Max can stand alone and be put away easily. Just put it back in the dock and charging starts right away. Aside from that, the charging dock also has extra space for storing accessories.
SPECIFICATIONS
Product Name: Dreame H11 Max Wet and Dry Vacuum Cleaner
The whole power of the machine: 200W
Running time: 36min
Clean water tank capacity: 900ml
Effective dirty water tank capacity: 500ml
Whole machine weight: 4.65kg
Dreame H11 Max Wet and Dry Vacuum