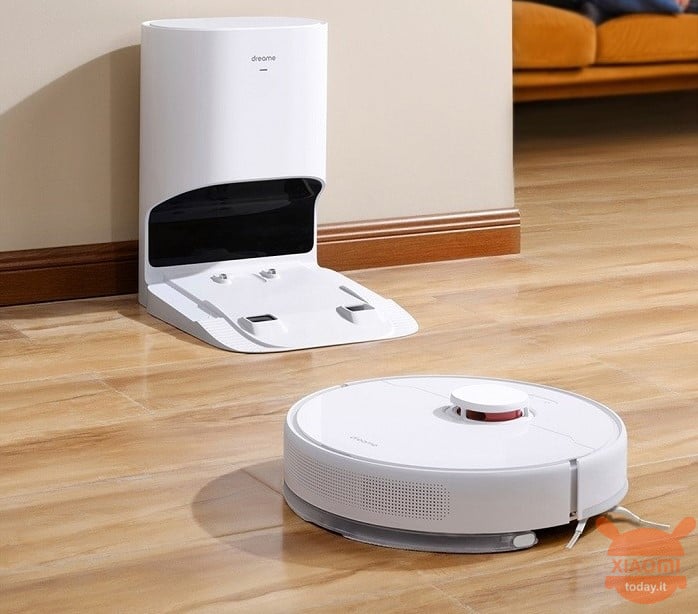 €379 €499
EDWAYBUY
🇪🇺Fast Shipping from Europe Included (No Customs)
Dreame Bot D10 Plus Robot Vacuum Cleaner Robot Vacuum Cleaner, 5200mAh Battery, LiDAR Navigation, Smart Charging Dock, 45 Days Automatic Dust Cleaning
Brand: Dream
Model: D10 Plus
Suction power: 4000 Pa
Power: 600 W
Dust container capacity: 400 mL
Water container capacity: 145 mL
Battery capacity: 5200mAh
Garbage bag capacity: 2,5L
Cleaning time of the dust container: 10 seconds
Cleaning area: 270 m²
Navigation: Laser 4.0 LDS
Vacuuming mode of carpets: yes
Voice control (Alexa, Google Assistant, xiaoai)
Dimensions of the vacuum cleaner: 352 x 350 x 96,8mm
Dimensions of the charging station: 303 x 403 x 299,2 mm
Control via app: Mi Home / Xiaomi Home
Self-cleaning system for dust perforation
Dreame D10 Plus Compared to the rest of the world, intelligent self-propelled vacuum cleaners are self-cleaning. With a capacity of 2,5 L, there is absolutely no need to think about emptying and cleaning the dust for 45 days.
During the process of vacuuming, cleaning the container and inserting the waste into the bag, users must absolutely not come into contact with the dust, everything takes place in a closed way, without causing odors and unpleasant odors. excess dirt for your home.
Similar to the D9, the D9 Pro or Z10 Pro are still compatible with the Mi Home smart home control application, so you can build a work map, create virtual walls, set up separate rooms / areas for the device. work fully automatically.
Another strong point of Dream D10 Plus is the ability to work extremely quietly and not annoying, since the noise emitted by the motor only reaches 65dB, completely creating a pleasant sensation for the user.
Strong suction, unique anti-tangle brush design
Inheriting the technology and design of other high-end Dreame robot models, the D10 Plus possesses a suction force of up to 4000 Pa, a much stronger force than other products in the same segment, which makes the D10 Plus easy to remove. . any dirt, hair loss or pet hair on the floor.
Design inherited from high-end product lines, hence D10 Plus Equipped with a 17cm long suction brush, the V-groove design makes it more difficult for the mop to get stuck, especially when operating in households with pets such as dogs and cats ...
The D10 Plus has a strong suction but also a large capacity water tank, which guarantees optimal floor cleaning and time savings. The 150ml water tank with 3 water drain levels can be adjusted via the app, allowing the user to customize the floor technique and humidity to their liking.
Dynamic mapping and intelligent route planning. precise positioning with LiDAR
Dreame D10 Plus uses a laser positioning technology called LiDAR, which helps the device determine the cleaning space with extremely little error, as long as you maintain the position of the furniture in the room. D10 Plus will work fine. On the other hand, if there is a change in the layout of the interior, the device will quickly update its memory and work properly.
This system is known to help analyze the environment in real time, overcome obstacles and more, create an efficient work path, save battery and clean completely.