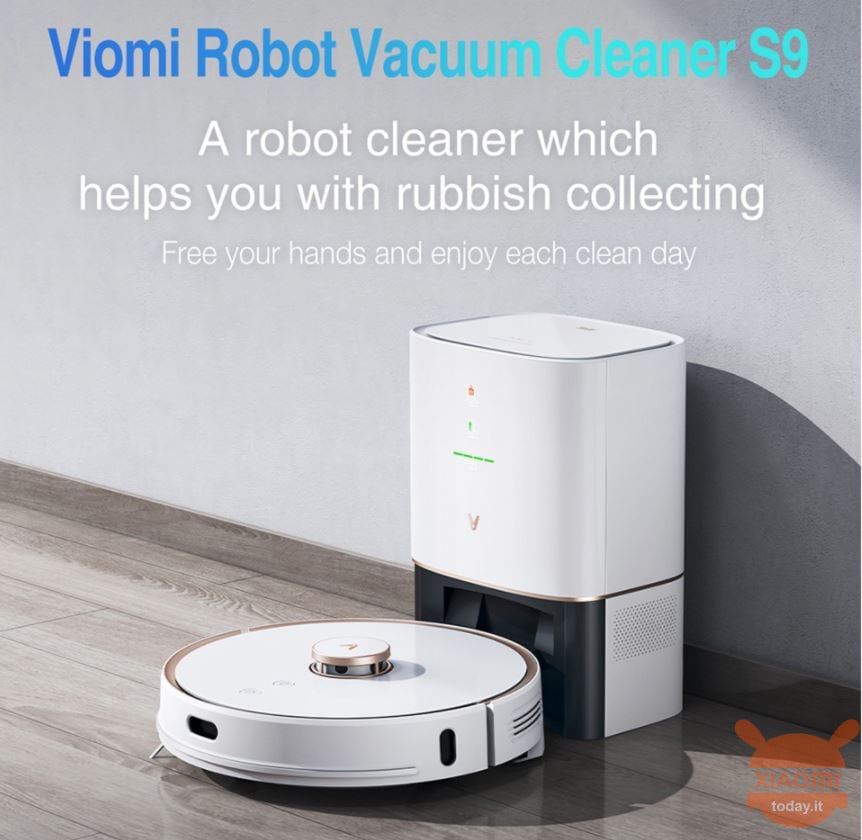 €341 €750
GEEKBUYING
🇪🇺Fast Shipping from Europe Included (No Customs)
Xiaomi Viomi S9 Floor Cleaning Robot with 2700Pa suction power, 950W automatic charging and collection station, 5200mAh battery, LDS 2.0, map saving, 3L collection capacity, 250ml water tank, app controls, Alpha UV sterilization with effectiveness 99.99%.
If you are a VIP user, apply HERE an additional 5% discount (you will find the coupon directly in the cart) to get it a €464
Main Features:
● UV sterilization effective rate reaches 99.99%
● Automatic dust collection, no need to empty the trash for 30 days
● Integrated sweeping, vacuuming and mopping, easy to clean stains
● Powerful suction of 2700pa, leave dust no place to hide
● 3L large capacity dust bag, change once a month
● Accurate and seamless connectior short air duct. High efficiency without clogging.
● 5200mAh Powerful and long-lasting battery
● Constant pressure electric control water tank to wet the floor properly
● LDS2.0AI laser mapping Multi-map storage, accurate restoration of the house type

Main Unit Specification
Brand: Viomi
Model: S9 UVVoltage: 110-240V
Power: 50W
Color: White / Black
Sweeping Time: 100-220min
Cleaning Area: 320m²
Charging Time: 300-360min
Noise: ≤70dB
Operation Speed: ≤0.3m / s
Climbing Ability: 2cm
Rpm of Fan Motor 15000 ± 10%
Suction: 2700Pa
Dust Box Volume: 300mlWater Tank Capacity: 250mlWater Volume Adjustment: 3gear
Support Cloth Type: Full Set Disposable Cloth APP: Mi Home
Voice Control: Google Assiatant & Alexa
Dirt Disposal Specification
Model: S9 UV
Voltage: 220V 10A
Power: 950W Frequency: 50 / 60Hz
Battery Information
Battery Type: Li-ion battery
Battery Capacity: 5200mAh
Size
Main Unit Product Weight: about 3.80Kg Package Weight: 11.3Kg
Main Unit Size: 35.00 x 35.00 x 9.80 cmDirt Disposal Size: 35.60 x 25.00 x 19.30 cm
Package Contents
1 x Main Unit, 1 x Dirt Disposal, 1 x Manual, 1 x EU Plug (We will send you an adapter which according to your country)