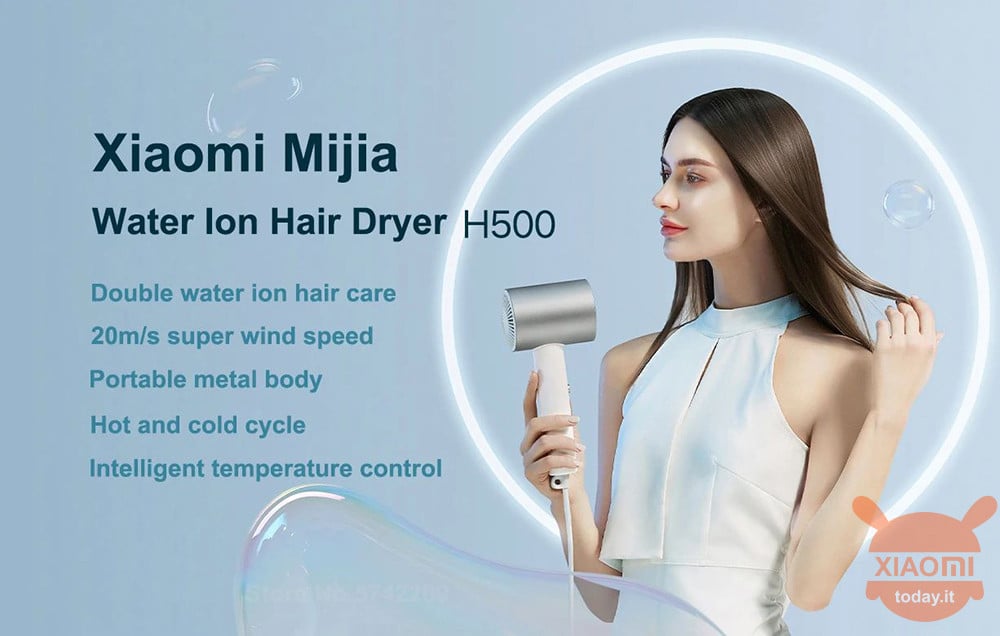 Are you interested in OFFERS? Be smart and subscribe to our Telegram channel! Lots of discount codes, offers, pricing errors on technology from Amazon and the best online stores.
Xiaomi Mijia H500 Water Ion Hair Dryer Intelligent cooling and heating cycle temperature control.
Highlights
Water ion hair dryer
The water ion hair dryer with built-in 2 generators produces over 10 million negative ions to neutralize hair static electricity and reduce frizz, making your hair smooth and shiny with shine and shine.
10 million negative ions
Water is condensed and atomized into nano negative water ions to blow directly to the hair root. Increases hair hydration by 26,47%, shine by 9,12% and elasticity by 11,86%.
Aerodynamic noise reduction
Each blade is professionally tuned by aerodynamic AC-DC conversion principle to blow a thinner wind, combined with the reduced air resistance design by an optimized air duct, the hair dryer blows an even, soft wind with less decibels.
Powerful airflow
20000rpm DC motor configured with 7-blade aircraft level turbine propeller to blow air which is then compressed into a cone shaped air duct to send an airflow of up to 20m/s. The high-speed airflow can dry your hair quickly without damaging it.
Without pain
It uses the glass bead heat sensor to accurately measure the temperature at the vent and adjust it in time to avoid damage to the hair and scalp for a comfortable hair drying experience.
Double layer magnetic insulating nozzle
The nozzle can be magnetically attached to the hair dryer and can be rotated through 360°. It helps deliver concentrated high-velocity airflow in one direction for pain-free drying and styling of hair with its double-layer insulating design.
3 overheating protections
NTC/precise thermostat can detect excessively high temperature and automatically cut off heating/cut off electricity; & safety protection blowing (melting) of fuse.
Hook and cord and anti clogging
Comes with a hook for compactly hanging the hair dryer; The extra-long 1,7m power cord allows you to plug in the hair dryer when the sofa or chair is away from the outlet or power strip. The built-in metal mesh prevents hair, dust, etc. being sucked into the blower, the front cover can be disassembled.