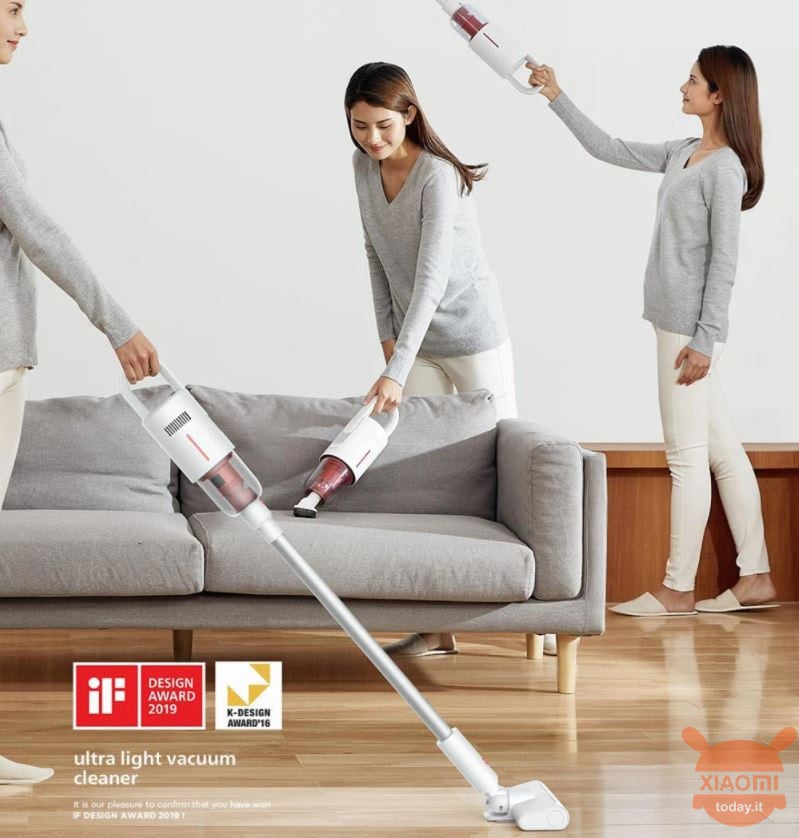 Deerma VC20 Plus Wireless Vacuum Cleaner with 150W motor, different modes of use, 22 minutes of autonomy, accessories.
Main Features:
● Engine Performance Upgrades: 150W high power, 35000rpm, motor power is increasing by 50%.
● Host <1kg: easy to lift high to clean up dust, clean corner gaps.
● Wireless Body: the simple outline lines of the fuselage won the German IF Design Award and The Korean K-Design Award.
● Upgraded Wiping and Sucking Dual-purpose Floor Brush: the floor brush has a built-in electric motor, which can be brushed 3000 times in 1 minute.
● Long Battery Life: 2200mAh large capacity, lasts 22 minutes on full charge.
● Patented Internal Cyclone: develop a new type of internal cyclone filtration method, no secondary pollution.
Specification
Brand: Deerma
Model: VC20 Plus
Rated Voltage: 14.4V
Rated Power: 150W
Dust Cup Capacity: 0.6L
Material: ABS / PCNoise: ≤80dB (A) Suction: 8000PaCharging Time: about 4.5 hours
Battery Life (standard gear / high-end): about 22 minutes / about 15 minutes
Rotating Speed: 35000rpm
Battery Information
Battery Type: Li-ion battery
Battery Capacity: 2200mAh
Size
Package Weight: 2.65kg
Product Size: 23.50 x 17.50 x 115.00 cm
Package Contents
1 x Host
1 x Take Over Components
1 x Floor Brush Assembly
1 x Two-in-one Flat Suction
1 x Small Brush
1 x Adapter
1 x Manual
1 x EUPlug (We will send you an adapter which according to your country)