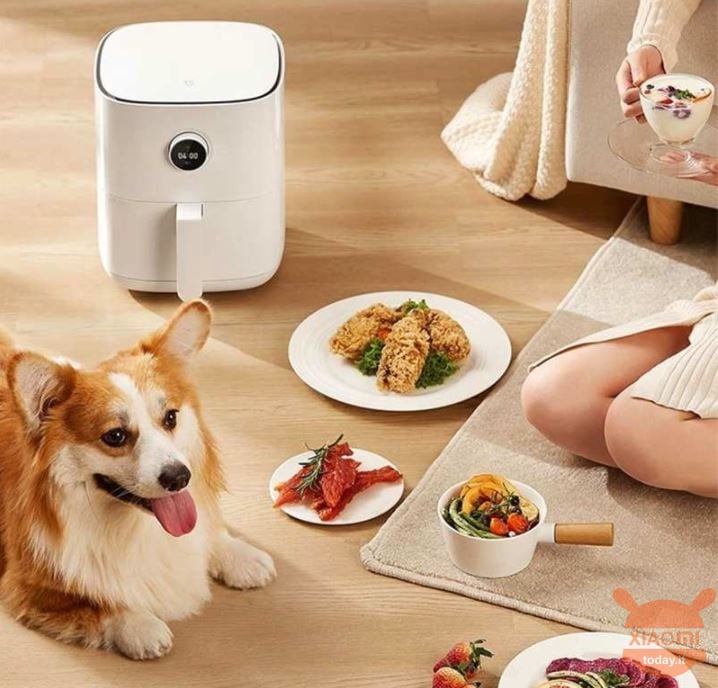 XIAOMI Mijia MAF01 Air Fryer with adjustable temperature, timer, automatic shutdown, OLED display.
Key Features:
● The air fryer uses up to 85% less fat than traditional fried food keeping the same delicious taste, you can enjoy the healthy food with the air fryer.
● You can preheat the unit or vilify the food with one touch or adjust the temperature and time more accurately to get the best cooking result. With a temperature range of 40 ℃ to 200 ℃, the Mijia air fryer allows you to grill, bake, fry and roast to your liking.
● The 3,5 liter square design basket allows for greater cooking capacity than the round ones, which can hold a whole chicken. With a dishwasher safe non-stick basket, cleaning is no problem.
● Has been connected to Mijia APP, with more than 50 kinds of preset recipes, including steak, poultry, seafood, shrimp, bacon, frozen food, French fries, vegetables, root vegetables, bread and desserts, which can meet your various needs.
Specifications:
Brand Name: XIAOMI Model: MAF01 Color: White Capacity: 3.5L Rated Power: 1500W Rated Voltage: 220V ~ Rated Frequency: 50Hz Plug: CN (We will send you an adapter according to your country.)
Size
Product weight: 3,90 kg Product dimensions: 30,40 x 25,20 x 33,50 cm
Package Contents
1 x air fryer 1 x grill rack 1 x fried plate 1 x manual 1 x power cord
Mijia Smart Air 3L Fryer
Oil-free and low-fat, a new choice for healthy cooking Air frying, baking, yogurt, dried fruit, defrosting Healthy frying 360 ° hot air circulation Combine multiple functions in one Yogurt maker, fruit dryer, microwave oven, electric oven Large temperature zone 40 -200C adjustable Variety of recipes Simple and easy to use Smart appointment 24 hours a day Make an appointment before going to bed Switch off When you take out the pot Keep up to date on the cooking status