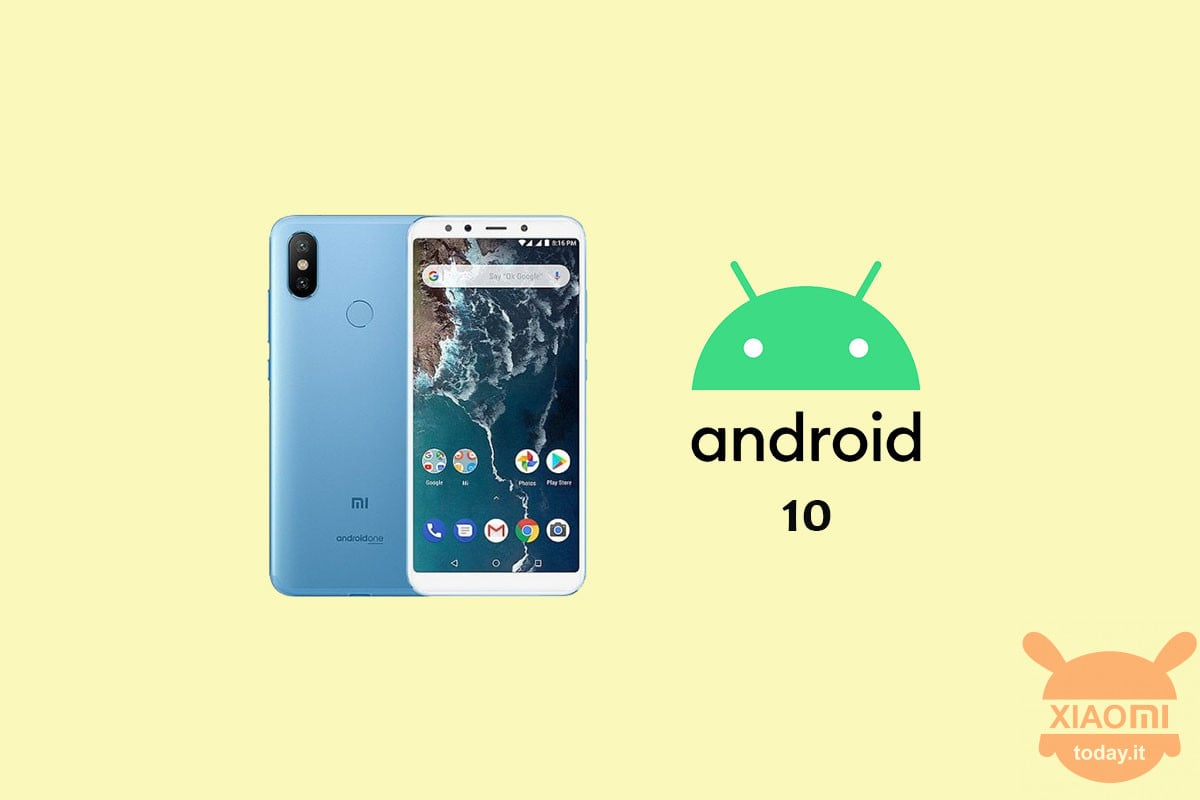 In the last few days there has been a bit of a hype about the devices moved by Android One. In particular it Xiaomi Mi A3 we have seen the protagonist of a rather curious fact, namely the opening of one petition in his name to receive theupdate to Android 10. Comments aside, given that the story does not need it, considering also the small number of promoters of this action, it seems that something has moved for these devices with non-MIUI system. In fact, a day after the release of the kernel source codes, here comes theupdate for Xiaomi Mi A2 of Android 10. The second device Xiaomi with Android One is now receiving the coveted update.
Xiaomi Mi A2 officially receives the update to Android 10
All users who have long since lost their hopes will jump for joy. All lovers ofpure and stock Android experience, as mom did, they will now be able to enjoy all the news that Android 10 has brought. The update in question that brings up Xiaomi Mi A2 the coveted Android 10 weighs 1.3 GB and started its rollout just last night.

Although the update is considered "stable", Users who installed it report that they are still present some buggettini. There are problems with the user interface and features like VoWiFi are missing. APEX packages also require that you have a blocked bootloader. On the other hand, it's Android 10 and it will be some time before the first problems are reported and corrected. Although there are these small problems, we recommend update the device

always being careful in doing a nice backup before proceeding. This full-bodied package also carries the December 2019 security patch.

Among the novelties that users will be able to try right away are: sharing through the Sharing Shortcuts; The dark mode which allows you to set the black color to a wide level, therefore for the whole system; the floating windows and the very useful feature of the smart replies which allow the device to predict what our response will be to a message received to facilitate the task of writing and therefore replying; the improvement in the geolocation experience since it will be possible disable access to this permission for some apps without losing the pissibility of using them. In terms of performance, the developers have improved the runtime ART which allows a significantly faster app launch and a consequent optimization of memory usage.

We don't spoil everything else because we want to leave you the surprise of trying out all the news with your fingertips. Tell us if you like this new Android 10!
Are you interested in OFFERS? Follow our TELEGRAM Channel! Many discount codes, offers, some exclusive of the group, on phones, tablet gadgets and technology.