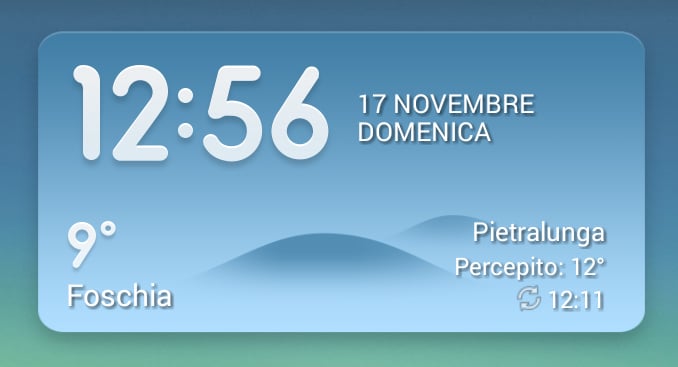 MIUI Weather is one of those applications serial in the original version of MIUI which does not work outside of China. It is a real shame because aesthetically it is very well made and goes well with MIUI graphics, but also because some applications rely on this service to visualize the weather (Ex. The Theme Study).For a while, the MIUI.es team, the Spanish MIUI, has been working on creating an ad hoc version to work in major European countries, but for me this version has never worked.
Getting help is a wonderful Weather App, BurgerZ incorporating the Support for MIUI Widgets. Once activated the option magically we will see the widget animate Weather 2 × 4 and the theme window Study. Very easy!
But BurgerZ is not much more !, is one of those applications that you wonder that it is not paid!
The app's graphics are clear and pleasant.
It is completely translated into Italian.
It is possible to choose between 3 different weather services: Foreca, Weather underground and Accuweather
Each weather condition is associated with an animation. It is possible to download additional ones.
The app icon is dynamic and always displays the temperature and graphically the weather conditions.
There are many well-made and interactive widgets, even better than the MIUI.
Try it and let me know!
[pb-app-box pname = 'pro.burgerz.weather' name = 'Android App Погода BZ on Playboard' theme = 'discover' lang = 'it']
Are you interested in OFFERS? Follow our TELEGRAM Channel! Many discount codes, offers, some exclusive of the group, on phones, tablet gadgets and technology.