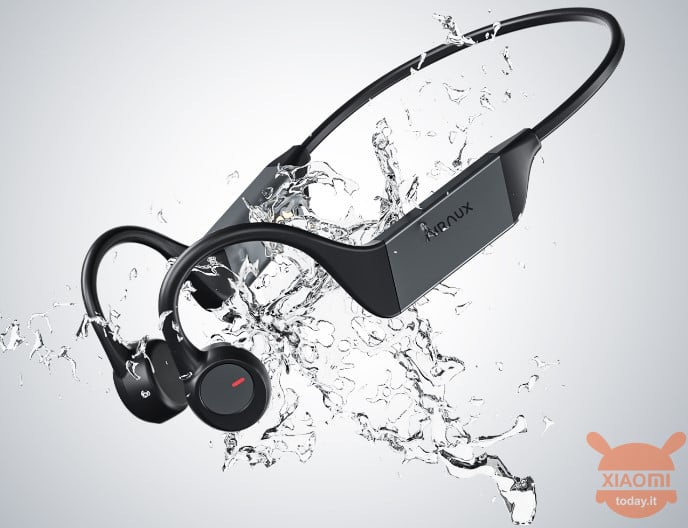 Who among us has never used or regularly uses earphones? In many contexts, from sports to free time, they are certainly a great way to listen to our favorite songs but also to make phone calls without keeping our smartphone to the ear (which, regardless of the SAR within the limits, is never recommended for long calls. ). I am quite sure that few, however, have ever tried a "bone conduction" model that differs in the way of reproducing sounds compared to the classic in-ear and over-ear (let's say all the others).
Today I talk to you about AirAux AA-BTS7 that take advantage of this technology.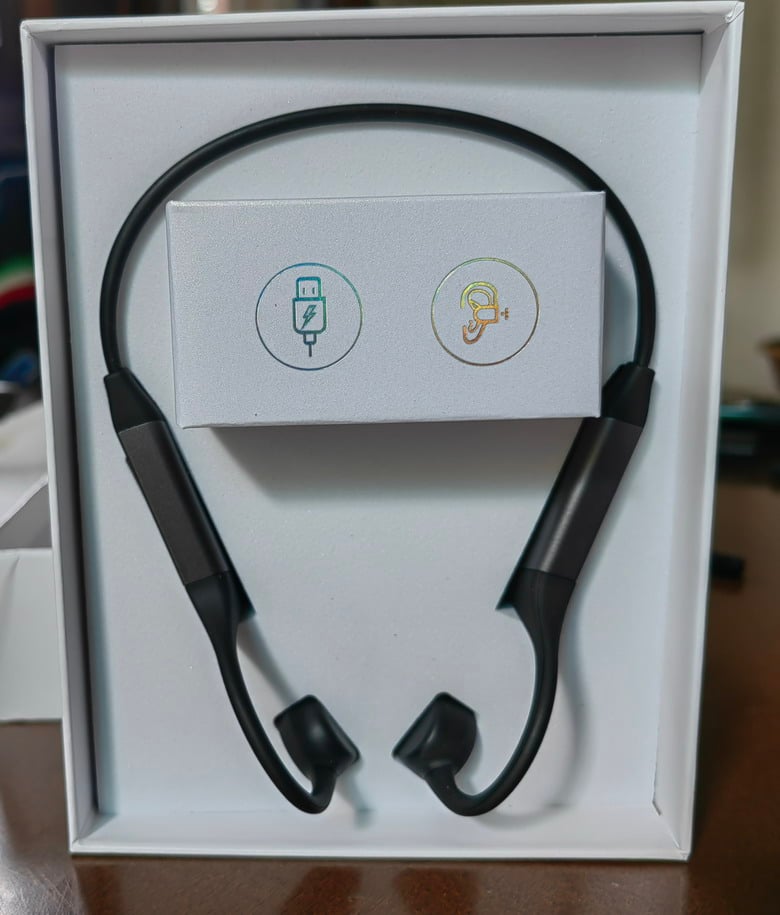 HOW BONE CONDUCTION WORKS
Bone conduction is the conduction of sound to the inner ear through the bones of the skull.Bone conduction is one of the reasons a person's voice sounds different than when it is recorded and played by a device. Since the skull transmits low frequencies better than air, one tends to hear one's voice lower and more intense than others do, and for the same reason the recording of one's voice sounds higher than what one is used to. feel. Some hearing aids integrate bone conduction, resulting in a result equivalent to what you would hear directly with your ears. The earphones are ergonomically positioned between the temple and cheek and the electromechanical transducer, which converts electrical signals into mechanical vibrations, transmits sound to the inner ear through the bones of the skull. Similarly, a microphone can be used to record sounds pronounced via bone conduction (from wikipedia)
CONFEZIONE
In the package, well made and cared for, we find:
Earphones
32GB of memory (built into headphones)
USB charging cable and PC connection (with magnetic coupling)
Earplugs
Instruction booklet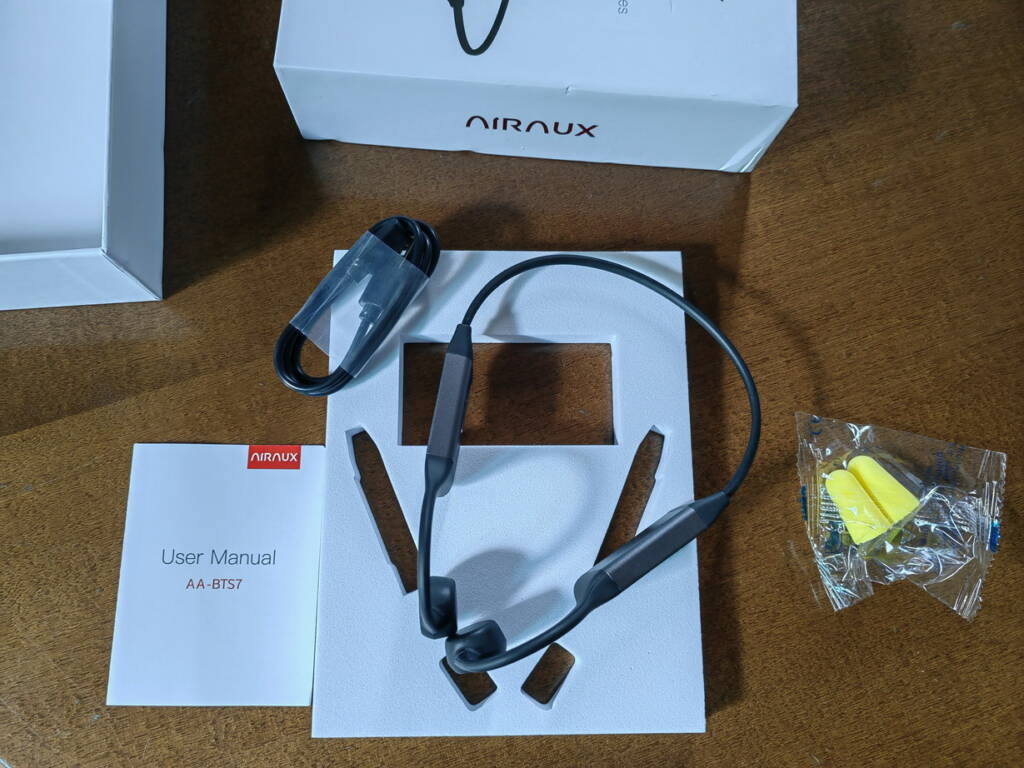 CONTROLS AirAux AA-BTS7
On our earphones we find 2 keys that will allow us to carry out some convenient commands while listening to music and we have to answer a phone call:
Button, elongated, "+"and "-"
- Increase the volume (+), decrease it (-) with single clicks
- Skip the track (-) held for 2 seconds
- Go to the previous track (+) held for 2 seconds

Key Power
- On / Off: keep it pressed for 2/3 seconds
- Play-Pause with single click
- Answer-close a call with single clicks with incoming call-communication
- Switch to integrated MP3 mode with double click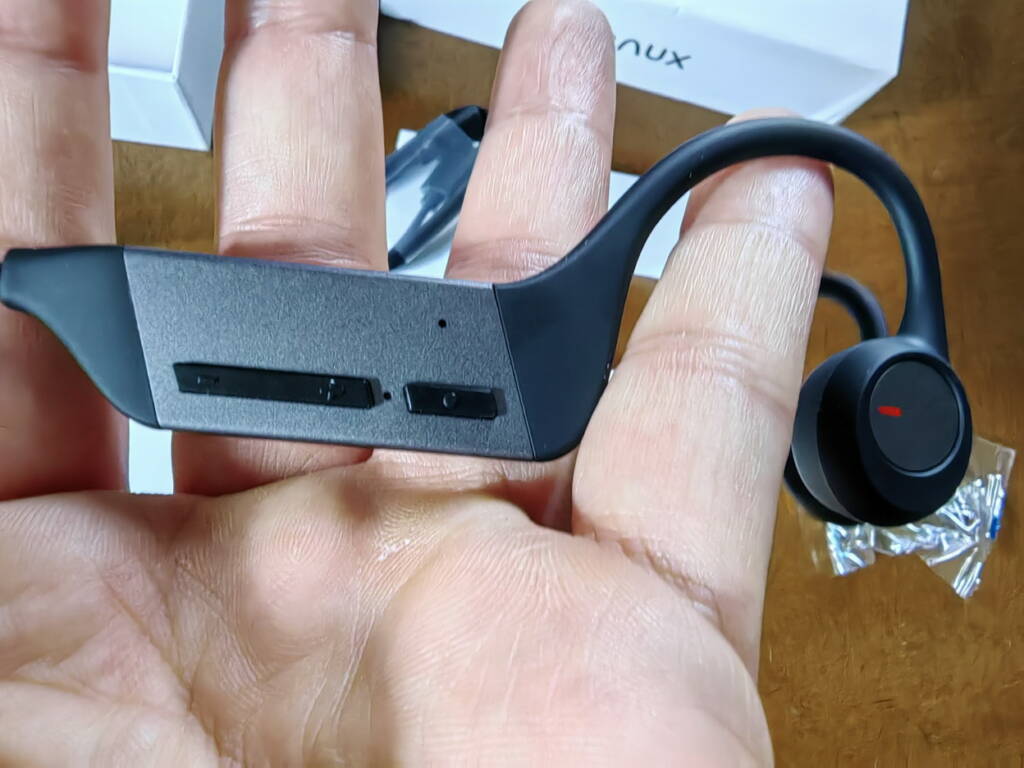 The small hole that we find above the Power button is the microphone.
HOW THEY FEEL
Obviously if you are looking for headphones with powerful bass, crystal clear sound and high volume, don't go for these. In fact it is a product dedicated essentially to those who want to listen to music, or call, without losing contact with the outside world. Having the ear cup free, you will obviously also be able to hear what is happening around you, which is impossible with other products, especially those with ENC noise suppression (which after all are made to completely isolate the listener from all external noises to enjoy. an unparalleled musical experience). These earphones are in my opinion perfect for sportsmen, for example for those who run or walk outdoors where hearing the arrival of a bike, a car and any other human presence is very important. It should be noted that in the technical characteristics there is also support for ENC noise reduction, but honestly I have not perceived this feature (also because with the free ear pads it is very difficult).
The sound is still pleasant, and if you want to acquire a bit of sound intensity that is actually missing, you can always use the caps in the package to exclude external noises (but I find it a bit counterintuitive).
Specifications AirAux AA-BTS7
| MODEL | AirAux AA-BTS7 |
| --- | --- |
| BlueTooth version | 5.3 |
| Integrated Memory | 32Gb |
| impermeability | IPX6 |
| Transmission distance | 10 meters |
| Battery | 180mAh |
| Music autonomy | 8 hours |
| Charging time | 2 hours |
| standby | Orders shipped to Europe |
| Weight/size | 31Gr |
FINAL CONSIDERATIONS
The pros and cons explained now it's up to you to understand if it could be a product that could be useful to you. If you are sporty and often go out running and walking, I am sure it could be an excellent solution, also given the lightness (only 31gr) and the excellent ergonomics of the headband. You will no longer have the problem of losing the ciffiette in ear that often, helped by sweat, come out of the ear with great ease. But the thing FUNDAMENTAL it is for me to have the ability to save 32Gb of music in the integrated memory! This means that we will not need to carry the phone with us to listen to music while we do our training. To save your music, simply connect the supplied cable to the PC and an additional unit will automatically appear.

Another very important thing is IPX6 waterproofing which will allow us to use our AirAux AA-BTS7 even in the rain!
Now we come to a fundamental aspect, namely the price. The price list cost about 80 € but thanks to GOOD BANG (which we thank for sending the sample) and our discount code you can take them home with a discount of 60%! Fast shipping from China costs less than € 3 and will allow you to receive your purchase in about 2 weeks without annoying customs charges.
€34 €80
GOOD BANG
🇪🇺Fast Shipping from Europe Included (No Customs)
good
Try low cost bone conduction
PROS
Value for money
IPX7 waterproofing
32GB of built-in memory to save music
Good construction materials
Good ergonomics
Good autonomy
Ability to call
Read (30gr)
CONS
Audio quality not excellent
Low poco potenti
A little low overall volume
Add your review