By now we have been able to admire it Xiaomi Mi 8 Youth in all sauces, as the new smartphone dedicated to young people will break into the market with a fan of bright colors never before seen on the other devices of the Xiaomi stable. But if you remember the rumors we had also talked about another device, the Mi 8 Screen Fingerprint Edition that as the name suggests should be one lite version of the most complete Mi 8 Explorer Edition, As under the display the fingerprint unlocking sensor will be inserted.
Well, you'll be pleased to know that they were not just rumors and that Mi 8 Screen Fingerprint The 19 will debut in September at the launch event to be held in Chengdu. Indeed a teaser has been published which shows us the profile of the new smartphone in the Gold color, with many references to the rival Apple. It is not clear if this variant includes many colors like the little brother Mi 8 Youth or if the colors will be more calm as it refers to a more business user.
Even Xiaomi Mi 8 Screen Fingerprint Edition will debut the September 19
Unfortunately, the teaser does not add anything about them hardware specifications that should still be the same basic as the 8 Youth Mi. So even Mi 8 Screen Fingerprint will adopt a CPU Qualcomm Snapdragon 710, display by 6,36 inches Full HD + and probably also the same photographic sector characterized by a dual rear camera by 12 + 5 megapixel and a selfie camera by 24 MP.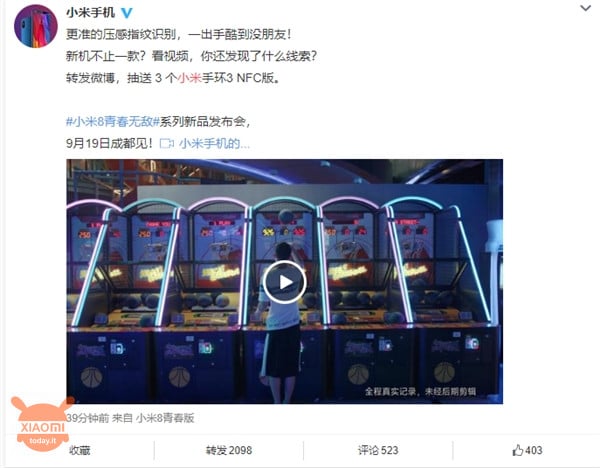 Apparently the fingerprint sensor integrated into the new Mi 8 Screen Fingerprint Edition it will be even more precise and accurate in receiving the pressure compared to what I could appreciate on Mi 8 Explorer. The selling price is not yet clear but now lacks very little to launch and I would not be surprised to see a mega spoiler appear a few hours after the debut, even if there is doubt about the marketing strategy adopted by Xiaomi on the Mi 8 series. Too many devices, are not you?
Are you interested in OFFERS? Follow our TELEGRAM Channel! Many discount codes, offers, some exclusive of the group, on phones, tablet gadgets and technology.