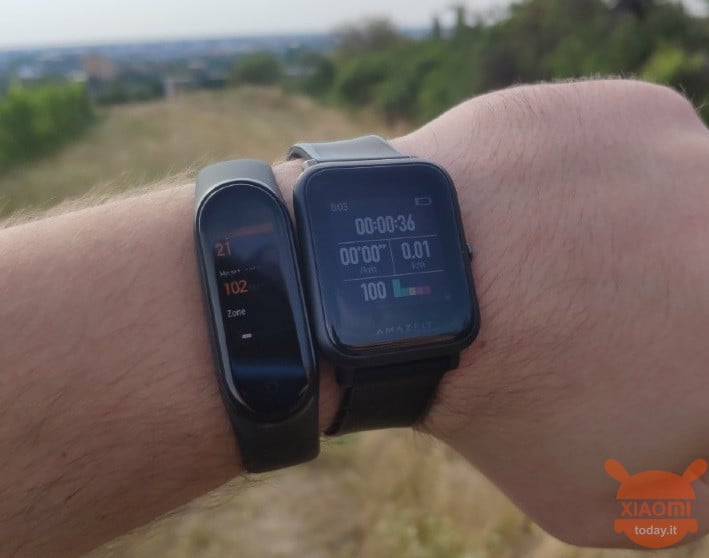 - SmartWatch continue to gain popularity among people of all ages. They are inexpensive and at the same time help in everyday life, allowing you to monitor health, monitor physical activity, remind the owner not to stay still for too long, inform about new notifications and only show the time. Amazfit BIP it does this and more. Furthermore, a 35 € with fast shipping from Europe included it is truly unmissable. Let's see what it is capable of and how to get it at this price.
Amazfit BIP is a great smartwatch yet it is cheap. With this coupon you can have it for 35 € with fast shipping from Europe included!
Many don't want to mess with smartwatches, since they usually have to be charged almost every day along with a smartphone, which isn't always convenient. With Amazfit BIP there is no such problem, since it is capable of work without recharging for up to 45 days with moderate use. This means that we can leave it on overnight, so that the smartwatch follows the sleep stages and wake us up at the optimal time, thus improving our well-being.
Amazfit BIP is protected according to the IP68 standard, which means it doesn't need to be removed in the shower, while washing dishes, in the pouring rain, or during classes in the pool, which is definitely a big plus. The watch connects to the smartphone via Bluetooth 4.0 and works via companion app, informing about new ones notifications. This is useful if the smartphone is in a bag for example. The vibration on the wrist will not make us miss anything important. Furthermore, directly on the watch screen, we can view the message received so as not to take out the smartphone.
Amazfit BIP also supports a number of functions of physical activity tracking. He can count the number of steps taken, the calories burned and measure the pulse. In addition, the device is equipped with a GPS module for location detection and a compass for navigation.
Amazfit BIP Full Specifications:
: touchscreen, 1.28 ″, color, Corning Gorilla Glass 3 cover and tempered glass
protection water: IP68
width strap 20mm
sensors: heart rate monitor, acceleration sensor, gyroscope, geomagnetic, pressure, GPS
battery and autonomy: 190mAh, up to 45 days in moderate use
charging time: 2,5 hours
connection: bluetooth 4.0
compatibility: Android 4.4+ or iOS 8+
⌚ Xiaomi AMAZFIT BIP Global at 35 €
💰 Coupon: 0AA0838FCA
📌 Buy: http://shrsl.com/3bnqc
🇪🇺Fast Shipping from Europe Included (No Customs)