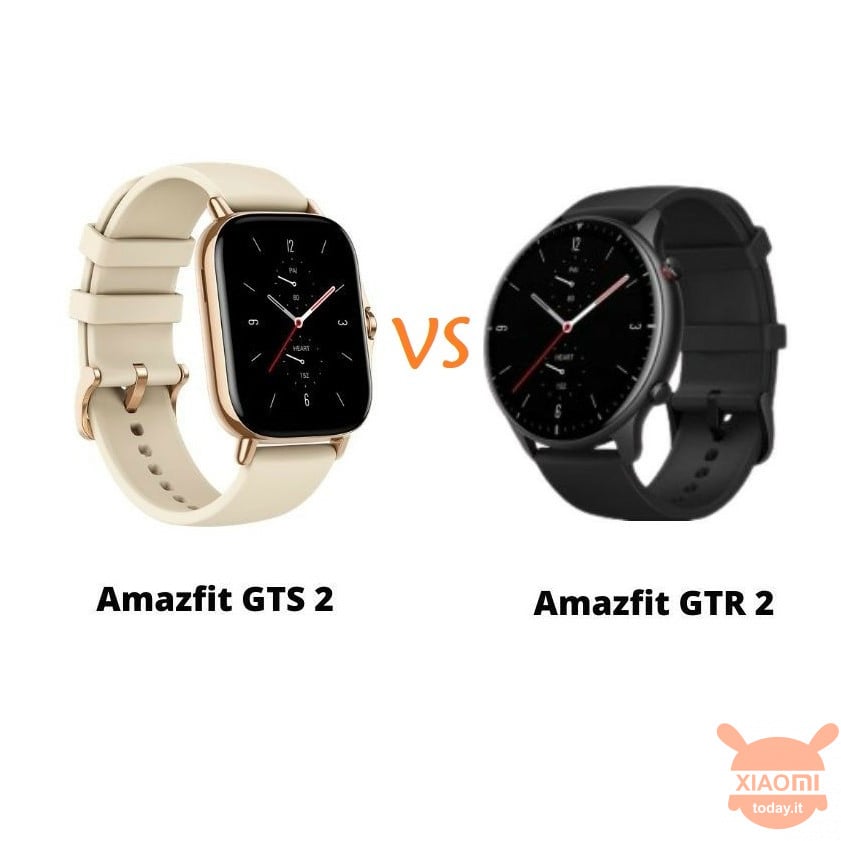 Are you interested in OFFERS? Be smart and subscribe to our Telegram channel! Lots of discount codes, offers, pricing errors on technology from Amazon and the best online stores.
Poco time ago Huami presented its two new top-of-the-range smartwatches in China Amazfit GTR 2 and Amazfit GTS 2. This is the second version of the much loved GTR and GTS that will soon appear in Global version. We saw, during the official presentation, the characteristics of each one but it seems right to offer a comparison to help users choose the smartwatch that best suits their needs. We don't let ourselves be caught unprepared and let's see what they are similarities and differences between the two.
Amazfit GTR 2 vs Amazfit GTS 2: comparison between the two new Huami smartwatches. Which one to choose?
It is clearly two deeply different smartwatches out, while with regard to the soul we encounter more similarities than differences. The first thing that catches the eye is the shape: the GTS 2 is characterized at a square dial and sportier while the GTR 2 presents a round dial and far more elegant than the first.
Design and measures
GTR 2: 46.4 x 46.4 x 10.7 mm, 1.39 ″ AMOLED panel with 326 ppi and 454 × 454 pixel resolution;
GTS 2: 42.8 x 35.6 x 9.7 mm, 1.65 ″ AMOLED panel with 341 ppi and 348 × 442 pixel resolution;
Contrary to what one might expect, Amazfit GTR 2 is a bit bigger than the GTS 2 but with slightly lower features. We note in fact that i pixel-per-inch and the panel is the "smallest" data, unlike the resolution which for obvious reasons related to the size of the smartwatch is greater. However, both are equipped with a screen AMOLED with excellent visibility under sunlight.
Amazfit GTR 2 and GTS 2 weight
GTR 2: 39 g;
GTS 2: 24.70 g;
We wanted to put the weight as a separate category as we believe it needs more attention. Sometimes it is one feature that is often done aside and not noticed but then, when you put the smartwatch on your wrist, you notice the mistake. The two devices in question are equipped with an aluminum alloy body but while the GTS 2 psa 24.70 g, the GTR 2 weighs 39 g

. They are well 15 grams more that seem few to the eye, but wearing the device they could make a difference.
Features
GTR 2: m

monitoring of heart rate, blood oxygen level (SpO2), m

sleep monitoring, accelerometer, gyroscope, s

geomagnetic ensor and ambient light sensor;

GTS 2: idem;
Fortunately, in terms of features, no one has the better of the other. Both devices are complete and currently count well in China 12 sporting activities: outdoor running, running, walking, pool swimming, open water swimming, climbing, elliptical, treadmill, skiing, leisure exercise, indoor and outdoor cycling. These will be increased to about 90 over time as has happened with previous models. In terms of waterproofing we do not have IPX certification but both are resistant to the pressure of 5ATM (50 meters deep). The built-in sensors are the same in both the GTS 2 and the GTR 2.
Amazfit GTR 2 and GTS 2 battery and autonomy
GTR 2: 471 mAh with maximum autonomy 14 days;
GTS 2: 246 mAh with maximum autonomy 7 days;
Unlike weight, this feature is the most important of all. It is unfortunate to arrive at the end of the day with an ephemeral residual charge. The two devices in this one they are profoundly different: GTS 2 has a battery half as wide as the GTR 2. This means that while the first manages to reach 7 days of autonomy with all the features turned on, the second arrives at 14 days. For a sportsman, paradoxically, the GTR 2 would be more comfortable even if it is the smartwatch with the most elegant shape. However, this can be avoided by purchasing (if it arrives in Europe) the variant GTR 2 Sport.
Price (converted from Chinese yuan)
GTR 2: 1099 yuan for the classic version (about 140 €) and 999 yuan for the sport version (about 125 €);
GTS 2: 999 yuan (about € 125);
Only the classic version of the GTR 2 costs more, but not that much. We have to wait for the release in Europe to know the official prices. No doubt they will be slightly higher than the converted ones now.
46.4 46.4 x x 10.7mm
42.8 35.6 x x 9.7mm
1.39 ″ AMOLED 326ppi | resolution 454 × 454 pixels
1.65 ″ AMOLED 341ppi | resolution 348 × 442 pixels
471mAh | autonomy 14 days
246 mAh | autonomy 7 days