AmazFit Italia, the official store that deals with the marketing of Huami / AmazFit products in our country, announced with a press release the start of the marketing of the Stratos 3 sportwatch.
AmazFit Stratos 3
The latest incarnation of the popular Stratos series, now equipped with improved FIRSTBEAT algorithms for professional analysis of sports activities, is designed to help athletes and sports enthusiasts improve their training habits and maintain the motivation necessary to overcome their limits .
Design
The new Amazfit Stratos 3 uses a transflective MIP touch screen (Memory in Pixel) that combines low power consumption with always perfect visibility, even under direct sunlight. Marathon runners, runners and enthusiasts will therefore no longer have problems reading the data shown on the display during their training, while the 4 physical keys are ideal for simple and immediate navigation with sweaty or dirty hands. Thanks to the silicone strap, comfort, resistance and breathability are guaranteed.
Equipped with a round 1.34 "display with 320 × 320 resolution (the highest in the segment with transflexive technology), the Amazfit Stratos 3 dial is protected by a Corning Gorilla Glass 3 with oleophobic treatment. The sportwatch connects to the Amazfit app via Bluetooth 4.2 + BLE 5.0, and is equipped with WiFi connectivity.
Stratos 3 will also be available in the Elite Edition version in the future, which stands out for the use of an ultra-resistant sapphire crystal dial and for the fluorinated rubber strap.
Health and Fitness
To ensure that athletes and enthusiasts can enjoy their features longer, the new Amazfit Stratos 3 is equipped with an Ultra-Endurance mode that offers 14 days of autonomy while maintaining access to key features such as continuous heart rate monitoring cardiac, notifications and 11 of 19 sports mode. Thanks to sports modes with multiple levels of consumption, it is possible to tackle even the most demanding endurance activities such as trail run, trekking and climbing, with active GPS and autonomy from 35 to 70 hours.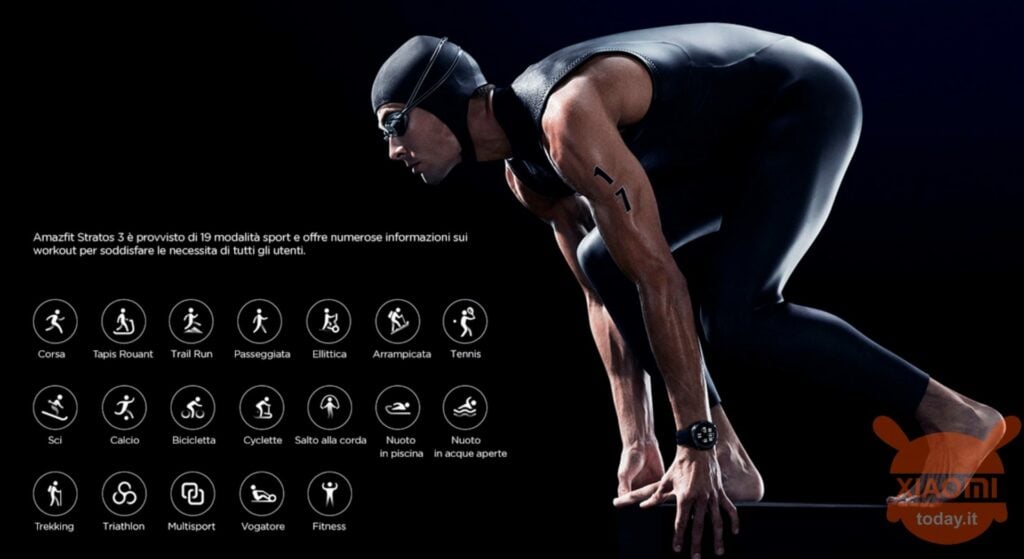 The 3modi / 4satelliti positioning system offers greater precision and detection speed thanks to the simultaneous use of different GNSS systems. It is thus possible to choose whether to use GPS + GLONASS, GPS + GALILEO or GPS + BEIDOU. The device is equipped with internal memory for music (supports up to about 400 tracks) and Bluetooth connectivity to associate wireless headphones and thus guarantee the possibility of training without telephone but not without music.
To meet the needs of all users, the device is equipped with 19 sports mode and professional FIRSTBEAT analysis for increased performance and prevention of overtraining. VO2Max, effect of the exercise (TE), Load (TD) and recovery times are the 4 features available.
The watch is finally 5ATM waterproof, while the Huami BioTrackerTM optical sensor offers continuous and high-precision measurement of the heartbeat, warnings in case of too high heart rate and frequency intervals.
Note: The autonomy and time values ​​in GPS mode may vary depending on how it is used. The values ​​reported were measured in the Huami laboratories.
Availability AmazFit Stratos 3
Amazfit Stratos 3 will initially be available only in the standard variant for sale at Amazfit.shop at a price of 199.99 Euro with 15 November delivery, while the availability of the Elite version is expected in the coming weeks.
AmazFit Stratos 3
Amazfit Italia - Shipping in 24 / 48 hours from availability
Are you interested in OFFERS? Follow our TELEGRAM Channel! Many discount codes, offers, some exclusive of the group, on phones, tablet gadgets and technology.