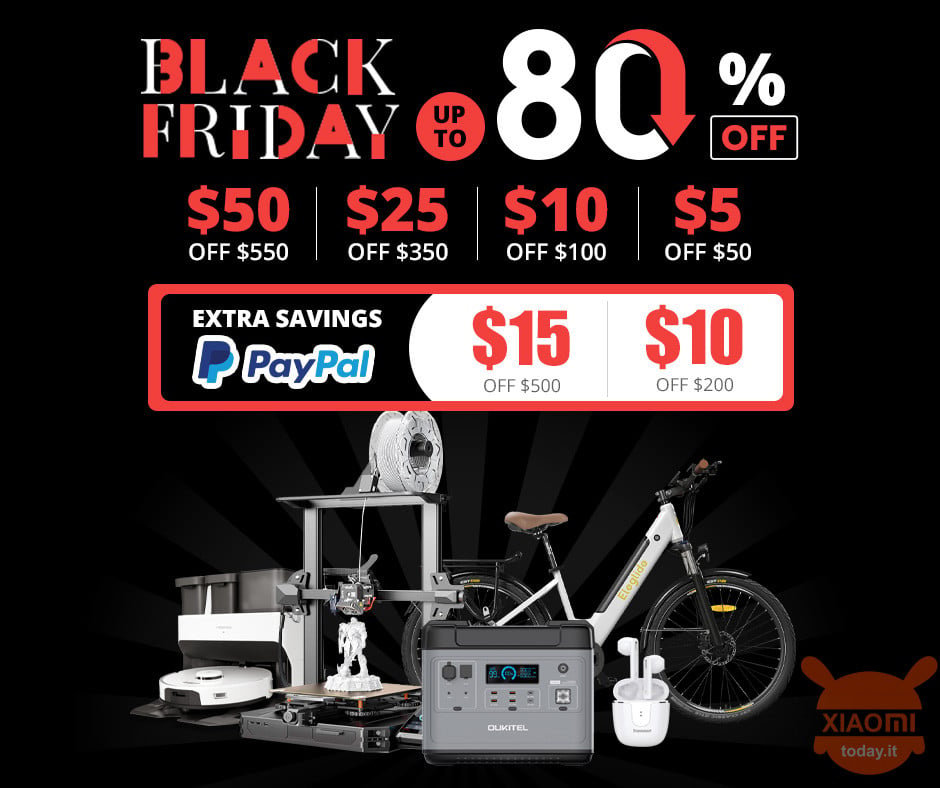 Also GeekBuying, the Chinese giant for the sale of technology products, has launched its proposal for this Black Friday 2022 with incremental discount codes based on spending. All information about the promotion are available on this page.
GeekBuying Black Friday
By visiting this link you can consult all the top products already on offer to which the following coupons can be applied based on the cost of the product:
Coupon GKB22BF05 valid for a $5 discount on a purchase of $50 or more
Coupon GKB22BF10 valid for a $10 discount on a purchase of $100 or more
Coupon GKB22BF25 valid for a $5 discount on a purchase of $350 or more
Coupon GKB22BF50 valid for a $5 discount on a purchase of $550 or more
NB Only Eleglide and Roborock S7 Pro Ultra are excluded from this promo
At these already discounted prices, starting today it is also possible to apply additional discount made available for those who pay with PayPal.
$10 off a purchase of $200 or more
$15 off a purchase of $500 or more
GeekBuying offers
A this link you will find a list of offers divided by categories. There are also lightning offers which last for a limited time, after which we will move on to other products.
The prices shown already include the staggered discount of the coupons just mentioned but you can add the additional discount reserved for those who use PayPal as a payment method.
There are hundreds of products on offer and most of them come shipped quickly and free from warehouses in Europe, you can therefore take advantage of it to give gifts to your loved ones or to yourself 🙂