I finally tried theIonic hair dryer Huazzo! I haven't cut my hair in years and having it long to my back, drying it was becoming quite a long affair.
Let's not talk about when I had to go out and take a quick shower and unfortunately many times I found myself unable to complete the drying properly due to lack of time.
But now all this is a thing of the past, because thanks to the new hairdryer ionic Huazzo, drying has become a pleasure!
The handle is really fantastic because it is fully perceived the quality of the materials of construction and in hand you have a sense of solidity and quality. The dimensions are really small, only 10 × 27,5cm for 623 grams.
But let's start with the packaging, very pleasing to the eye, we find ourselves in front of a box with the essentials inside:
The hairdryer, two magnetic air vents and an instruction booklet.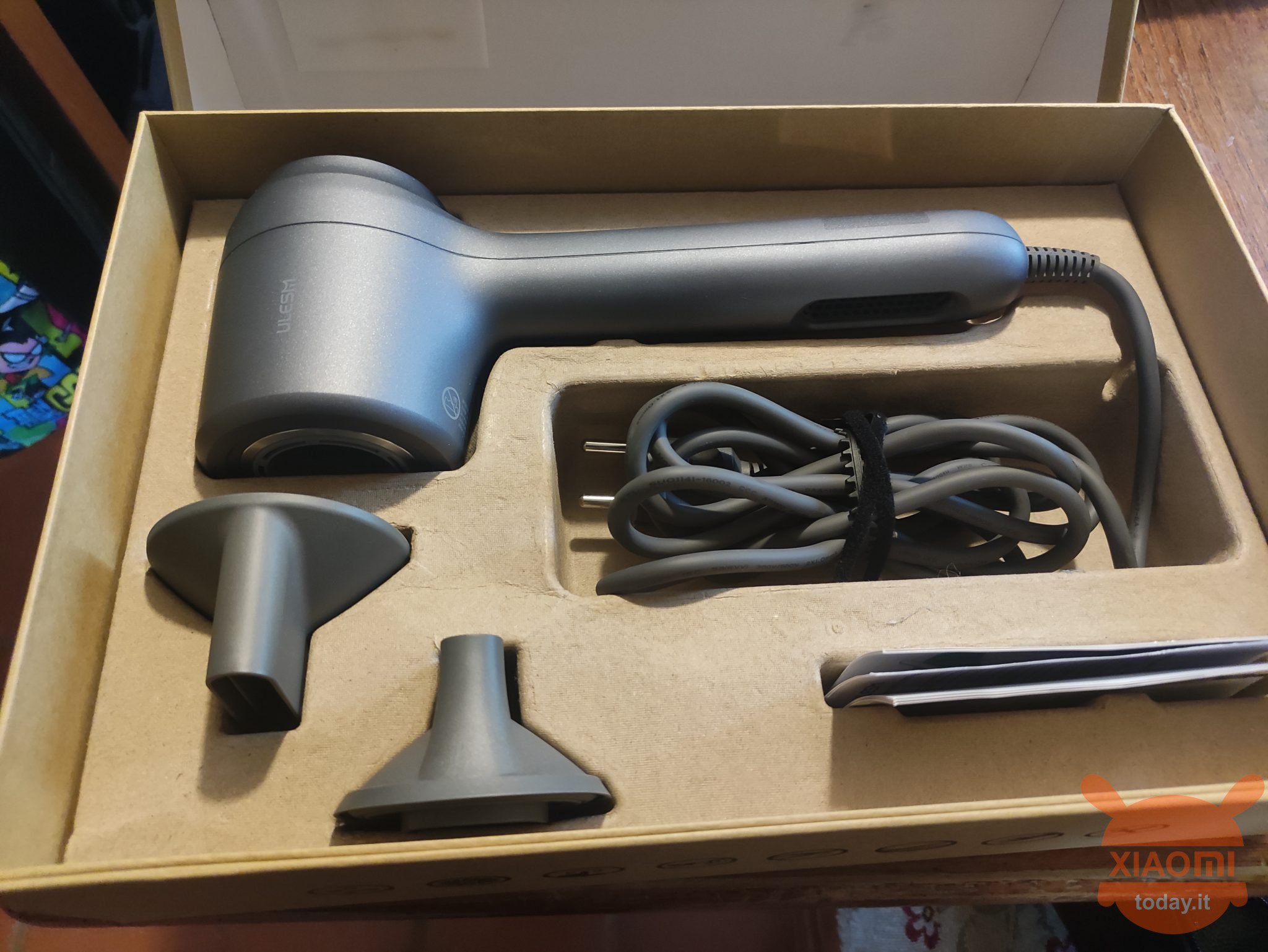 - accessories have a truly wonderful fitting, in fact, it is enough to bring them close to the air inlet to make them automatically hook without any effort to put them on or take them off.
I admit to having found a small flaw, however, because as a great lover of the speaker, I felt the lack of it to have a complete article, but you can still buy it separately if, just like me, you can't do without it.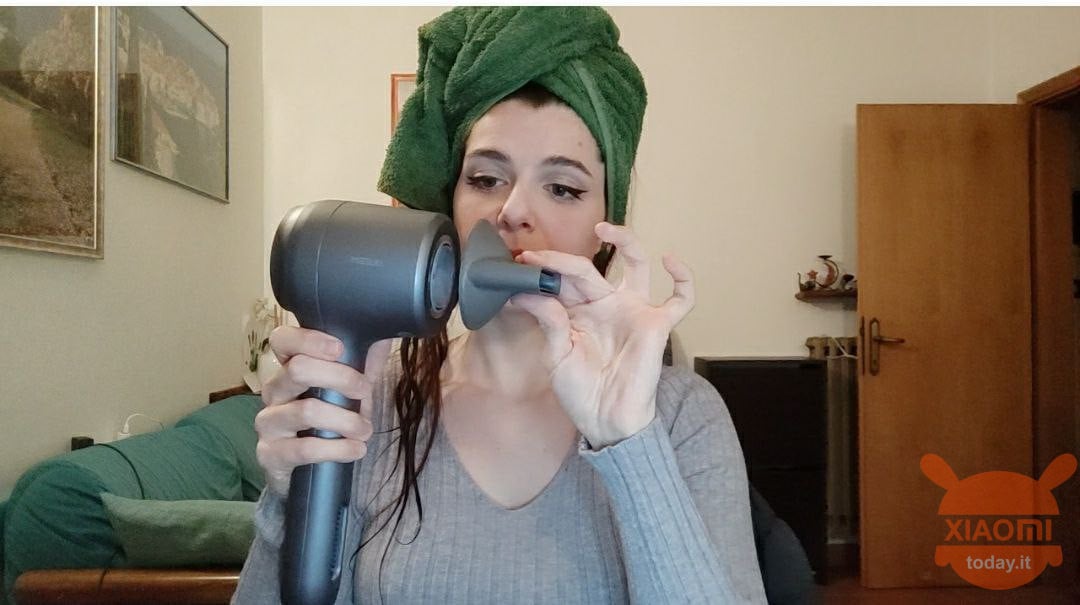 Brushless motor and automatic temperature control
The excellent 120,000 rpm brushless motor delivers power from 1200W to 1500W and a thrust of 19 m / s which proves to be on a par with other renowned products in terms of power and versatility, a monstrous silence (less than 65dB) if we count that I managed to dry my hair in the bathroom with my son who was sleeping blissfully in the next room.
The air outlet temperature it is detected 56 times per second to keep a constant temperature, reducing moisture loss and hair damage due to high temperatures
The adjustment is also truly unique because we have 3 speeds and 4 types of different temperatures that depart from cold air to warm, hot and very hot air; we also have the possibility to immediately switch from hot air to cold air by holding the temperature change button for one second, then being able to return to the previously set mode again, holding the button again for a second.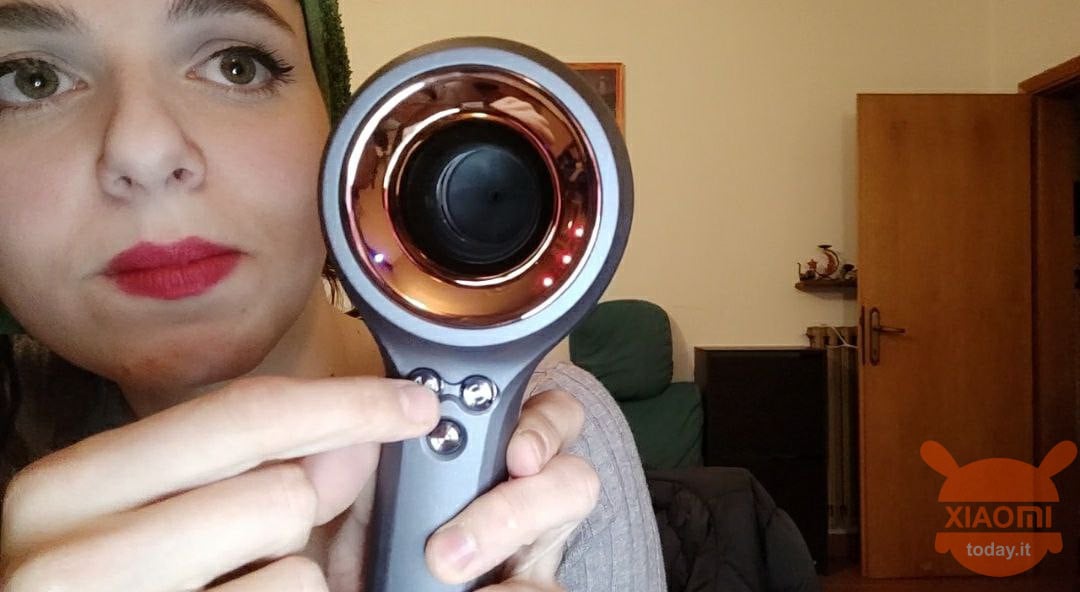 The negative ion diffuser, avoid even the most stubborn frizz because it works constantly with both hot and cold air and is truly a holy hand for someone like me who lives with electric hair.
Cleaning the hairdryer is really simple in fact, just pull with a finger and the filter is immediately disassembled, then just clean it with a small soft brush and reassemble it by placing it and clicking on it.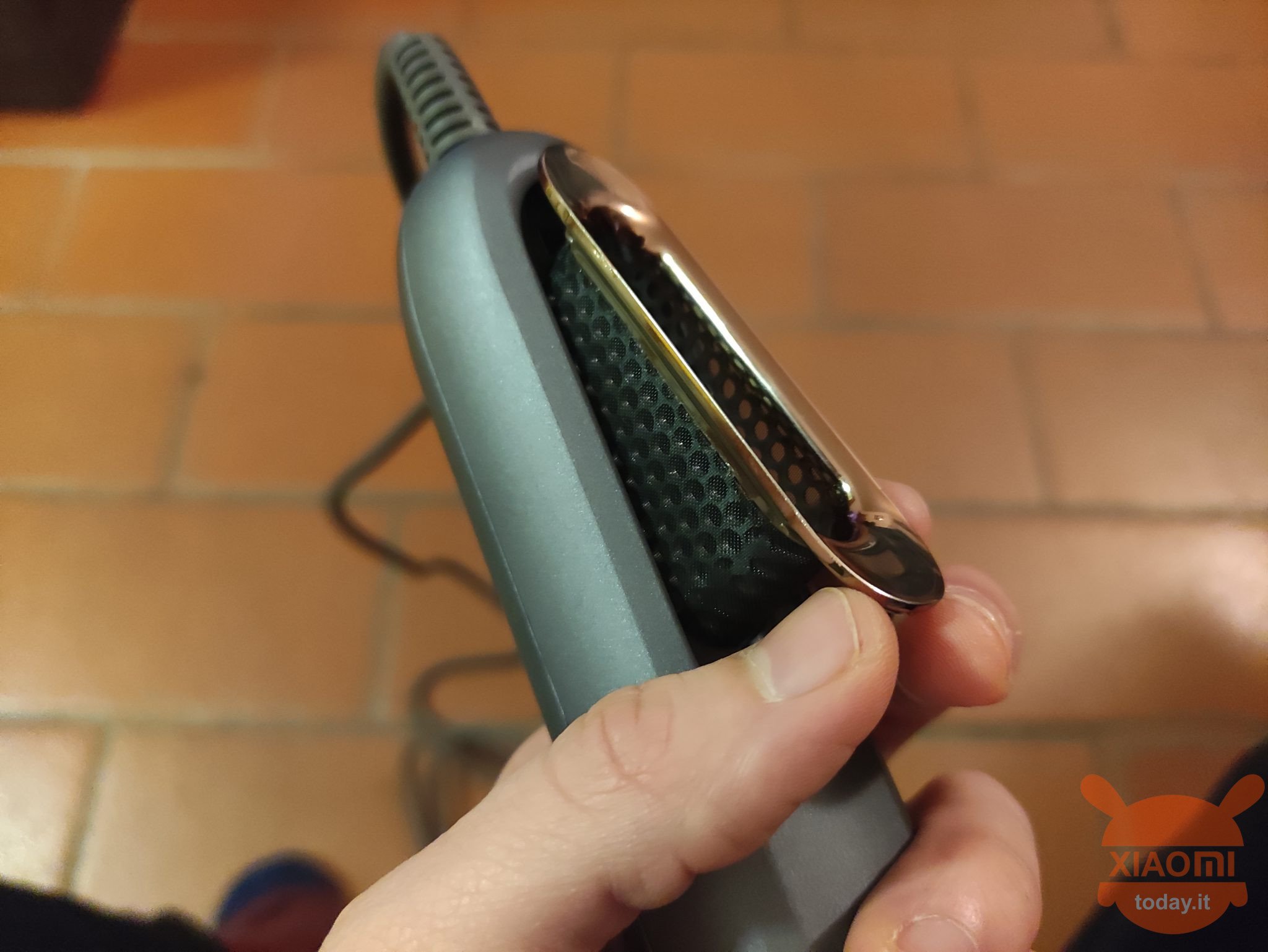 Excellent materials that even after intense and prolonged use do not emit plastic odors of any kind, but above all I loved that after just 4 minutes my hair is completely dry, without wasting time, energy and above all electricity, my conclusions?
A very useful, silent product that allows you to dry your hair in this way poco time, it is absolutely to have, promoted in all respects and, apart from the lack of the speaker, it is largely forgiven thanks to the rest.
Ionic hair dryer Huazzo - Price and offers
In this week of Black Friday you can take advantage of the excellent offer that discounts the hairdryer from € 259,99 to € 179,99 by visiting THIS PAGE ON AMAZON and using the discount code O79RF3XA
Ionic hair dryer Huazzo
The Huazzo ionic hair dryer is a useful, silent product that allows you to dry your hair in poco time and without damaging the hair
PROS
Powerful
silent
Automatic temperature control
Ionizer
Add your review