User Posts:

Alessandro Cimino
Like every weekend I get the notification of the release of a new version of the XIUMX MIUI marked XIAOMI.EU but this time, scrolling through the release ...
We are now at 30 in December, the last of the year is in a few hours and is time for budgets, introspective reflections and ... why not, after a year of effort, ...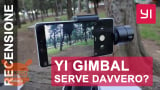 Do you want to give free rein to the Steven Spielberg that is in you? Do you want a tool able to make the leap in quality to your video content? I ...
User Deals:

Alessandro Cimino
Sorry. Author have no deals yet
Browsing All Comments By:

Alessandro Cimino