Like every month of July the well-known site GOOD BANG offers us his amazing festival "Summer Prime Sale"The summer event not to be missed! Last year we were guests in China by our friends / colleagues of BG and from there we had sent you coupons and prizes through a live stream that we will repeat again this year (but from Italy).
But the discount codes have already started and the offers to be taken on the fly are already active!
With the theme of "Restart a Good Life", Banggood Summer Prime Sale 2020 continues with attractive discounts and discount coupons to refresh your life. From the exit of Summer Prime Sale 2020 on July 3, it attracted millions of people to join this huge commercial carnival with the first wave of appetizing discounts. It is now in full swing, including a lot of business, games and sales promotion. So why not join us now to take this wonderful opportunity! Now let me give you some more info: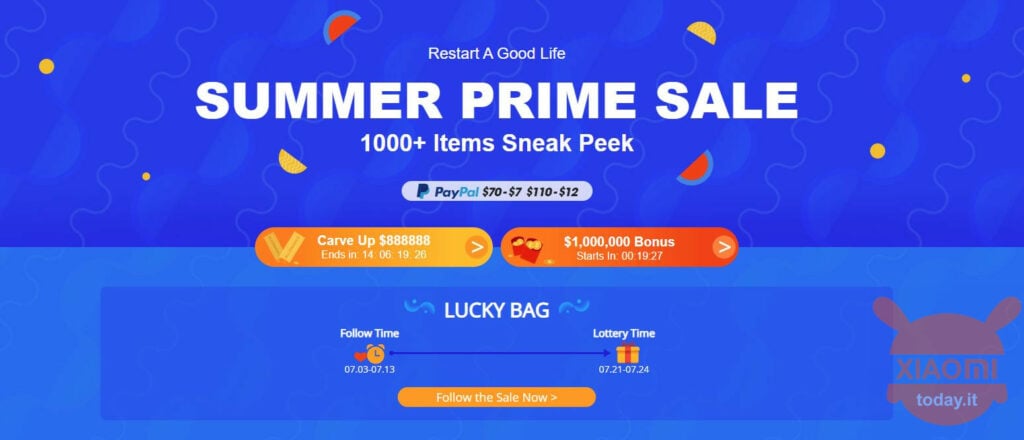 As of July 9, the big interactive promotion game called Carve up $ 888888 Shopping Bonus is the main activity not to be missed. If you participate, you may get the biggest commercial benefits of the summer sale. To participate in this game, you must create or join a team, then earn stars by doing activities. The stars you collect will allow you to earn up to $ 888888 in shopping bonuses. The more stars your team collects, the more bonuses you get. It is worth noting that the lucky draw will be available from July 15 to July 18, during which you can get up to $ 88 in bonuses and gifts such as the Xiaomi IMILAB 360 ° camera and Kospet Probe Smart Watch. Not to mention the fact that you could go away with many other shopping bonuses from July 19th to 26th, when the shopping bonuses from $ 888888 of shopping bonus will be accumulated. For more tips on how to get more shopping bonuses, click HERE.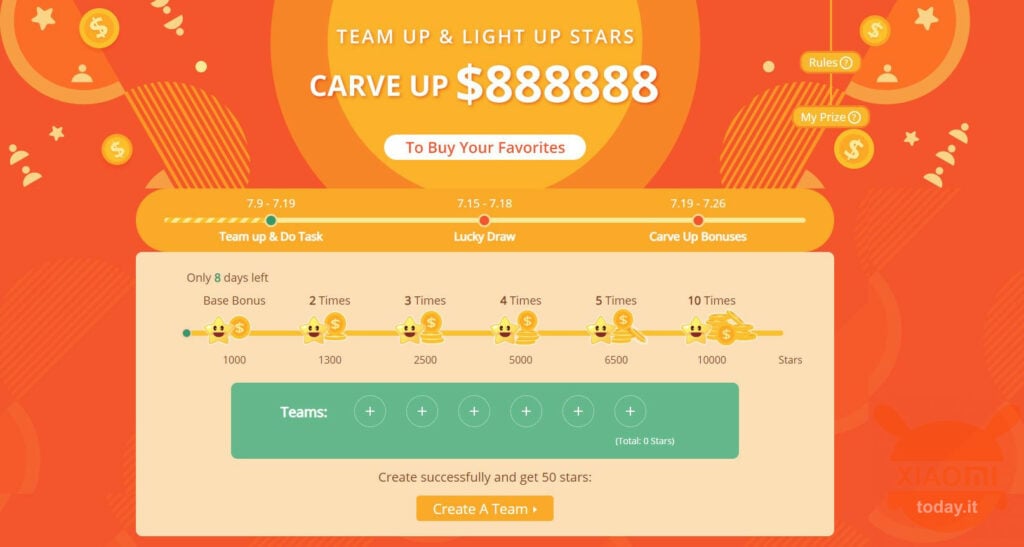 On July 11th, the weather will continue to rise and another wave of the storm of discounts will begin, which will reach up to 60%!

Redmire Xiaomi Note Pro 9 it is equipped with a quad quad camera with the main 64 Mpx, ultra wide angle lens, macro lens and depth sensor, which guarantee the best shooting experience. From 11 to 21 July it will cost only $ 249.

it is the Band object of desire of 2020 that comes with the professional sensor update and 11 professional sport modes, ensuring the best user experience. It is available for just $ 41 during the sale. In addition to the product offers mentioned, there will be many other items from the best brands such as Xiaomi, Blitwolf and Crealty will be available at a discounted price. For more discounts, click HERE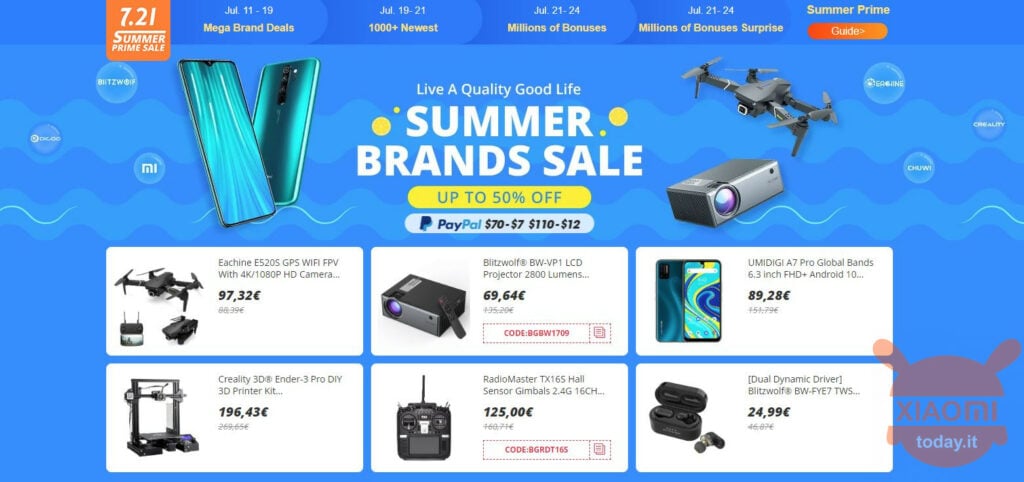 The Summer Prime Sale will include a lot of offers on consumer electronics, appliances, RC toys and other products with great discounts and coupons. In addition, Flash 24H offers (prices below $ 8,99) and featured category offers will be part of the promotion. Check it out HERE to unlock other great discounts.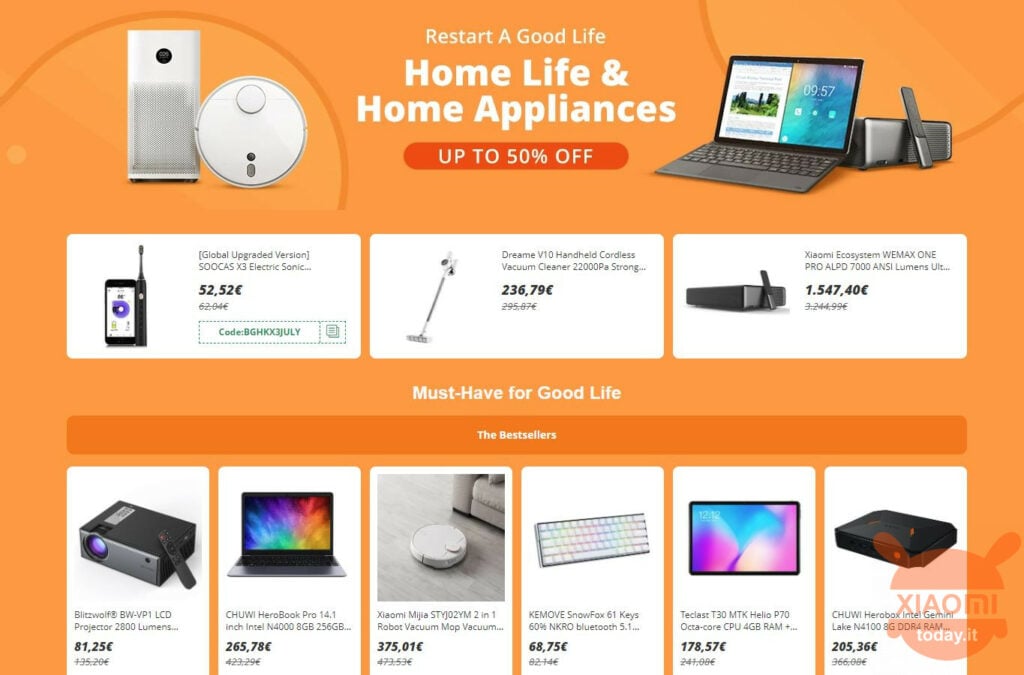 As the peak of summer sales approaches, the second phase of the purchases of the Mega Shopping brand will begin with the release of 100 recommended products on 11 July. From that moment you can book the products you want to buy, and then get exclusive discounts to buy them from 21 at the 24 July. It is worth noting that the discount rate will be much higher than that of the first stage. Then click cui to learn more and make sure you don't miss it. By the way, the first phase of the Shopping Mega Brand Deals has started. Click HERE to book products.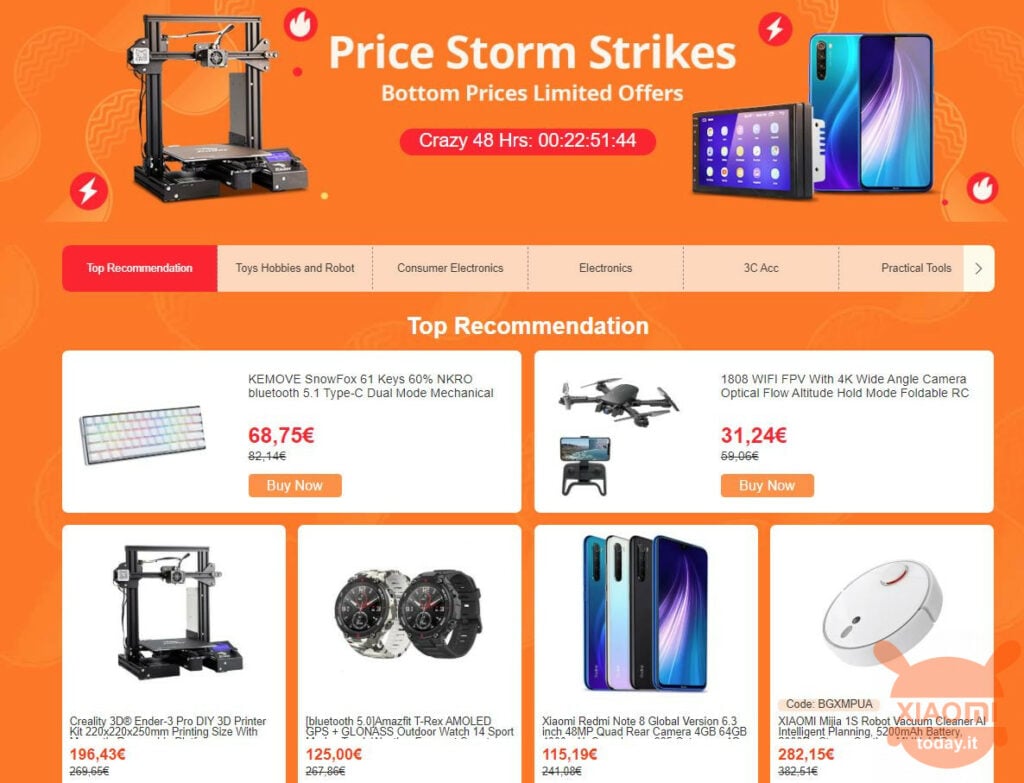 If you are a new user (and if you are not, just register a new account with the same shipping address but different email) you will have the opportunity to get a welcome coupon up to $ 20.
WED the promotion page

TechToday Live Stream
But the event you absolutely cannot miss is dated Thursday 23 July at 16.00 pm when there will be ours live stream where we will give you many fantastic coupons and prizes. We strongly recommend that you go to the EVENT PAGE and click on the "Remind Me" button so that you will be automatically notified via email of the start of the stream!

Banggood Summer Prime Sale 2020 is in full swing with a huge storm of discounts so don't waste time and visit the site. Remember also that from 21 at the 24 July you can not miss it otherwise you may regret it bitterly 🙂
Are you interested in OFFERS? Follow our TELEGRAM Channel! Many discount codes, offers, some exclusive of the group, on phones, tablet gadgets and technology.