Are you interested in OFFERS? Be smart and subscribe to our Telegram channel! Lots of discount codes, offers, pricing errors on technology from Amazon and the best online stores.
Nowadays the privacy it is very important, especially as we get closer in an era in which to protect it we rely on a single element like afootprint digital or the face scan. Despite this, we are all aware of weaknesses in the latter mechanism. To protect our home we often use surveillance cameras and many users, over time, have learned to appreciate the Mijia Security Camera. In these days a not insignificant problem arose however: a user has (not intentionally) spied on the home of other users owning the same IP Camera Mijia using the streaming service on your device.
Big privacy problems for Xiaomi: the Mijia Security Camera is charged
In short: a room owner Mijia inadvertently managed to get still images from other people's homes when he attempted to stream content from your room to a Google Nest Hub. Needless to say, the pictures took people in intimate moments like night sleep and even cradles of sleeping children (this is very disturbing).
This problem was first reported by the social user Reddit which responds to the name of God-V and covered his Xiaomi Mijia 1080p Smart IP Security Camera, tool that can be linked to an account Google. The user stated that the product was brand new and purchased through Aliexpress with firmware version 3.5.1_00.66.

When the user tried to access his camera (as shown in the video above), instead of viewing what he intended to see, the device provided black and white images coming from another house. Among the several photos that the user shared on Reddit there are also disturbing images that show a sleeping baby, a closed porch and a man who looks asleep on a chair.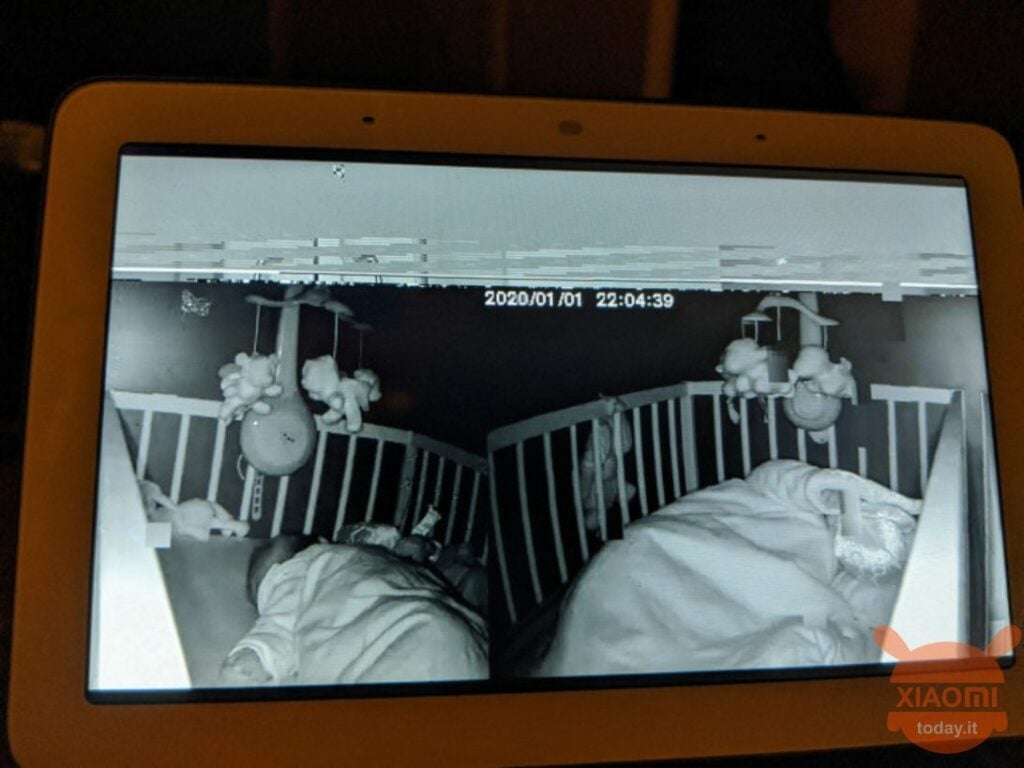 The user also claimed that, according to him, the cameras they were broadcasting from another country with another time zone, since the light did not correspond to the time when he had access to his device. Many commented on the thread saying it was all one mount but the Google team, contacted immediately after the incident, replied clearly:
"We are aware of the problem and are in contact with Xiaomi to work on a solution. In the meantime, we disable Xiaomi integrations on our devices. "
This means both that the problem is true and exists, and, fortunately, that developers went straight to work to solve the flaw. This error is, of course, attributed to interface problems between the two products Google Nest e Mijia. We hope that none of you have had to deal with this very disturbing problem: in this case, if you have encountered this kind of error, let us know in the comments.
[UPDATE 03/01/2020]
Xiaomi responded to the inconvenience a few days ago by publishing this statement:

1. On January 2, 2020, Beijing time, we learned that Mi Home Security Camera Basic 1080p sold overseas, had a problem where the screen of the video camera being streamed with a Google Account received other images. The service is a new test function that was launched on December 26, 2019. We have communicated with the related platform. The service was suspended at 17:00 pm on January 2, 2020 and related bugs have been fixed.
2. Mi Home Security Camera Basic 1080p in combination with Google Home Hub is one of the features developed by Xiaomi for the Google Smart Home system. The aforementioned bug appeared in Mi Home Security Camera Basic 1080p sold overseas when it was connected to Google through the Google Home Hub platform and there was a minimal probability that this would happen. The total number of users that have been reviewed for the relevant usage scenarios is 1044, of which only a few are likely to suffer from the bug.
3. All users (including Chinese and overseas users) who use the Mijia APP platform and Xiaomi Mijia cameras are not affected by the bug. At present, Xiaomi Security Center has communicated with Google and fixed the related bugs. After the two sides have jointly tested and improved, we will start the function again in due course. Xiaomi has always attached great importance to users 'security and privacy and will continue to fully protect users' rights and interests.
[UPDATE 06/01/2020]
Following Google's interruption of the integration between its Assistant devices and Xiaomi products, we are pleased to inform you that it is now up and running again, except for the camera. Xiaomi has confirmed to us that:
"... different devices, camera excluded, are now available on Google Nest Hub."
The fact that the camera is still absent means that Xiaomi is continuing its investigations on what happened. We will keep you posted.