In this Black Friday 2022 there really is something for all tastes! Among the products on offer there are also two high quality electric bicycles, ideal for use both in the city and on more inaccessible roads.
We are talking about Bezior X500 Pro e GoGoBest GF750. These are two remarkable bicycles, and the discount on GoGoBest is equally remarkable. In the next few lines we see in detail what are the main technical characteristics of both products and the offer on the aforementioned online store.
Bezior X500 Pro and GoGoBest GF750: technical characteristics
Let's start with Bezior X500 Pro, mountain bike electric bicycle with a aluminum alloy frame 6061, disc brakes and hydraulic shock absorbers. It weighs about 23 kg, is handy and equipped with a 500 W motor, able to guarantee amaximum range of 100 km, obviously variable according to the weight of who is driving it, inclinations of the path and other variables.
As for the maximum speed, it is of 30 km/h, and weight support arrives up to 200 kg (characteristic that makes it ideal also for robust people). It also offers a 7 speed Shimano gearbox, an ergonomic saddle and a LCD display from 5 ″ resistant to rain and bad weather, with IP54 certification, on which it is possible to read all the info relating to the current activity, including speed and distance travelled.
Also, mount 26 wheels ″. And, very importantly, it is foldable: this allows you to take it with you everywhere and store it easily in the trunk of the car. A nice convenience, considering that very often this type of means of transport is used for a whole day between city trips.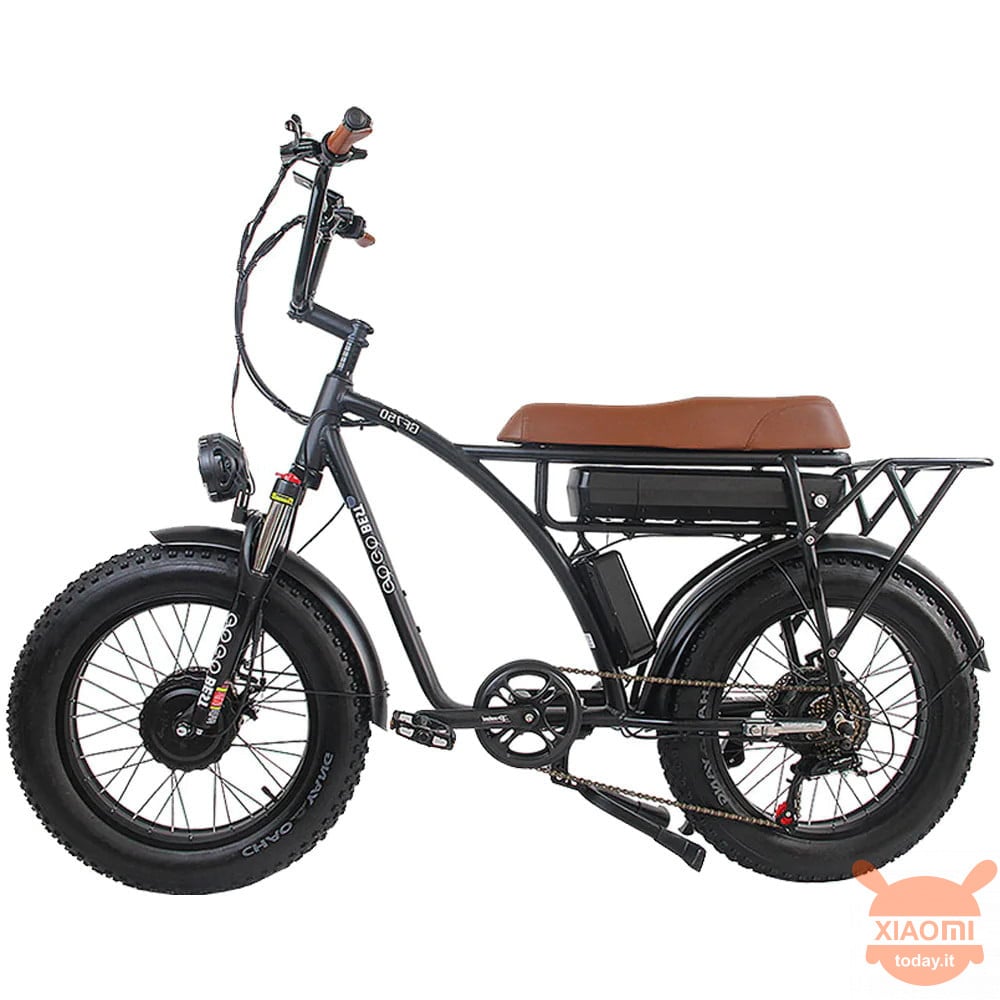 Let's move on to GoGoBest GF750, other electric bicycle with dual 2000W brushless motor and an overall power capable of climbing 45° climbs. It reaches a speed of 25 km/h and has a 48V 17.5 Ah battery, which ensures an autonomy of power-assisted mode up to 80 km.
It can also count on a intelligent LCD display, with integrated shift switch, bike data display and power setting. In addition, it is waterproof and IP54 dustproof. Also worth mentioning are the tyres, perfect for all terrains, with a width that reaches 10 cm. They are non-slip and anti-vibration.
Also very important is the mechanical disc brake, a dual front and rear disc brake system. There is also rapid heat dissipation and automatically cut off the power. And an emergency brake is also available, which does its job efficiently and smoothly. The gearbox is a Shimano 7-speed: it allows you to switch to a larger cog for climbing and downshift to a smaller cog at high speeds. Combined with the pedal assist system, you can adjust the suitable speed to complete the journey.
Finally, the presence of a front spring suspension, which improves impact resistance, and a rear luggage rack, which allows you to carry a maximum load of up to 60 kg, should be considered. There's also USB charging, which also supports iPhones and iPads.
Bezior X500 Pro and GoGoBest GF750: the Black Friday 2022 offer
Let's start from Bezior X500 Pro, which is offered at the price of €854,99 (instead of €899,99), using the coupon F7WQ68. With only €10 more add the rear rack worth €90. To take advantage of the offer CLICK HERE.
Switching instead to GoGoBest GF750, this bicycle is offered at the price of €1599,99 (Instead of €1799,99), with automatic discount at the cart. The offer is available HERE.
For both products, shipping is free and fast from the warehouse in Europe. Better to take advantage of it now, because stocks could run out at any moment.