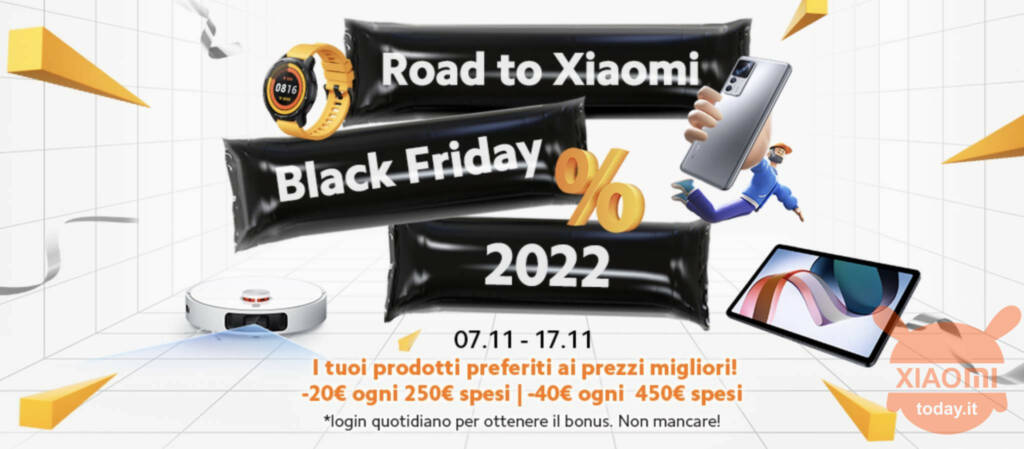 Il Black Friday is upon us and Xiaomi anticipates the most awaited period of the year by offering the first offers on smartphones and on the ecosystem Xiaomi Smart Life.
Starting today until November 17th it will in fact be possible to buy many products at unmissable prices. Below is a selection of the most interesting opportunities to be seized on the fly mi.com!
Xiaomi smartphone e POCO: the quality - price ratio has never been so convenient
If you are looking for a flagship model at an unrepeatable price, this is the right time: Xiaomi 12 (8GB + 256GB) is available a €559,90 instead of 899.90 €.
Redmi 10C (3 + 64GB) at € 99,99 instead of € 179,90 thanks to the further price reduction thanks to the € 20 coupon available on mi.com; while in the version 4 + 128GB at the price of €139,90 instead of € 219,90 thanks to the coupon application.
POCO M4 Pro (6 + 128GB) one of the most popular Android smartphones in the entry-level range, is available starting November 11 on mi.com a €169,90 instead of € 229,90 while in the version 8 + 256GB a €219,90 instead of 279,90 €.
Xiaomi Smart Life products: the IoT that gives a change to everyday life
Starting with house cleaningMi Vacuum Cleaner G10 is available a € 249,99 instead of € 349,99; Xiaomi Truclean W10 Ultra Wet Dry Vacuum e Xiaomi Truclean W10 Pro Wet Dry Vacuum are discounted respectively a €759,99 e 559,99 €; both Truclean products are complimentary with Xiaomi Buds 3, to accompany the cleaning with the right sound!
There is no shortage of opportunities for the robot segment as well:
My Vacuum-Mop Robot P It is available in colors Black e White a €279,99 instead of € 399,99, with one as a gift Mi smart Kettle Pro. Also Mi Robot Vacuum-Mop 2S it is available for purchase €219,99 instead of € 299,99, while Mi Robot Vacuum-Mop 2 Pro it is available in Black and White colors a €299,99 instead of 399,99.
For those looking for a new laptop with the convenience of a tablet, Xiaomi Book S 12.4 '' is discounted a €549,99 from € 699,99, together with the keyboard at the exceptional price of € 129,99.
Revolutionizing your listening experience is at your fingertips with Xiaomi Buds 3 in Gloss White and Carbon Black colors at the price of 109,99€ instead of € 129,99; while Xiaomi Buds 3T Pro a 139,99€ instead of 169,99 €. Furthermore, for the wearable category, the opportunity is undoubtedly represented by Xiaomi Watch S1 Active, available in three colors for the price of €169,99 instead of 199,99 €.
Fast and healthy frying? It is possible with My Smart Air Fryer 3.5L, discount at € 89,99.
For more information and to discover all the offers visit the pages
mi.com
Furthermore, for all the products purchased, it is possible to obtain further reductions based on your expense.