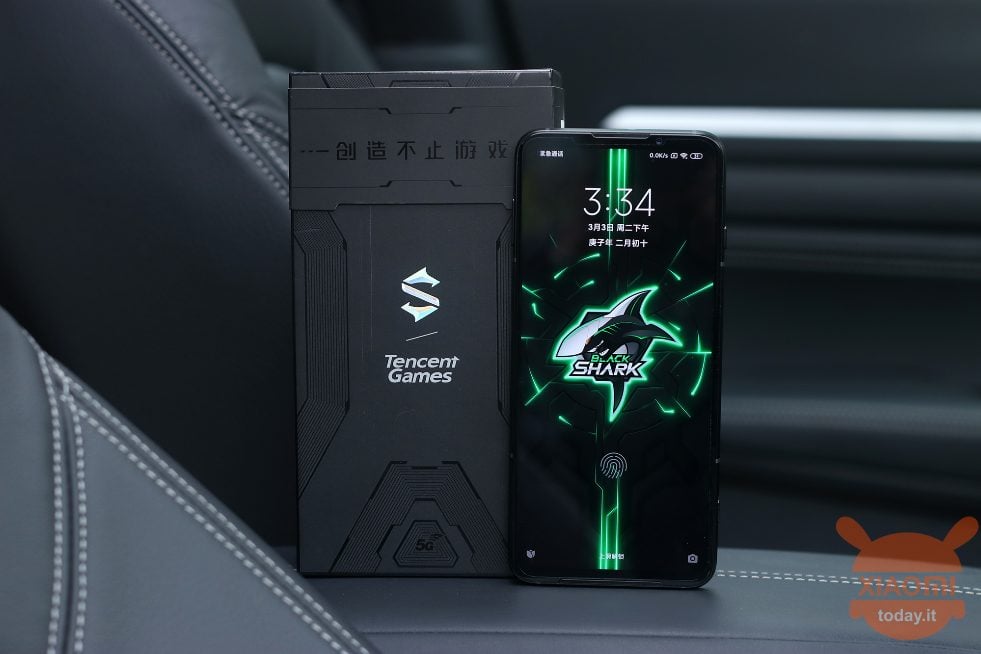 After a series of indiscretions and stolen images, the long-awaited finally comes out in China RE of gaming smartphones: Black Shark 3. The older brother was obviously presented with him Black Shark 3 Pro that he has on his exclusive features. If you are expecting a device taste... you will be satisfied because it is truly a gem. And all in all, given the specifications, the hardware sector and all that is possible to do, the price is really ridiculous. In addition to him, presales of the headphones have also started Black Shark Ophidian.
Finally Black Shark 3 and Black Shark 3 Pro have been released: everything you need to know about the new top in the gaming field
Let's start by remembering that the device was developed in collaboration with Tencent, the Chinese giant who among other things has one of the most important games in his hands: PUBG Mobile. This has led to Black Shark not just pressap firepowerpoco unlimited, but also a very high quality in terms of assistance.
Design Black Shark 3 and 3 Pro
As for the design, the device was completely redesigned. We can see it mainly looking at it from behind: there are those who call it "skull" photographic sector because it vaguely remembers it, but however you call it we have never seen such a component on a smartphone. A irregular hexagonal shape allows three cameras to stay inside. Immediately below there is the LED logo, completely redesigned and then another hexagon that carries the magentico attack for charging. Other news are i physical keys placed at the top but to disappear, exclusive of the Pro variant.
On the front, the differences with the predecessor are minimal: there is always a excellent quality display with pronounced chin and forehead, where one is placed above single cam. jack hole 3.5 mm it could not miss and is placed at the top instead of at the bottom.
Display Black Shark 3 and 3 Pro
As for the front panel, we have a AMOLED from 6.67 " with resolution Full HD + (2400 x 1080 pixels and 20: 9) on the version standard it's a AMOLED from 7.1 " with resolution Quad HD + (3120 x 1440 pixels and 19.5: 9) on the version PRO. Both models only support the refresh rate at 90Hz (many expected 120Hz) but on the other hand there is also one touch sampling frequency a 270Hz, or the maximum ever reached by a smartphone. IS' an innovative system has been incorporated pressure detection, able to detect the force with which we press the screen through 4 sensors. If that's not enough, each screen is set to values ​​of JNCD <0,55 and ΔE 1,1. All decidedly convincing values.
Hardware Black Shark 3 and 3 Pro
Under the hood we find the powerful Qualcomm Snapdragon 865 assisted by 8 or 12 GB of memory RAM of type LPDDR5, capable of reaching 50% faster transfer rates than LPDDR4 memories. As for internal storage, the device will only have two configurations: 128 and 256 GB type UFS 3.0 and therefore super fast. Modems are also integrated X55 for connection to the 5G network and Wi-Fi 6 for an unparalleled in-game experience.
To cool the smartphone, an innovative system is integrated liquid cooling double layer (rear and front) able to dissipate the heat generated inside Black Shark 3 in an intelligent way but above all uniform.
Battery and autonomy Black Shark 3 and 3 Pro
While the most powerful smartphones of today have cable charging and wireless charging, this has instead of the second one magnetic charging. In both models it will be possible to use the 65W cable charging type-C (from 0 to 100% in just 38 minutes, 2.780 mAh in 15 minutes) and that magnetic 18W. The difference lies in the battery capacity: the model standard has a 4750 mAh while the model Pro has a 5000 mAh one.
Black Shark 3 and 3 Pro cameras
We do not spend many words on this sector since it is not a device devoted to photography. The rear compartment is formed by a triple camera with an irregular hexagonal shape with sensors from 64 (main) + 13 (wide angle) + 5 (depth) megapixel. The front camera is obviously single, from 20 megapixel. The only news worth mentioning is that support for photographs has been added RAW format.
Black Shark 3 and 3 Pro price
All prices are converted at the current euro exchange rate:
Black Shark 3: 8 GB RAM - 128 GB ROM: 3499 yuan, € 450;
Black Shark 3: 12 GB RAM - 128 GB ROM: 3799 yuan, € 489;
Black Shark 3: 12 GB RAM - 256 GB ROM: 3999 yuan, € 515;
Black Shark 3 Pro: 8 GB RAM - 256 GB ROM: 4.699 yuan, € 605;
Black Shark 3 Pro: 12 GB RAM - 256 GB ROM: 4.999 yuan, € 643.