In the 2018, gaming smartphones have become increasingly popular, capturing the attention of many mobile gaming enthusiasts. It 's still true that there are not many smartphones in the category and to be honest I do not think that currently is offered by any device a real killer feature both hardware and software worthy of the "gaming" appellation. Among the few examples in circulation we find from Xiaomi, or rather the subsidiary BlackShark, the recent Helo as well as the BlackShark first version.
XIAOMI Mi 9T 128GB BLACK - BLUE Global 6 / 128gb
ATGRATIS Shipping from Italy 24 / 48h

And already, I stress the first version, because this 2019 will not only see the arrival of My 9 but also the sequel of the first Chinese gaming phone, namely the BlackShark 2. In fact, the company officially confirmed to be working on the future gaming terminal, promising performance from ultra top of the range. He is the product manager Wang Teng Thomas to comment on, posting on the social Weibo his impressions on the new BlackShark 2, underlining how much this new smartphone is fast, although certainly we do not expect him to say the opposite or bad of a product.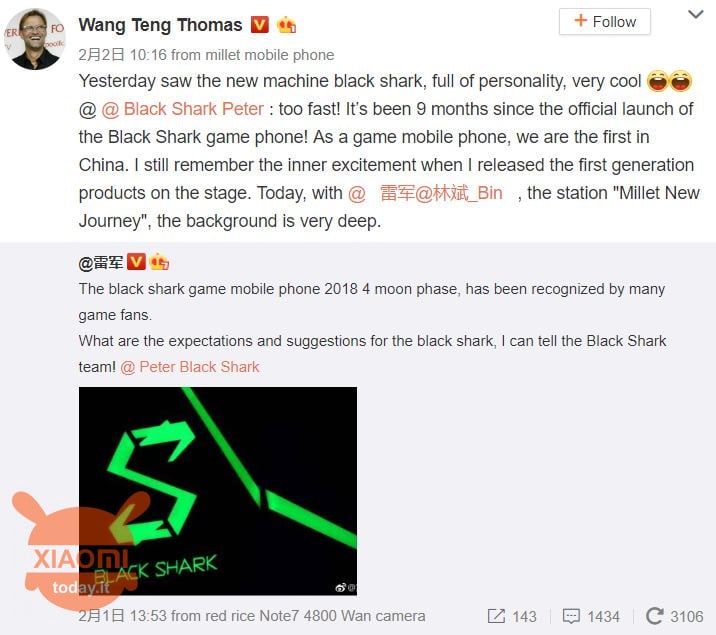 BlackShark 2 will be a splinter: word by Wang Teng Thomas
But certainly the future BlackShark 2 will not disappoint even if we hope that this time the Global version of the device does not arrive later one thousand thousand months of waiting, but rather that the launch on a global scale is taken into account immediately by the company. Currently the Xiaomi terminal will collide with the Razer Phone 2 and l 'ASUS ROG Phone who boast from their one display refresh rate to 120 Hz for the former and 90 Hz for the latter, therefore also BlackShark 2 will at least guarantee these frequencies if it really wants to compete in the gaming phone sector.
Surely you will not lack power, thanks to the integration of the SoC Qualcomm Snapdragon 855, which judges from the first benchmarks on the net, it looks like a real firecracker. In addition to a very respectable technical card, we are expecting a series of dedicated accessories that will optimize the gaming experience, but above all as mentioned in the article principle, we hope that really useful features will be introduced. And what do you think?
-39%
Sale
GRAT FREE Priority Line Delivery (10-15gg Delivery, NO Customs) ✈
-34%

Sale
🇨🇳 Priority Line Delivery (Delivery 10-15gg, NO customs) ✈
-31%
Sale
🇨🇳 Priority Direct Mail Shipping (Delivery 10 / 15gg, NO customs) ✈