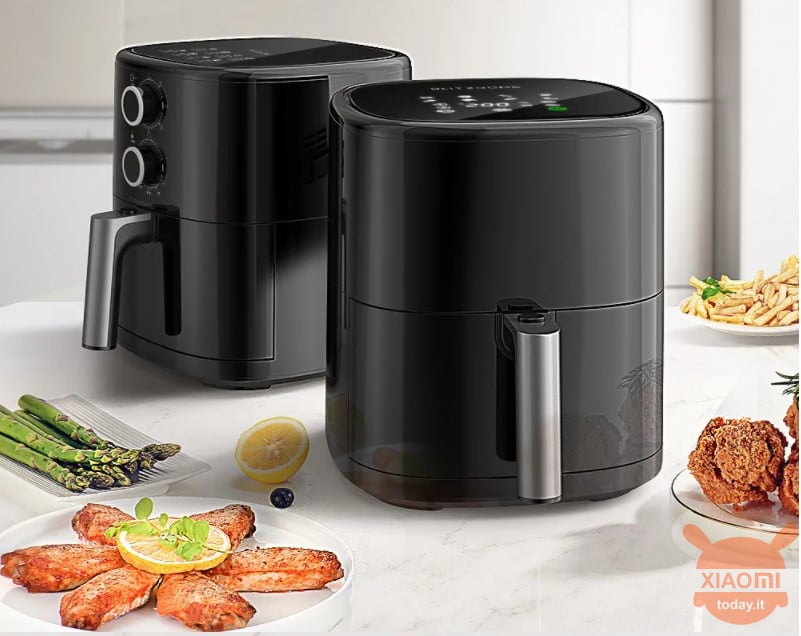 The BlitzHome BH-AF2 Air Fryer with 1500W power, touch controls, 5 liters of capacity, app control with recipes included is the product that could change your way of cooking. A kitchen without condiments, therefore dietary, in just a few minutes and without having to "keep up" with what we are cooking. In fact, thanks to the uniform ventilation that heats the entire food drawer, you can dedicate yourself to something else while she cooks for you. Just check it out every now and then and stir up the food a bit.
If, on the other hand, you want to be ready when you return from work, no problem! In fact, it will also be possible to control it via the "BlitzHome" application and, by previously entering the food to be cooked, start the selected program (or even a manual one) remotely.
So no doubt, this BlitzHome BH-AF2 is the perfect product for those who want to go on these new kitchen devices!
If you want to see our in-depth review, here it is:
● APP Remote Control: Check the real-time cooking state, set time, default and DIY interesting menu as you wishes via simple APP control.
● Intuitive Top Touch Pannel (Touch Style): Convenient for stand operation without bending down.
● Knob Adjustment (Mechanical Style): Access to accurate and suitable time and temperature control, born for extreme precise cooking.
● ASH2.0 Technology: 360 ° Hot air circulation and even heating, heat reflection on the inner of chamber can slow down heat loss, quickly keep the food moisture to make it more crisp.
● RNC Technology: Reducing noise by 20%, advanced fan resonance noise canceling technology provides a quiet working environment.
● 5L / 4.4qt Large Capacity: Perfect for family dinner or party meal.
● Multiple Smart Recipes + Cooking Ways: Novice in the kitchen can also cook delicious meals.
● Easy to Clean: Removable fryer basket use non-stick coating, easy to clean. fry basket and fry pot can be washed in the dishwasher.
● Healthy Frying: Achieve perfect fried results with little or even no oil, fried finish using at least 98% less oil than traditional fryers.
Specification
Brand: BlitzHome
Model: BH-AF2
Color: Black
Voltage: 220V-240V / 50-60Hz
Power: 1500W
Capacity: 5L
Control Mode: Mechanical ControlTouch Control
Heating Method: 360 ° Hot Air Circulation
Opening Method: Pull Type
Detachable Basket: Supports Detachable
Plug: EU (We will send you an adapter which according to your country)
Size
Package Weight: 5.9kg
Product Size: 36.10 x 27.10 x 30.60 cm
Package Contents
1 x BlitzWolf® BW-AF2 Smart Air Fryer, 1 x Manual