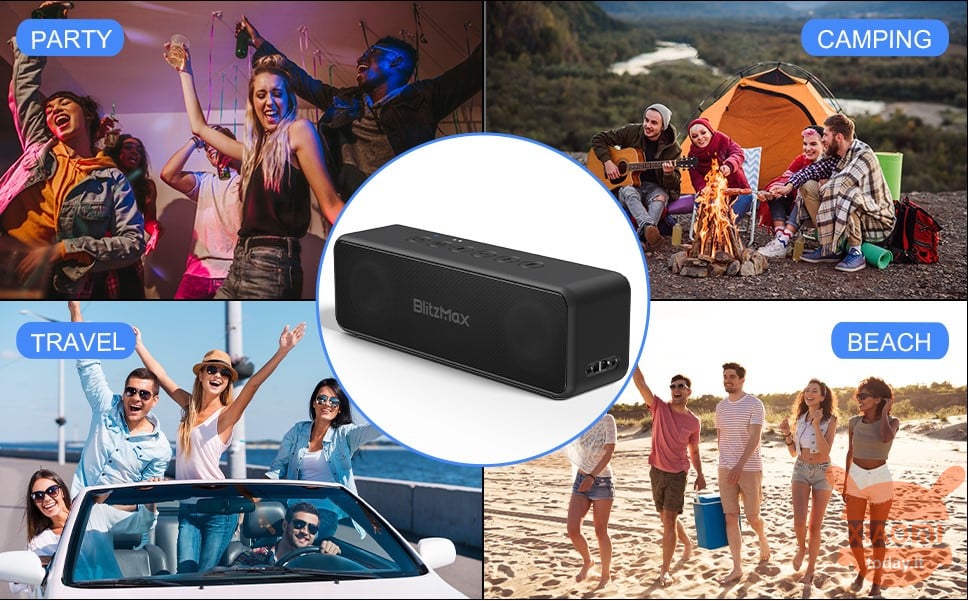 In the infinite panorama of TWS (True Wireless Stereo) speakers we find a new model of the brand BlitzWolf which by now we know well for the excellent value for money of its products: the BlitzMax BM-WA4! Let's go see its features!
PACKAGE BlitzMax BM-WA4
But let's see what's in the box right away
BlitzMax BM-WA4 30W speaker (perfectly packed)
USB charging cable - USB Type C
3.5mm Jack audio cable
Strap for transport
Instruction manual (including Italian)
Warranty certificate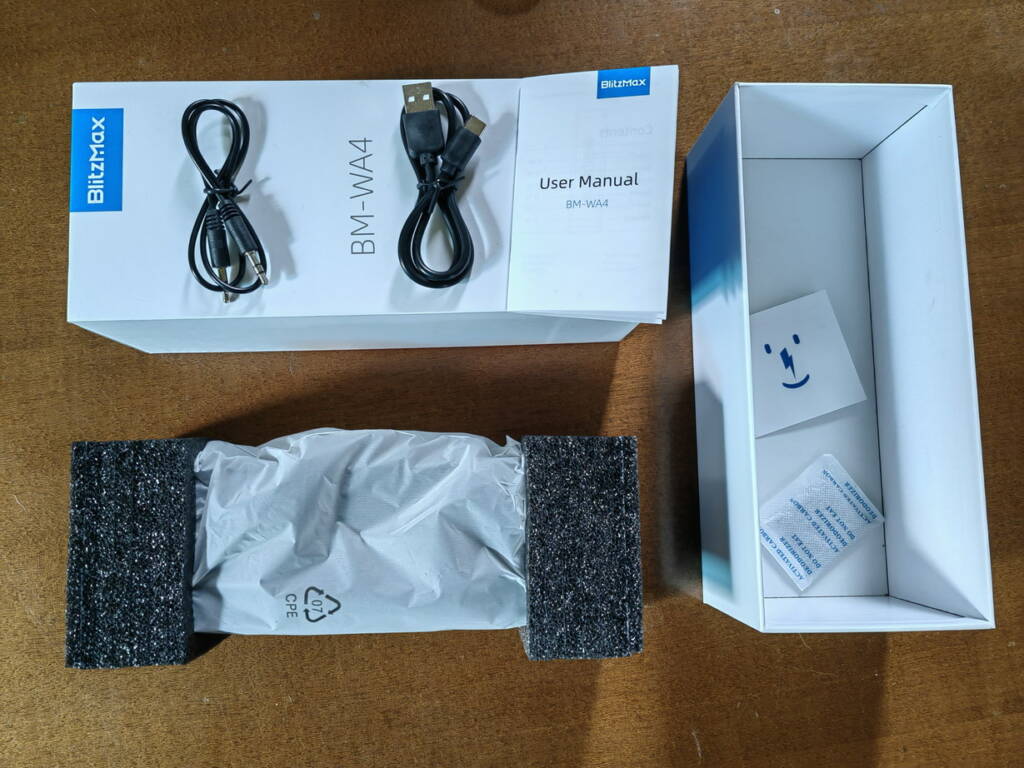 TECHNICAL FEATURES
Maximum power: 30W
BlueTooth: 5.0 with A2dp.avrcp.hfp support
Frequency Range: 80Hz – 18.000Hz
Impedance: 4w+- 15%
Music playback autonomy: 6 hours (with volume at 50%)
Call autonomy: 20 hours (with volume at 70%)
Battery capacity: 4.000mAh
Charging time: 3 hours (with 5V x 1.5A charger)
Size: 215 x 55 x 68mm
Weight: 685Gr
BUILD QUALITY BlitzMax BM-WA4
I must say that I was immediately struck by the aesthetic beauty of the product. Rounded near the edges, very compact and robust at the same time, we find 2 metal grids in the front and rear while above, below and on the sides "rubberized" which certainly makes it (as per specifications) very resistant to shocks and gives a pleasant sensation at all. The only sore point is that it holds the fingerprints a lot.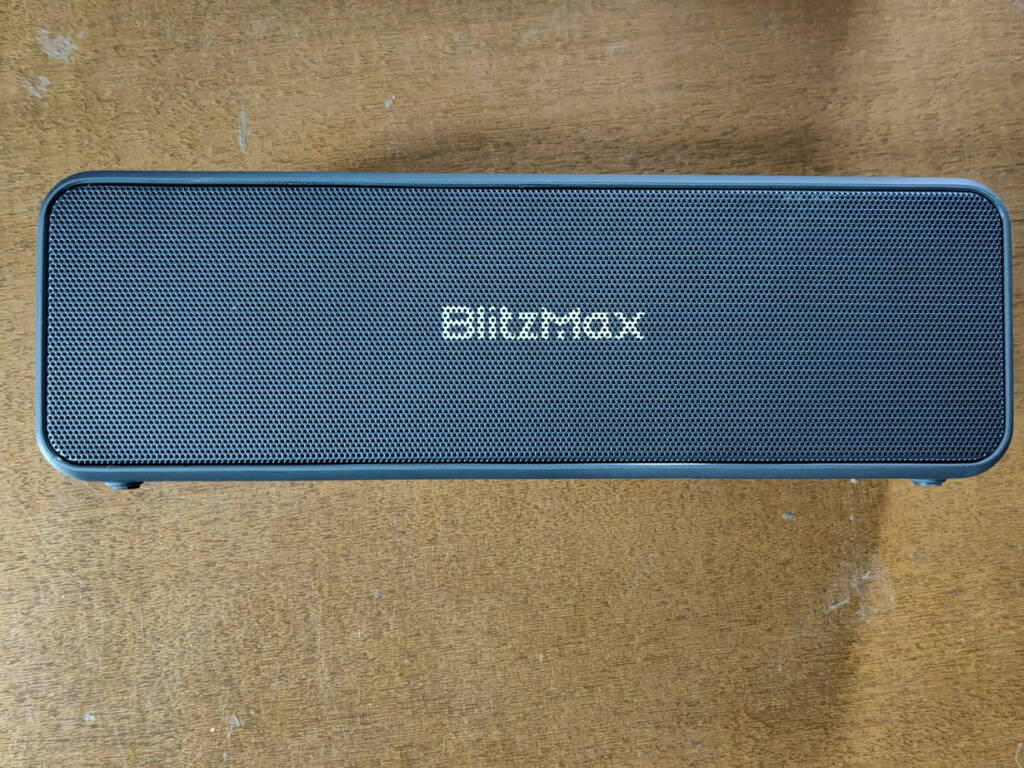 On the upper part we find the operating buttons, also rubberized, on the side the hook for the strap supplied to be used in case of transport while behind the audio inputs protected by a rubberized cap which keeps the waterproof characteristics intact IPX6 .
There are 3 entrances: type c for power, audio input from 3.5 mm e TF card for complete multimedia.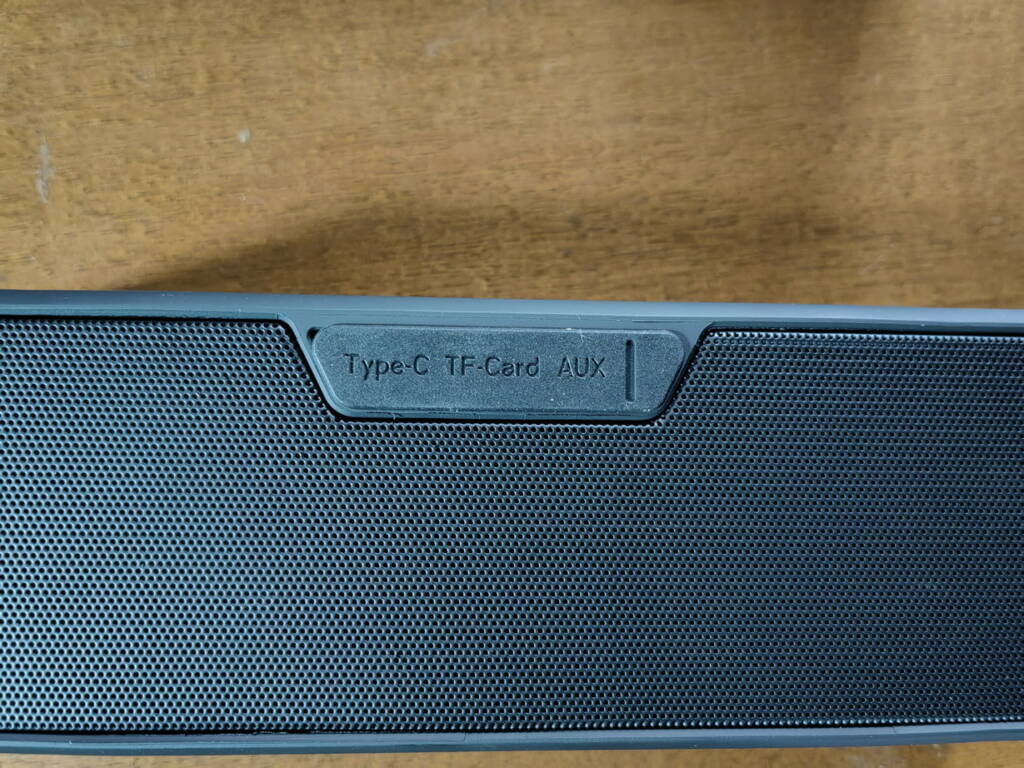 FUNCTIONALITY'
The primary one certainly remains via BT which, being 5.0 TWS, guarantees us truly excellent sound quality. But as mentioned we can also connect a memory card with our favorite songs or an external device via 3.5mm audio cable. The keys above the speaker will allow us to perform all the operations, let's see them in detail:
Key ON OFF: click to turn it on, long click to turn it off, double click to enter TWS mode which we will explain later
Key M: single click in sequence to switch to the 3 preset equalization modes (surround – bass – vocal), long click to switch to the various audio outputs (BT-TF Card-AUX), hold down for 8 seconds to reset to factory data
Key PLAY: click play/pause, answer and hang up during an incoming call, double click redial of the last called number. Press and hold for 3 seconds to disconnect the BT, press and hold for 2 seconds during an incoming call to reject it.
Key - : click to lower the volume, hold down to go back to the previous track
Key + : click to turn up the volume, hold down to skip to the next track
Key MIC: to activate the voice assistant of our smartphone.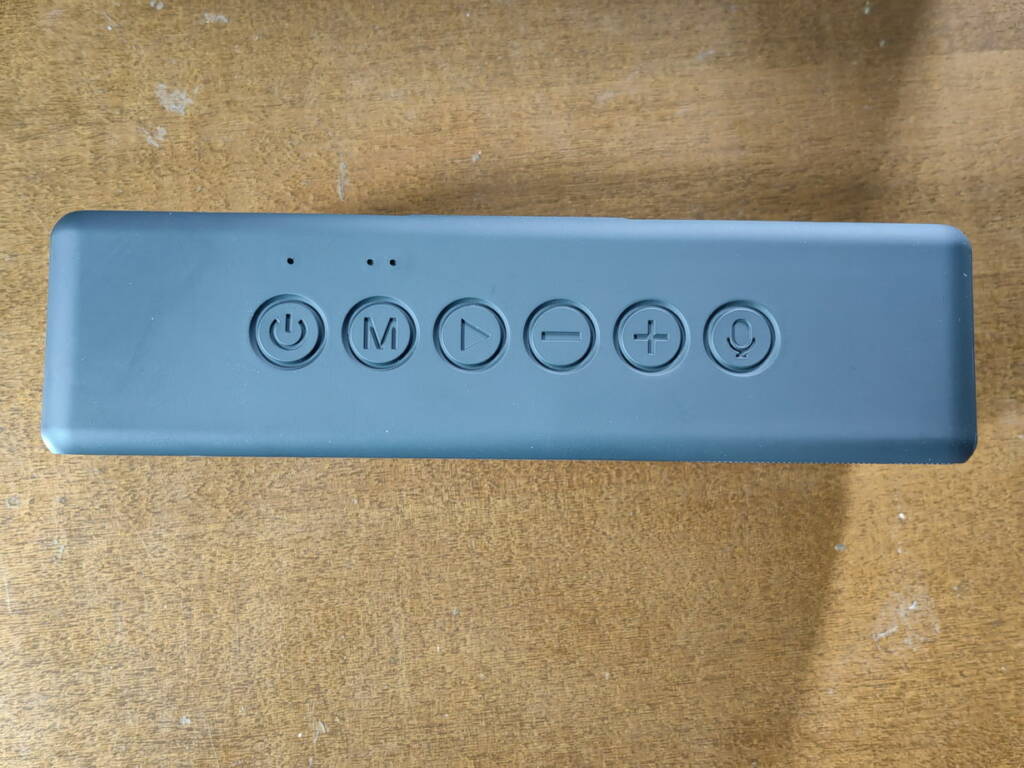 As for the equalizer, I recommend the default setting (surround). Above the M key you will find 2 small LEDs, the first will turn yellow if you are connected in TWS between 2 speakers, the second will remain off if the eq is set to surround, it will turn green in the BASS setting and white in the VOCAL setting.
TWS MODE
In this mode you will get the maximum sound quality and power as you can pair 2 speakers and make them play in stereophonic mode! You got it right, the channels will split automatically and you will get the true STEREO effect. To enter this mode you will have to proceed as follows: turn on the speakers and check that they are not connected to any BT device. Once this is done, double click on the power button on one of the two and a yellow light will come on with an acoustic signal and it will automatically light up on the other as well (if it does not light up on the second one proceed with a double click on the power button on the according to). At this point they are connected and you just have to pair what will now be seen as a single BM-WA4 to your smartphone / PC / etc. Naturally now the commands of one will also apply to the other.
EQUALIZATION CURVES
There are 3 settable equalization curves: default, deep bass, clear voice. Based on the selected curve (with a single click of the M key) you will have the LED off, the Green LED and the White LED. Honestly the default setting, called surround, is my favorite and seems to be the most balanced. I advise against the other 2, even if musical taste is really very subjective. The least convincing one, in my opinion, is the "clear voice" as it cuts the low frequencies too much precisely to highlight the highs. But I don't think they did a good job.
HOW THE BlitzMax BM-WA4 SOUND
But obviously the fundamental question is this: how do they sound? So, let's talk about 30W speakers with really small dimensions. In audio, everything contained cannot deliver much power (unless you go for products with exorbitant costs) and in fact we are not dealing with a speaker that you can use to have a party. But they sound good, thanks also to the integrated DSP chip, defined and balanced (I remember with the default eq curve). If you then connect in TWS the power doubles, so my advice is to take the torque and then you will also have many more DBs.
CONCLUSIONS
The conclusions are the summary of all that reported above; if you want a speaker that gives you so much acoustic power you either buy two or you have to go to something else. If, on the other hand, you want a really well-made, portable BT speaker with good audio and that doesn't cost a fortune, then this could be for you. But let's get to the price, another fundamental discriminant.. today you can take it home with a 20% discount directly on Amazon Prime. At this price and with the Amazon guarantee it becomes a very interesting product and I certainly recommend its purchase. We thank GOOD BANG for sending the sample.
📉️ HISTORICAL MINIMUM📉
🛒 Bluetooth 5.0 speaker Blitz Max BM WA4, TWS Surround Sound, 3 EQ Modes, IPX6 Waterproof and Shockproof, DSP Technology, AUX, TF, USB for Travel, Outdoors
💰 Drops to € 47,99 from € 59,99 (-20%)
🎟️ Coupon on the page
📌 Buy https://amzn.to/3W76QnU
🚚 Sold by Oshangshop and Fulfilled by Amazon
➖➖➖➖➖➖➖➖➖➖➖
You save € 12,00 with 👉 https://t.me/s/scontitoday