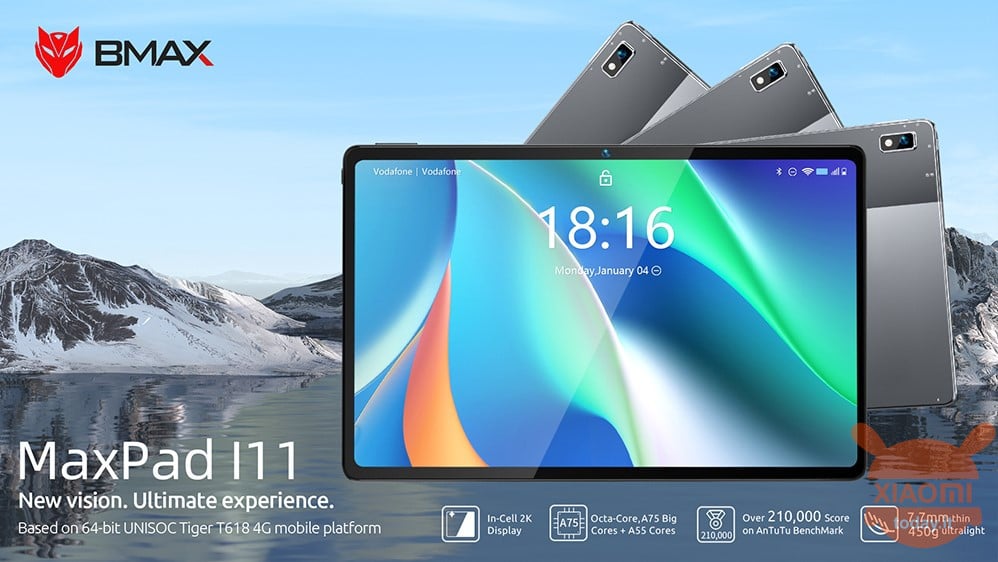 Over time, with the ever-increasing size of smartphone displays, they have certainly lost appeal but the convenience of having a nice 10 ″ display where, on occasion, you can see a movie, the episode of your favorite TV series or a simple video from our social networks , remains intact. Considering the fact that, over time, prices have drastically dropped and hardware improved, a nice tablet is always an interesting object. But the question is always the same: which one to choose? Well today I'm going to tell you about the last one I tried thanks to GEEKBUYNG (which I thank for sending the sample), the BMAXMaxPad i11 4g LTE and I assure you that it is really a product to focus on!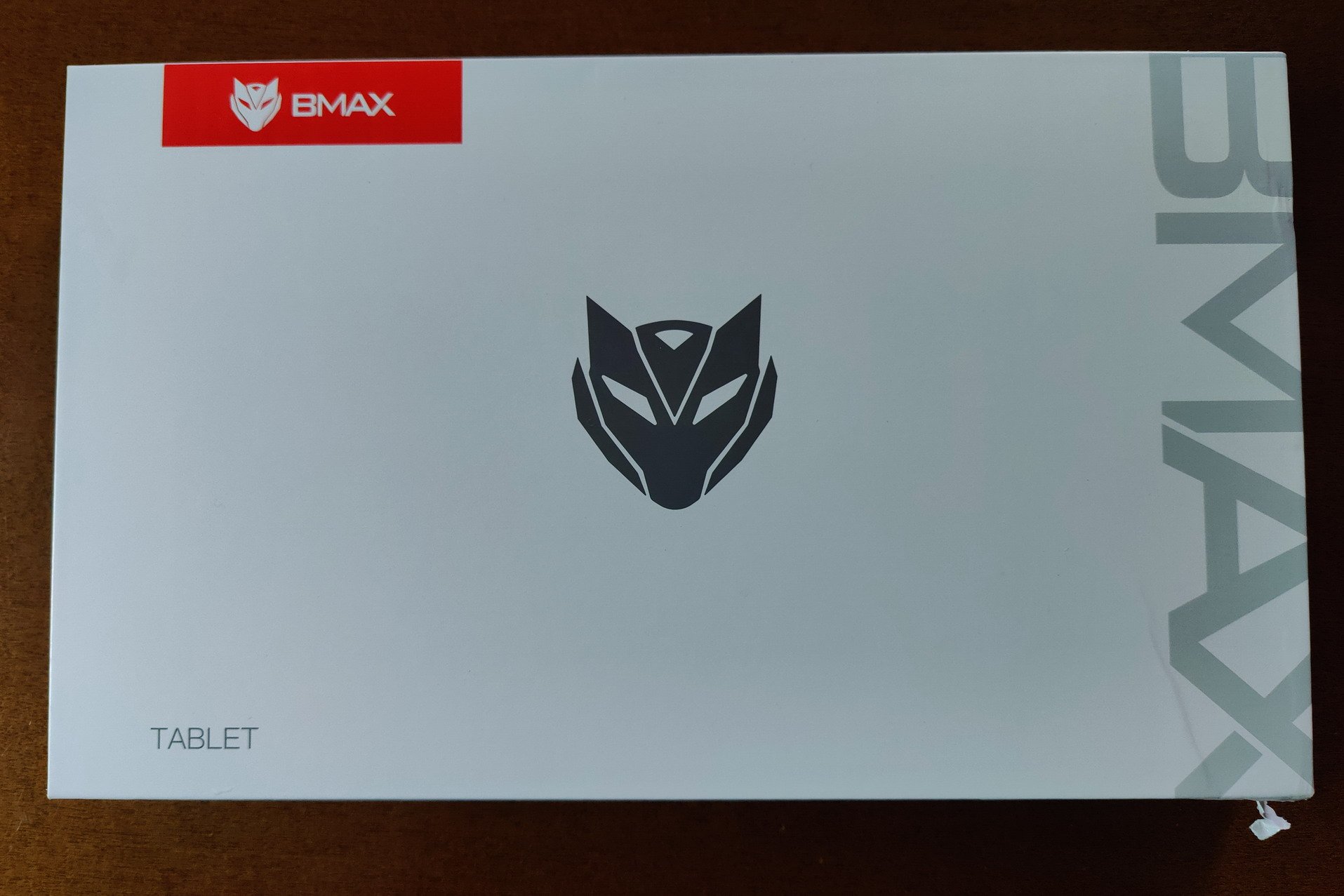 €175 €215
GEEKBUYING
🇪🇺Fast Shipping from Europe Included (No Customs)
PACKAGING BMAX MaxPad i11
As usual, the tablet packaging is quite sparse. In fact, we find only:
Tablet
EU charger
USB - Type C cable
Warranty leaflet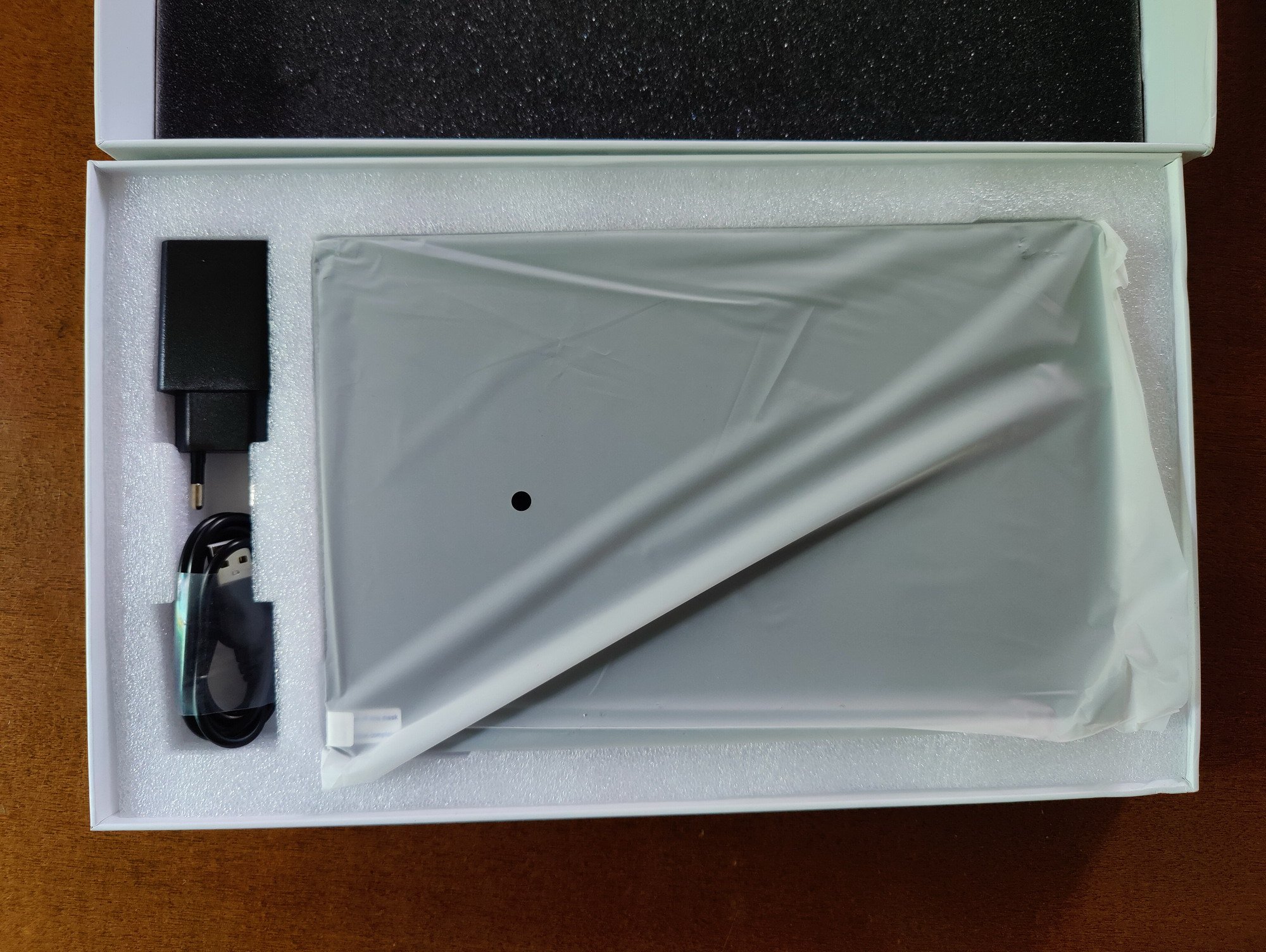 AESTHETICS AND DIMENSIONS BMAX MaxPad i11
From an aesthetic point of view, one word, chapeau! Really very nice, made entirely of aluminum alloy, it weighs only 450Gr and is often alone 7.7 mm! This thickness combined with the weight gives us an excellent grip and a wonderful feeling of comfort when we hold it in the hand. The other measures are 247mm x 156mm also contained since the Display is a unit of 10.4", thanks to the very small frames. This detail also makes the overall aesthetics of the tablet even more pleasant.
On the upper side we find the power button, the cart for the sim and the micro SD (or dual sim), the USB Type C charging socket. On the right side the volume rocker while on the left one (which in landscape will be the part below) there are the two stereo speakers. Also on the right side (therefore the top in landscape) we find two grids identical to those below, but I didn't understand their usefulness. The back is two-tone and this particular makes it really cool!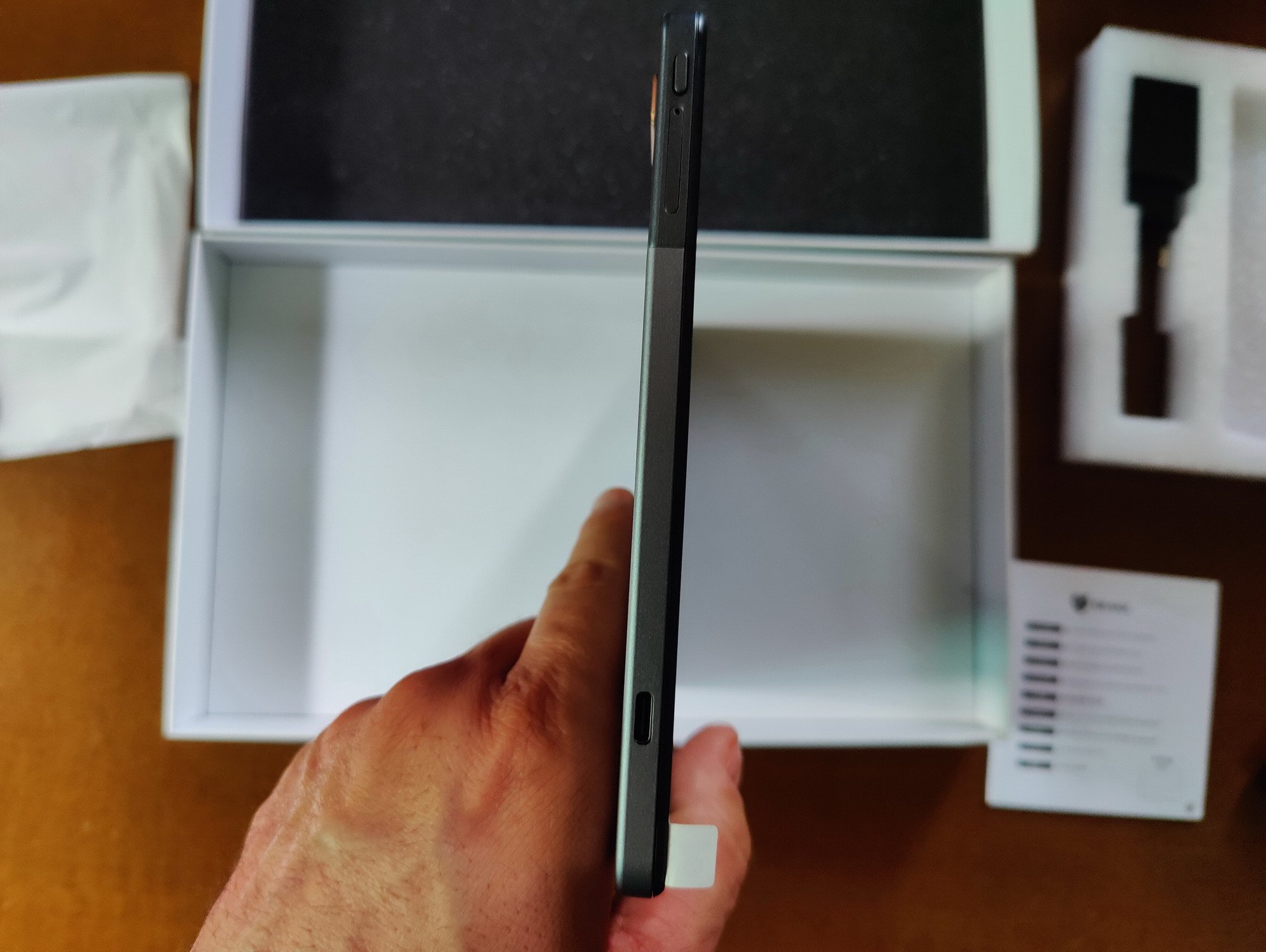 BMAX MaxPad i11 HARDWARE FEATURES
The technical data sheet of our BMax MaxPad i11 is very interesting, in detail:
CPU: Unisoc Tiger T618 64 Bit processor, Octa Core, 2 x ARM Cortex A75 + 6 x ARM Cortex A55 (which will guarantee us very good performances even with the most demanding games, we reach 210.000 points on AntuTu)
GPU: ARM Mali G-52 3-EE
Memory: 8Gb DDR4 of RAM and 128Gb of ROM memory (expandable with microSD up to 128Gb)
Display: 10.4 ″ IPS LCD, 2K resolution, 2000x1200p
Battery: 6.600mAh
Camera: 13Mpx rear, 5Mpx selfie camera
Network: 2.4 / 5GHz dual band Wi-Fi, BlueTooth 5.0, 4G LTE dual standby connection with 20 band and VoLTE with phone call software
GPS: A-GPS Glonass-Beidou-Galileo.
3.5mm audio jack: present
As you will have seen from the data sheet, this tablet lacks nothing to be our daily companion in supporting the smartphone. The ability to make calls is really convenient, so in particular cases we could also use it as a telephone. Another features particularly dear to most Android users is the presence of the 3.5mm audio jack, so as to allow the use of our often very expensive wired headphones, without having to use inconvenient and pejorative Type C-Jack 3.5mm adapters.
DISPLAY
The display is a good 10.4 ″ IPS with a very good resolution, 2K, from 2000 x 1200p. The colors are well balanced, and we will also have three different settings to use according to our preferences. Really enjoyable enjoying videos at maximum definition and the reduced frame make it even more enjoyable. I have not found data on the brightness but outdoors on particularly sunny days it is a bit difficult to read well. Better to use it indoors or at least not in direct sunlight.
AUDIO
Although stereo, the two speakers only do a decent job. The low frequencies are quite scarce and to obtain a good sound quality there is certainly a bit of "tweaking" with some application of equalization. The volume is also not very high, ergo it is not your tablet if you are looking for super-performing audio. Let's also say that almost all tablets are a bit subdued from this point of view. It must also be considered that as a DJ I pay a lot of attention to details, probably for 90% of users it will be just fine. In any case, eventually, you can connect a BT speaker and you will also have the top in the audio sector (here an excellent suggestion: https://xiaomi.today/39nnmxe)
SOFTWARE
The BMAX MaxPad i11 arrives with Android 11 and the security patches dated April 2021. The accounts do not add up .. the model is quite new so there is probably a bug in the firmware description, which by the way should date back to March 2022 (1.19_20220328-1825). I have not received any updates for now and this is definitely not a good sign. Other brands that I have tried, in the same segment, have been attentive to the updates so I hope that BMax is no exception, we'll see.
The Android version is quite stock, with some nice customizations, such as the programmable on / off timer, face unlock (2D), digital well-being and display color setting.
The UI runs well, I haven't found any annoying glitches or bugs. As mentioned in the data sheet, even the most demanding games for hw run well, obviously not at the maximum possible framerate.
CONNECTIONS
Absolutely promoted on the networking and connections side. In fact, the dual band Wi-Fi is present, therefore also with the 5Ghz band, the BlueTooth 5.0, the 4G LTE telephone connection (with 20 band included) and even the possibility of making voice calls on a telephone line. As you can see, absolutely nothing is missing and based on the price I must say that it is difficult to find other products with this technical data sheet so well supplied. Excellent connection via Wi-Fi on 5Ghz lines, very fast and stable. Also tested with LTE data network and obtained download / upload levels very similar to my OnePlus 9 Pro. In order not to miss anything, I also tested the quality of the GPS chipset and also from this point of view I am very satisfied. Precise, perhaps not as flawless as a top-of-the-range smartphone but certainly preferable in the car thanks to its excellent 10.4 ″ display.
CAMERAS
While obviously not a decisive point in a tablet, let's talk quickly about the cameras too. Obviously none of that, but they do their job. The 5mpx front one will not give us problems for any video calls, DADs, etc., while the rear one takes pictures sufficient to publish on our social networks, but without pretensions. Let's not ask him to take photos at night too, the interface is not very intuitive, in fact to switch from camera to video camera you will have to swipe to the right, instead you will go into the gallery doing it to the left.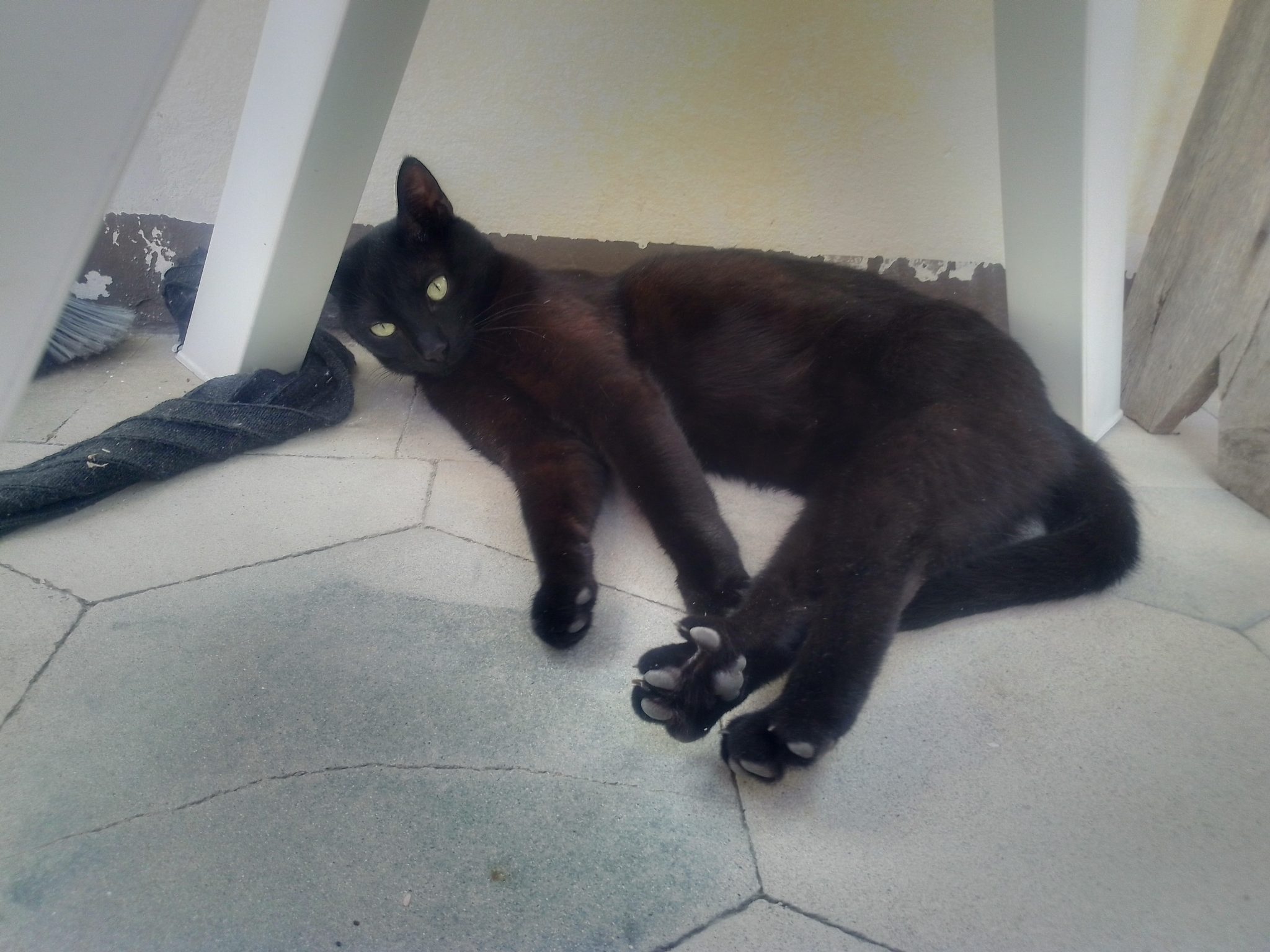 AUTONOMY
On the autonomy of course we could record very different values, based on the type of Internet connection used (Wi-Fi or LTE / LTE Dual SIM), based on how much signal is hooked up by the Tablet (intensity particularly important in 4G connections) and of course which applications we use (playing Real Racing is one thing, browsing our FB home is another). The maximum performance I achieved, with Wi-Fi connection and mixed use between games and social networks, is about 6 hours of screen on, therefore absolutely satisfactory.
CONCLUSIONS
Surely after having enlightened you on the characteristics of the tablet you will already have a pretty clear idea if it could or could not be for you. I would like to advise you on the purchase as the balance is definitively moved by the value for money, but above all by the opportunity that we bring you today. In fact, the list price is around € 230, but thanks to the offer of GEEKBUYING, combined with our coupon, you can bring it to you with about 50 € discount, including fast shipping costs from Europe warehouse. Having said that you can then make the payment, to protect your purchase, with PayPal everything becomes almost unmissable! I just have to wish you good fun with yours BMAXMaxPad i11 and leave you links and coupons for the purchase!
€175 €215
GEEKBUYING
🇪🇺Fast Shipping from Europe Included (No Customs)