In fact, we wondered what happened to C Manmohan, General Manager of the brand POCO, in which he has built a solid career made of personal successes and for the brand itself. After launching milestones such as the POCOPHONE F1, as well as a number of other hits such as POCO X2, POCO F2 PRO, the manager announced his farewell through an open-hearted letter, published on various social networks. It therefore ends with the launch of POCO X3 NFC, the adventure of C Manmohan in POCO, a company he joined in August 2018 and became an icon for the Xiaomi affiliate company, especially on social networks. It was he who launched the first and glorious best seller to the world POCOPHONE F1, thus making the globe aware of the company's potential and philosophy POCO.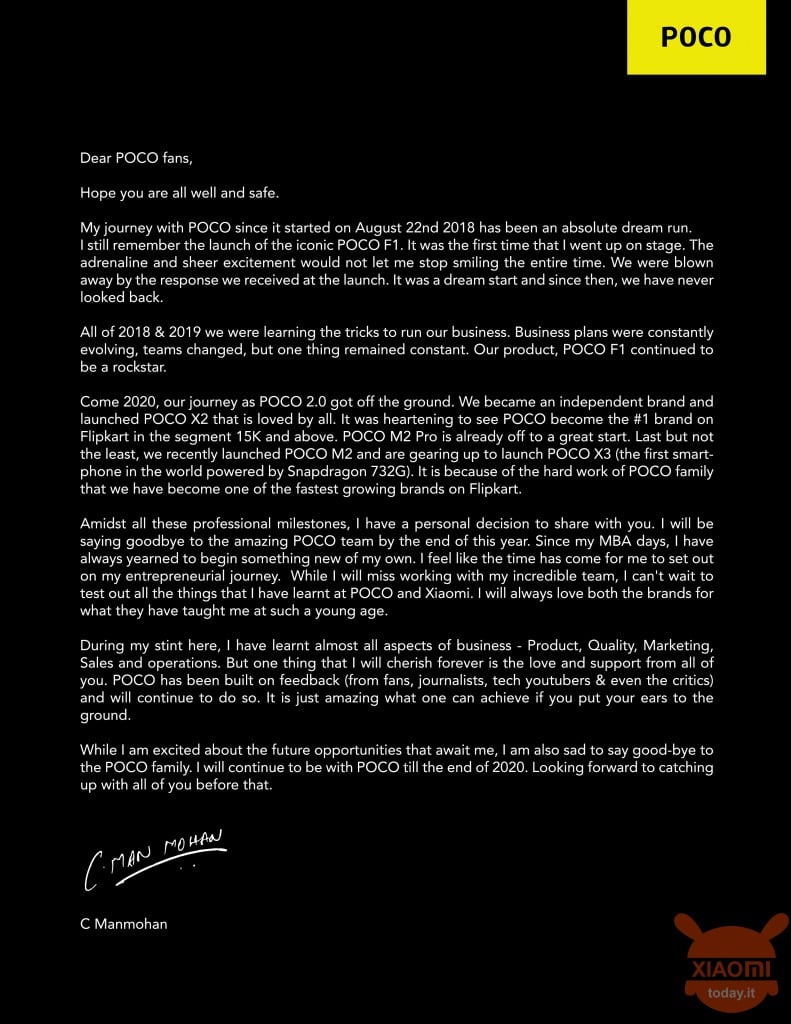 C Manmohan says goodbye to POCO through an emotional farewell letter
The reasons for the farewell are not clear, if not a reference to search for new projects and improve one's professional career. His role as GM will still end at the end of 2020, but he wanted to take the opportunity of the launch of POCO X3 NFC to greet all the fans of the brand. Below is the content of the letter published on social media:
Dear fans of POCO,

I hope you are well. My travel with POCO, since it started on August 22, 2018, it has been an absolute dream. I still remember the launch of the iconic POCOPHONE F1. It was the first time I went on stage. The rush of adrenaline and excitement kept me from smiling the whole time. We were impressed with the response we received at launch. It was a dream start and we've never looked back since.

Throughout 2018 and 2019 we have learned the tricks for running our business. The business plans were constantly evolving, the team was changing, but one thing remained constant. Our product, POCO F1, he remained a rock star.

In 2020, our journey as POCO 2.0 took off. We became an independent brand and launched POCO X2, which everyone loves. It was encouraging to see POCO to become the 31st brand on Flipkart in the 15K segment and above. POCO M2 Pro is already off to a great start. Last but not least, we have recently launched POCO M2 and we are preparing to launch POCO X3 (the world's first smartphone powered by Snapdragon 732G).

It is thanks to the hard work of the family POCO that we have become one of the fastest growing brands on Flipkart. In the midst of all these career milestones, I have a personal decision to share with you. I will say goodbye to the fantastic team POCO at the end of this year. Ever since my MBA days, I've always wanted to start something new on my own. I feel like it's time to embark on my business trip.

While I will miss working with my amazing team, I am looking forward to trying all the things I have learned in POCO and Xiaomi. I will always love both brands for what they taught me at such a young age. During my time here, I have learned almost every aspect of the business: product, quality, marketing, sales and operations. But one thing I will always love is the love and support of all of you.

POCO based on feedback (from fans, reporters, tech youtubers and even critics) and will continue to do so. It is simply amazing what can be achieved by listening. While I'm excited about the future opportunities that await me, I'm also saddened to say goodbye to family POCO. I will continue to work with POCO until the end of the 2020.
We just have to wish the best to C Manmohan, whatever his technological future may be. We are confident that it will replicate the success achieved with the brand's products POCO, hoping it doesn't end up in rival companies, something that maybe Mr. C wanted to omit on purpose?

Poco F2 Pro Global 6 / 128Gb
🇨🇳EU Priority Line Shipping (No Customs) ✈