Are you interested in OFFERS? Be smart and subscribe to our Telegram channel! Lots of discount codes, offers, pricing errors on technology from Amazon and the best online stores.
I tried the Cecotec Power Matic-ccino 6000 S and revolutionized my morning coffee routine. In fact, I remained tied to the classic Moka, resisting the trend of "cheap automatic machines" because they have never really satisfied me.
But there is always time available poco and the desire to prepare mocha is always low, so I decided to give this one a chance mega-automatic coffee machine (it's really called that 😆) della Cecotec.
Cecotec Automatic Mega Coffee Machine Power Matic-ccino 6000 Serie Nera S. 1350 W, Espresso...
2 used by 241,73 €
4 February 2023 21: 34

Amazon.it
Price updated on: 4 February 2023 21:34
Design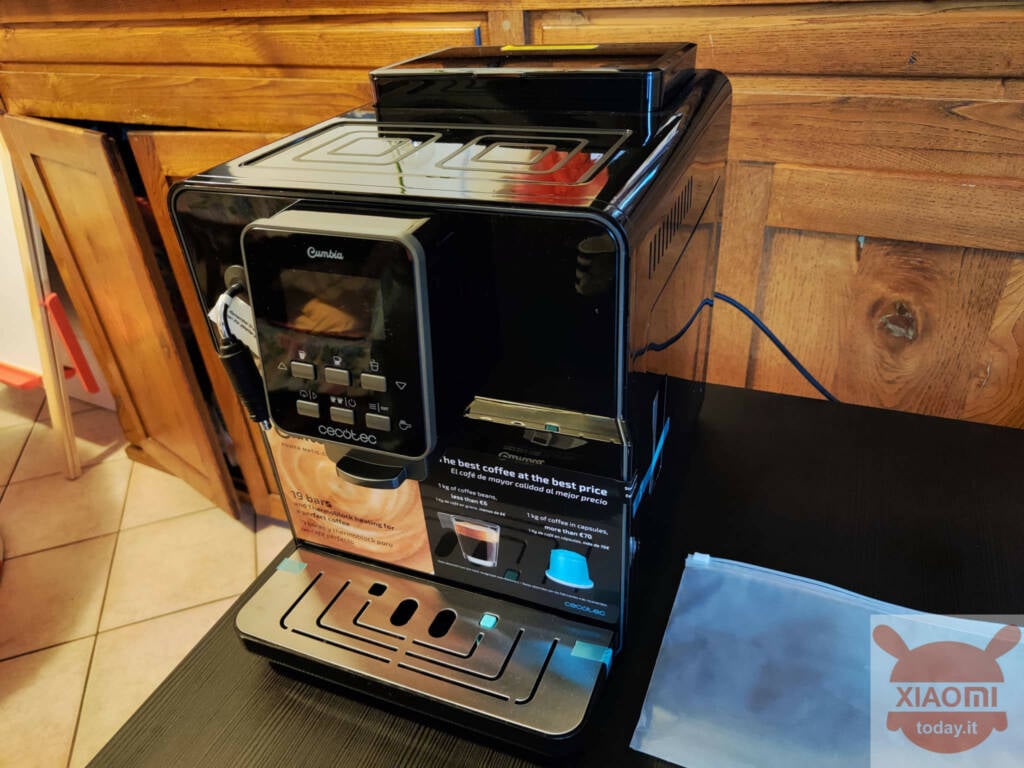 A real gem for coffee enthusiasts, this Cumbia amazes with its many capacities and performances that will allow us to enjoy a coffee in a really fast way and like that of the bar, let's immediately go and see it together.
Let's start right away by saying that Cecotec is a Spanish company specialized in small household appliances, we go from personal care to DIY, passing through the kitchen, irons, ironing and so on; this company, by now distributes its products internationally and proving to be attentive to innovative and intelligent solutions, proves to be a truly interesting company with many solutions for everyday life, but now let's see us and our coffee.
With a compact and well-finished design, this coffee machine is truly elegant both to the eye and to the touch since its glossy black plastics seem really resistant, it adapts to any type of environment and furniture and we can find it in two colors, black and white.
Technical features Cecotec Power Matic-ccino 6000 S
With a power of 1350 W and a pressure pump ForceAroma 19 bar, this machine is able to offer an incredibly delicious cream and aroma for each coffee it prepares, in fact such high pressure will guarantee us a great quality for each single cup and a creaminess that really caresses the palate.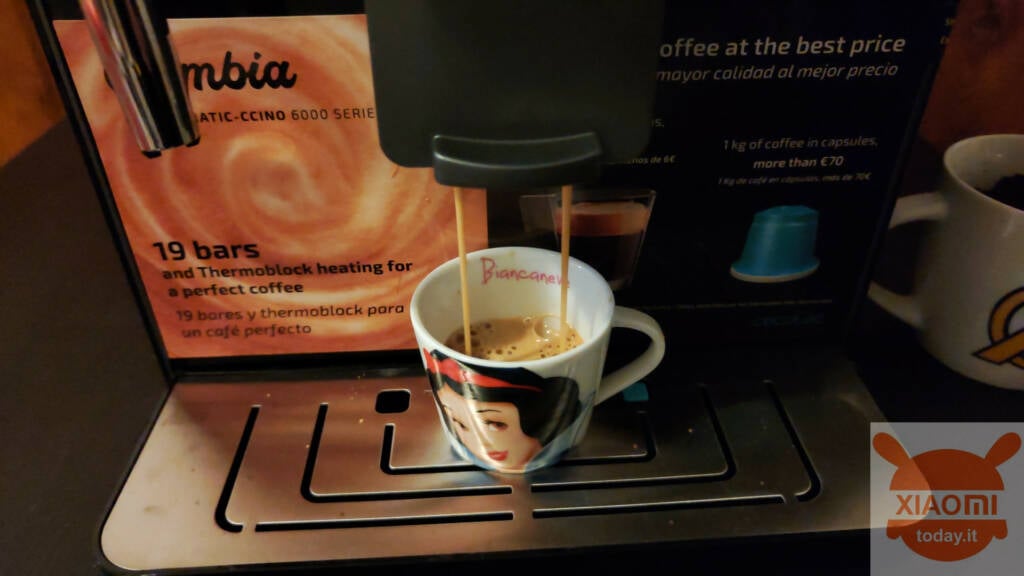 One of the major defects that I have been able to find on traditional machines is the slowness with which the water heats up, but this is not the case for this splendor, in fact the Thermoblock rapid heating system guarantees that the coffee is ready in just a few seconds, which means that there is no need to wait too long to enjoy your favorite coffee or if you are in a hurry to get to work, and this system is also really energy efficient because it only heats the water we need at the moment, thus making energy consumption really low.
The ability to personalize and memorize each type of coffee thanks to the Plug & Play system, means that it can really be adapted to any taste and for me these settings are truly a godsend, as sometimes while I am preparing coffee and doing other things, I can sometimes forget to turn off the delivery immediately thus making the coffee really too long, in this way every single cup is more than perfect.
The machine also has a highly intuitive LCD display which makes it easy to navigate through the various options and customize your coffee in a truly amazing and precise way, as already mentioned, from the temperature to the length and even the intensity, we can really range between many customizations, the only flaw, the screen is not touch and we have to move inside it using the dedicated buttons.
How it works
The display is very beautiful aesthetically and very bright, so that all warnings are clearly visible in all types of conditions.
As you can see, there are so many buttons, starting from the top left we find: american coffee, espresso coffee, hot water; immediately below instead: steam, double coffee and ground coffee.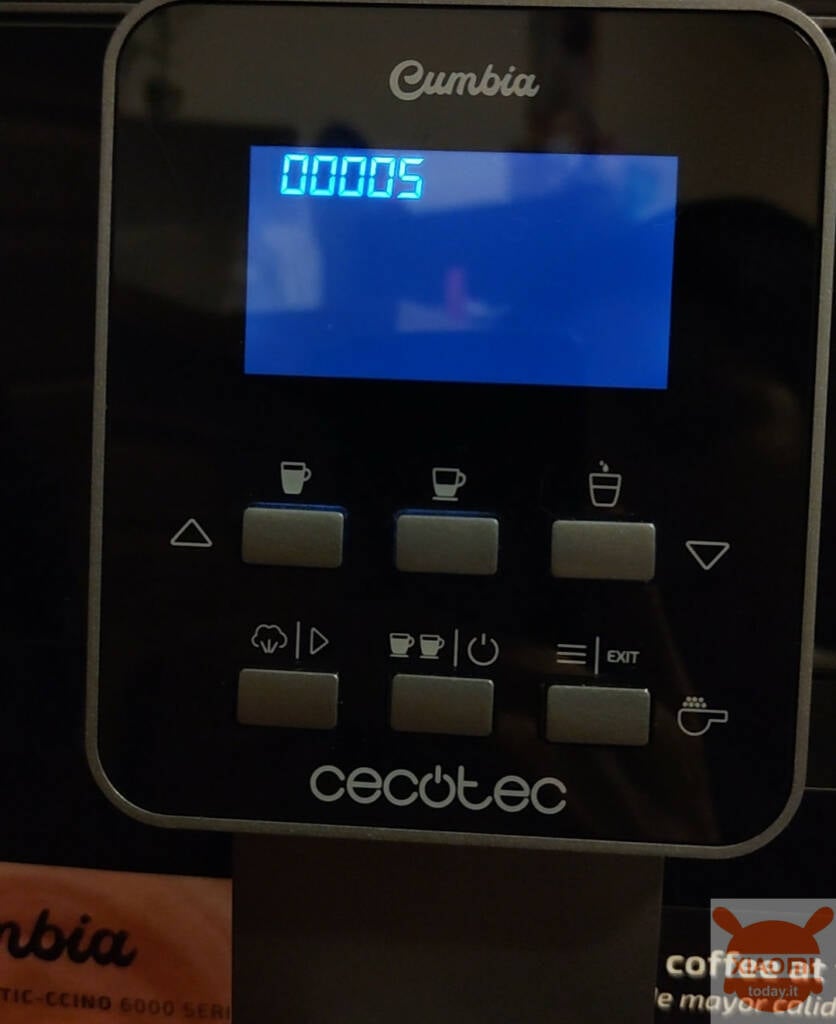 But the surprises of this machine are certainly not finished here, in fact, next to the display we find the vaporizer, a small tube that we will need to froth the milk thus allowing us to obtain the best foam for our coffee and cappuccinos, also giving us the possibility of using hot water for our infusions in a very short time.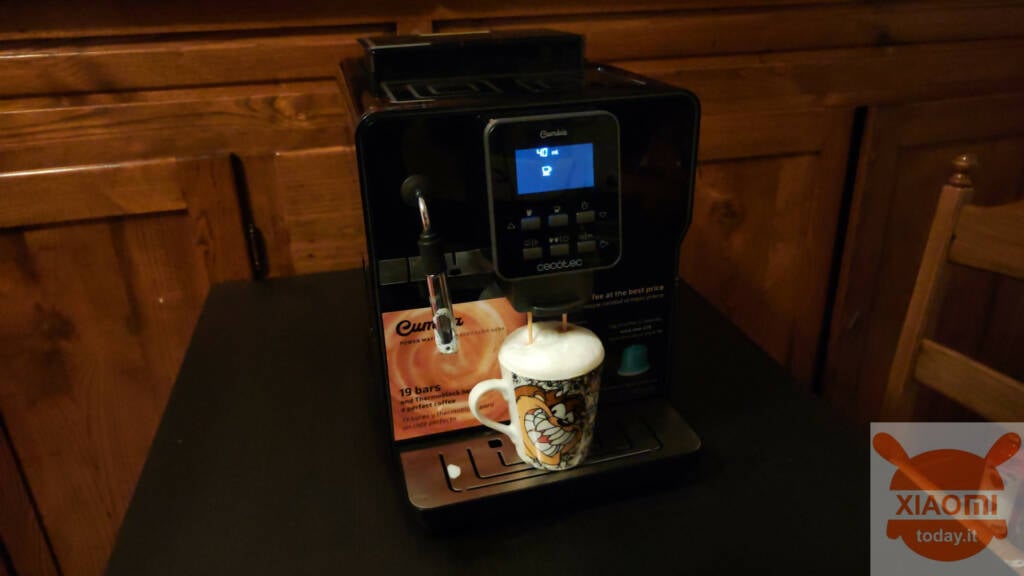 The foam produced by the vaporizer is really compact and perfect and the water dispensed is a godsend for those like me who drink lots of tea and herbal teas.
Moving then to the back, we find the hermetic tank that can contain up to 250 g of coffee beans which guarantees the maintenance of the original aroma of the coffee, because the coffee is ground only when necessary, thus ensuring that each cup is absolutely perfect .
The machine also features an integrated conical grinder with adjustable grind levels, which means that you can use coffee beans with up to 5 customizable grinding levels using a wheel placed directly inside the tank, there is also an independent entrance to prepare decaffeinated coffee whenever you want or you can use this entrance to insert already ground coffee in case you do not want to use beans.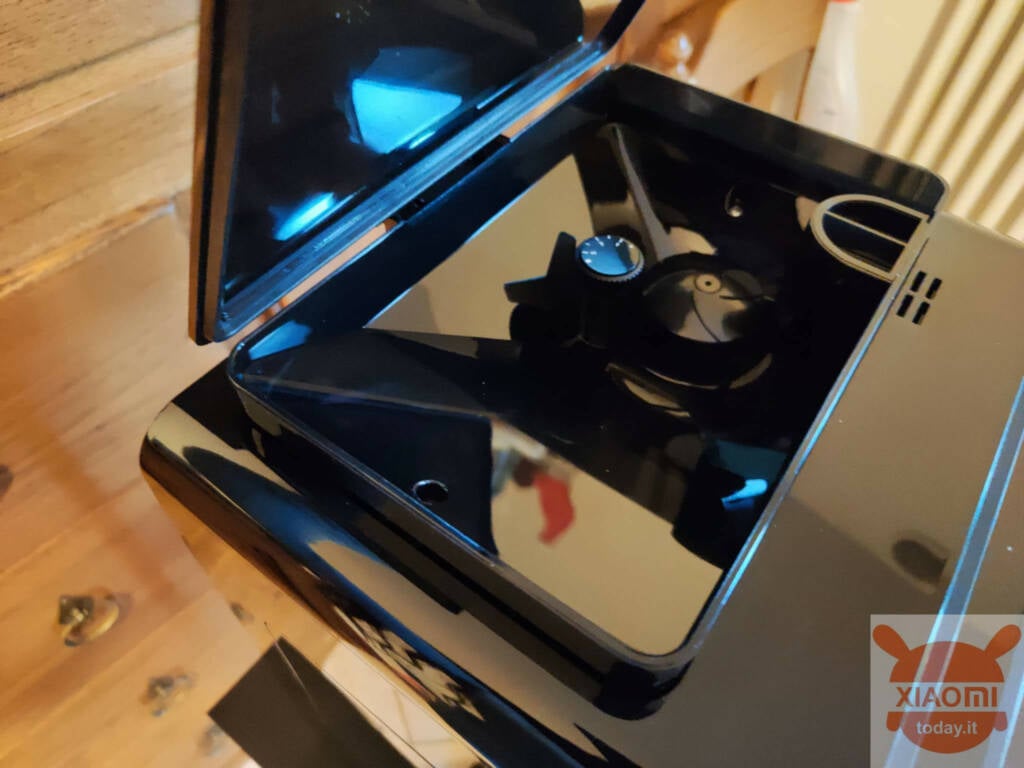 The cleaning then it's really child's play thanks to the system Always Clean, because for each coffee dispensed, the machine already performs an automatic cleaning so as to keep every part of the machinery always clean, but it didn't particularly convince me because at the beginning of the coffee, only a spray of water comes out before the drink is dispensed and it is vaguely boring if you want a short coffee, I also didn't really like the fact that there is no possibility to decide how often to run the self-cleaning but it happens automatically every time you turn it on.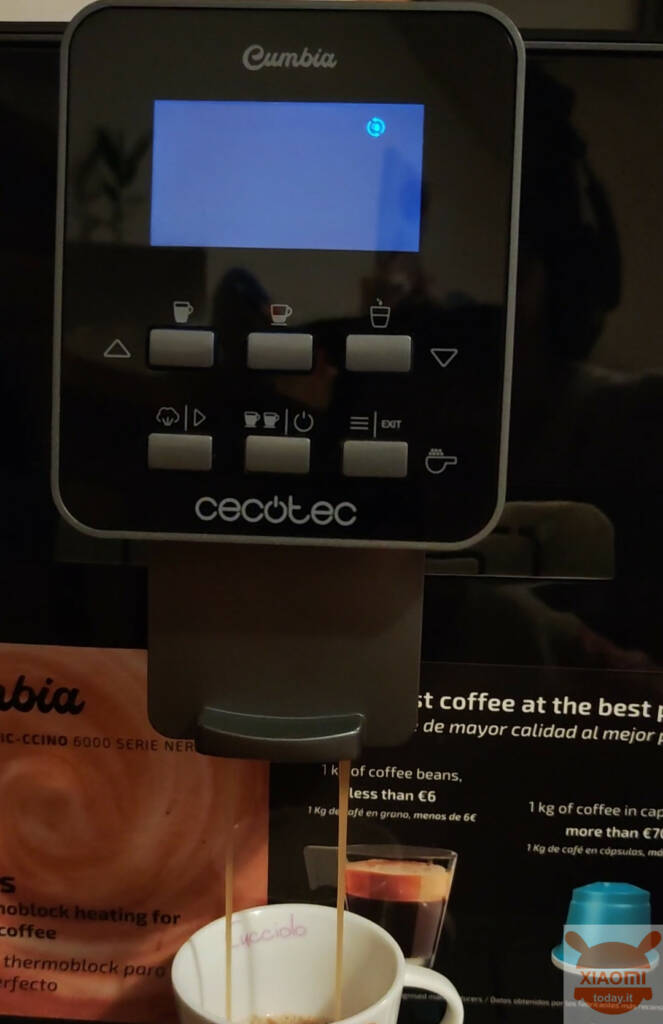 Il 1,7 liter water tank of capacity is removable and makes it easy to keep the machine always full and it is really convenient because it is located on the left side and can be easily removed by opening the flap, furthermore a beep signals the water has run out, thus eliminating another problem that I it afflicted, that is, the interruption of the coffee dispensing in my old machine due to lack of water.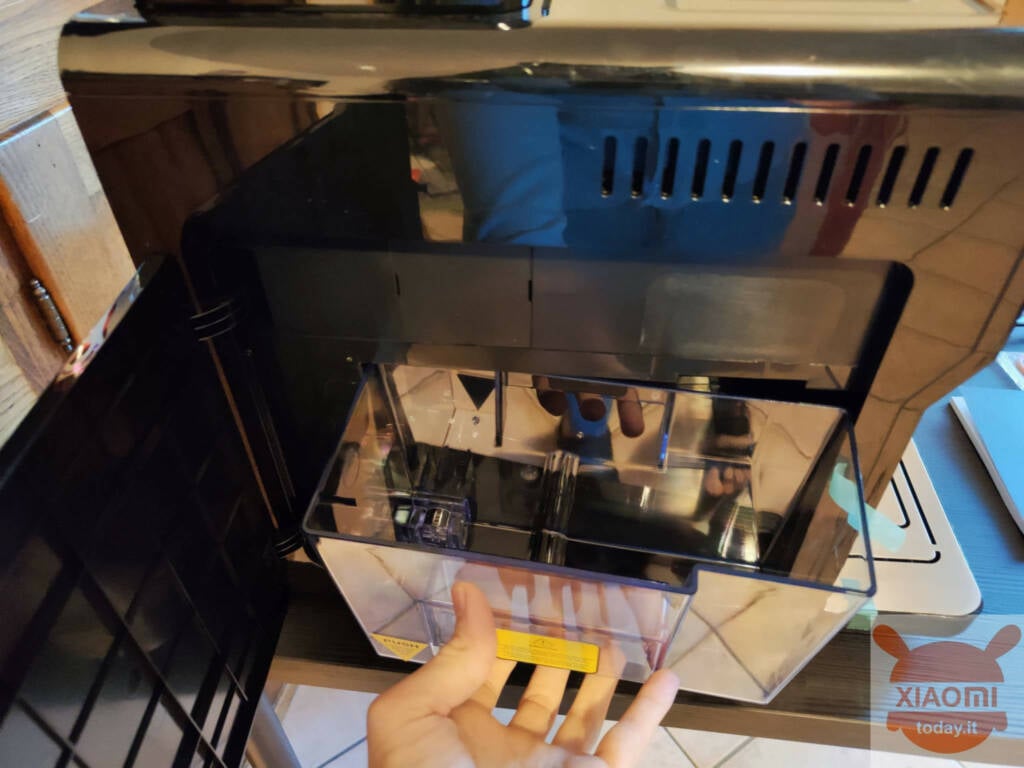 On the right side however, still inside the machine compartment, we find the processor and the grounds deposit, which can also be easily removed for adequate maintenance and cleaning, here too we find an acoustic signal which will warn us that the grounds deposit is full.
In addition, the energy saving system with automatic shutdown and standby all customizable from 30 minutes to 24 hours, it means that you can save a lot on energy costs so that your bills will thank you too.
As we said, the coffee outlet is adjustable in height from 10,5 cm to 15 cm to adapt to both espresso cups and breakfast cups, in this way we can always have our beloved cappuccino at hand.
Besides the various customizations on the coffee itself then, we can choose whether to prepare one or two coffees at the same time thanks to its double outlet, which I found really convenient and even customize the amount of coffee powder to be used for each cup.
Each customization will then remain automatically memorized without the need for additional instructions.
Il drip tray removable makes it easy to clean the machine and above all here too we find a floating system that will warn us of the filling to avoid unpleasant surprises.
As you can see from the photos, cleaning is really simple and this is a pro that shouldn't be underestimated because the possibility of removing each component of the machine actually affects the duration of its life.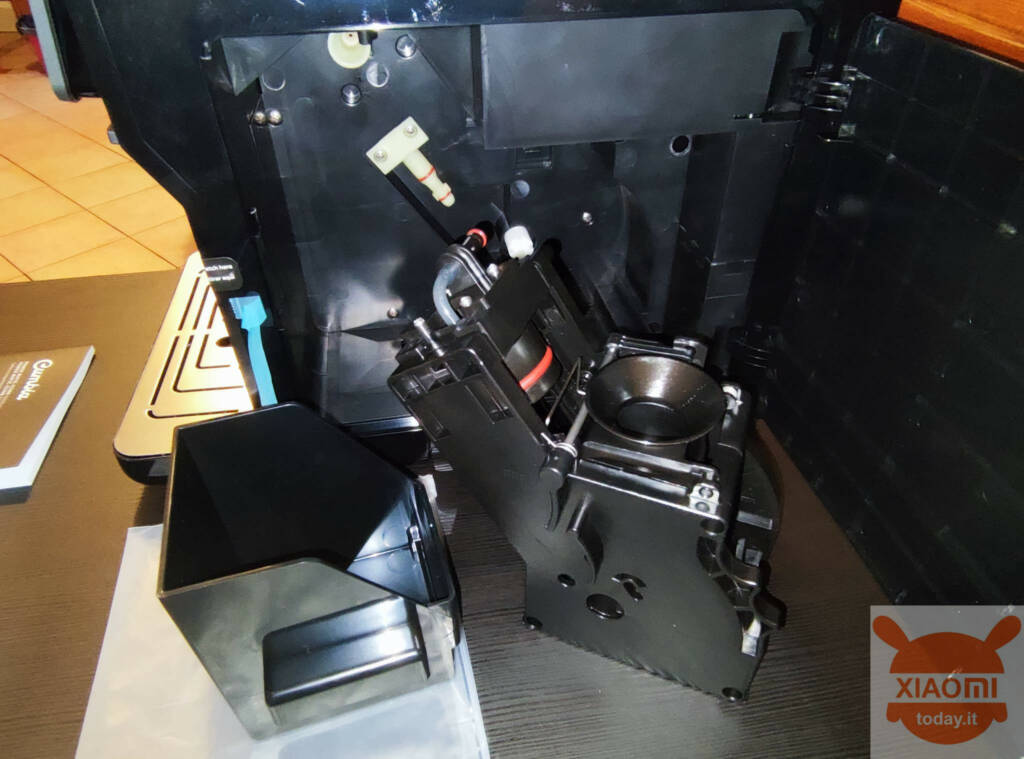 Review of Cecotec Power Matic-ccino 6000 S
In short, I was quite satisfied also because there is a great saving unlike those with capsules and it's all automatic unlike many other machines with ground coffee.
The Cecotec Power Matic-ccino 6000 S costs 345,99 € on Amazon which given the overall quality and features available is reasonably priced. Coffee beans are cheaper and you will recover a small part of the expense coffee after coffee.
Cecotec Automatic Mega Coffee Machine Power Matic-ccino 6000 Serie Nera S. 1350 W, Espresso...
2 used by 241,73 €
4 February 2023 21: 34

Amazon.it
Price updated on: 4 February 2023 21:34
What I liked
Incredible customization possibilities
Really good coffees
Versatility of use to do many different things
Easy to use
Really big water tank
Energy saving
Cash savings from capsules
What I didn't like:
Dimensions and weight of the machine
Self-cleaning too often
What can we prepare then?
All types of coffee (Espresso, Ristretto, Lungo, Macchiato, Foamed, Americano)
Latte macchiato
Cappuccino
Warm milk
Herbal teas, teas, infusions and hot water as needed
Cecotec Power Matic-ccino 6000 S
The Cecotec Power Matic-ccino 6000 S does a lot, almost everything by itself. Once you find the right settings, it's better than many coffees in the bar
PROS
Incredible customization possibilities
Really good coffees
Versatility of use to do many different things
Easy to use
Really big water tank
Energy saving
Cash savings from capsules
CONS
Dimensions and weight of the machine
Self-cleaning too often
Add your review