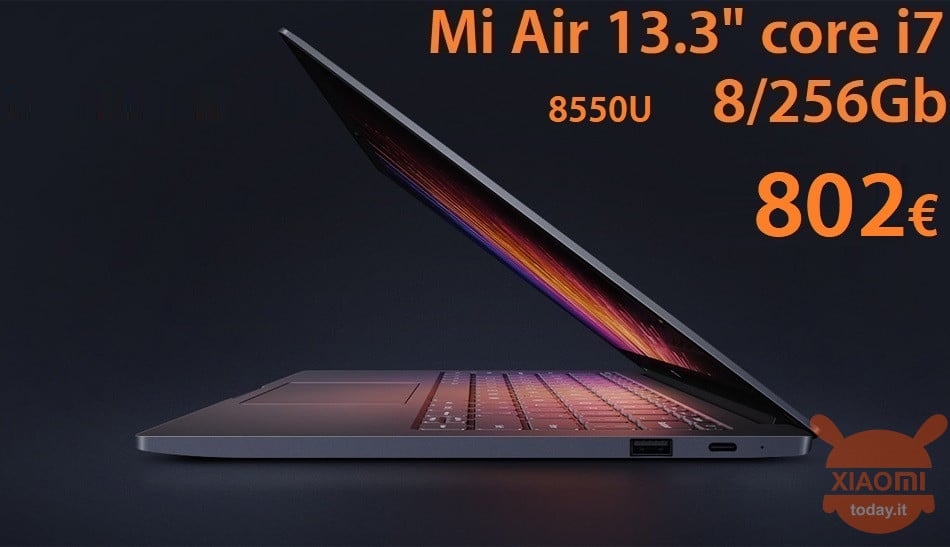 This fantastic offer of today sees Xiaomi's Air 13.3 Notebook as its protagonist, in the new version with i7 core. Take advantage of the great discount now!
🇨🇳 FREE EU Priority Line Shipping (7 / 15gg, No Customs) ✈
GRAT FREE Priority Line Delivery (10-15gg Delivery, NO Customs) ✈
🇨🇳 Priority Line Delivery (Delivery 10-15gg, NO customs) ✈
The new version of the Notebook Air 13.3 can boast an improved hardware and higher performance than the previous version, composed of the i7 Dual Core processor of eighth generation, with clock that can reach the 3.5GHz, NVIDIA GeForce MX150 video card, 8GB of RAM LPDDR4 and 256 GB of storage memory. The display is the same as the previous model: an IPS from 13,3 Full HD, with bright and clear colors. Of note the presence of the Dual Band 2.4GHz / 5.0GHz, a camera from 1 Mpx for video chat and fingerprint sensor.
🇨🇳 FREE EU Priority Line Shipping (7 / 15gg, No Customs) ✈
GRAT FREE Priority Line Delivery (10-15gg Delivery, NO Customs) ✈
🇨🇳 Priority Line Delivery (Delivery 10-15gg, NO customs) ✈