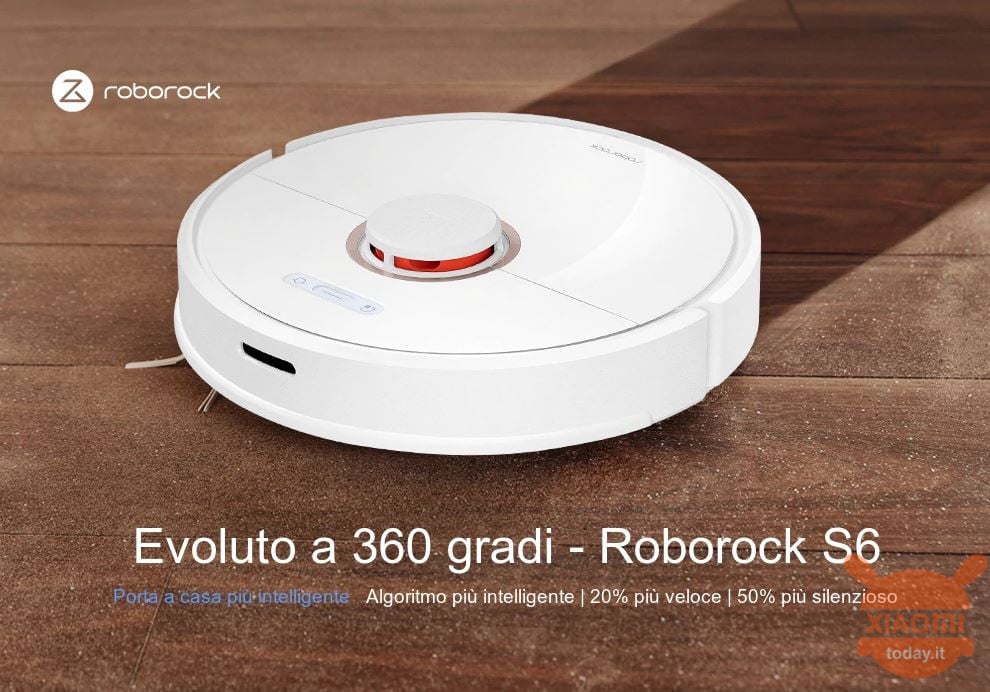 In this article we want to talk to you and propose some of the best products of the Roborock brand (Xiaomi ecosystem), such as the Roborock S6, specialized in the distribution of Robot vacuum cleaners-floor cleaners.
⭐️BANGGOOD
♻️ XIAOMI Roborock S6 Smart Robot Vacuum at 384 €
💰 Coupon: BGCZRBS6
🇪🇺Fast Shipping INCLUDED from Europe (No Customs)
Roborock robots are intelligent devices, capable of working independently and cleaning floors thoroughly, combining the effectiveness of suction with the practicality of its integrated mop. The combination of the two technologies allows to obtain a cleaning of the highest level. The same are equipped with safety systems that help them juggle avoiding stairs and obstacles, ensuring total serenity during use. In addition to offering the "usual" cleaning planning functions, they can be controlled through an application that allows you to choose an area of ​​the floor (previously scanned by the robot) on which to concentrate the efforts of the machine, ensuring maximum effectiveness even against the most stubborn dirt.
Capacious batteries from over 5000mAh guarantee well over two hours of uninterrupted cleaning, in the vast majority of cases more than enough to complete the job!
In this article we point out the S6, undoubtedly among the best products on the market!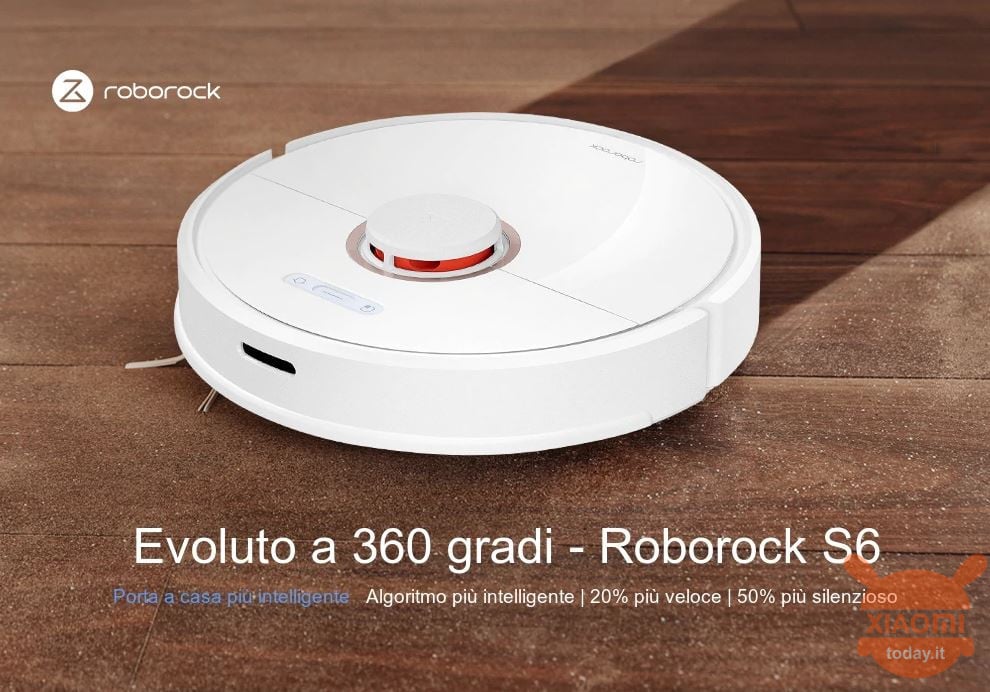 Brand: Roborock
Model: S6 LSD
Accessories Types: Remote control
Material: ABS
Cleaning type: Vacuum cleaner, floor cleaner
Remote control: yes
Programming function: yes
Auto Charge: yes
Virtual Wall: yes
Climbing Capacity: 2cm
Cleaning Mode: SLAM, Automatic Route Planning
Cleaning Area: 250 Square Meters
Floor types: Carpet, Ceramic tiles, Marble floor, Shag carpet, Ceramic floor, Wood floor
Dust Collector Capacity: 480ml
Water Tank Capacity: 140ml
Suction (pa): 2000pa
Noise level (dB): 58dB
Power (W): 58W
Voltage (V): 14.4V
Autonomy: 150 minutes
Battery: Battery Capacity: 5200mAh
Dimensions and Weight Product weight: 3,6000 kg
Package weight: 6,7000 kg
Product Wise (W x D x H): 35,30 x 35,00 x 9,65 cm / 13,9 x 13,78 x 3,8 inches
Package Size (L x W x H): 51,40 x 43,00 x 15,30cm / 20,24 x 16,93 x 6,02in Package Contents Main Material: 1 x Robot, 1 x Charging Base, 1 x Dust Box, 1 x Water Tank, 10 x Disposable Reason, 2 x Normal Cloth
Robot Offers RoborockS6
⭐️BANGGOOD
♻️ XIAOMI Roborock S6 Smart Robot Vacuum at 384 €
💰 Coupon: BGCZRBS6
🇪🇺Fast Shipping INCLUDED from Europe (No Customs)
Roborock S5 Max - S6 - S5 specification comparison
| | Roborock S5 Max | Roborock S6 | Roborock S5 |
| --- | --- | --- | --- |
| Power (Pa) | 2000 | 2000 | 2000 |
| Cpu | Unknown | ARM Allwinner R16 Quad-Core | Unknown |
| Autonomy (min) | 180 | 150 | 150 |
| Battery (mAh) 58 | Li-ion 5,200 | Li-ion 5,200 | Li-ion 5,200 |
| Power (Watts) | 58 | 58 | 58 |
| Noise (dB) | 60-66 | 45-60 (50% less than S5) | 54-67 |
| Powder tank (ml) | 460 | 480 | 480 |
| Water tank (ml) | 290 | 140 | 140 |
| Alexa / Google support | Si | Si | Si |
| Washing function | Si | Si | Si |
| Water regulation | Yes (via app) | Yes (on the tank) | No |
| Cloth | Microfiber | Microfiber + Disposable | Microfiber |
| Central brush | Yes (removable for maintenance) | Yes (removable for maintenance) | Yes (monoblock) |
| Side brush | Silicone | Silicone | bristles |
| Infrared sensors | Si | Si | Si |
| Cleaning algorithm | Yes (LDS + SLAM, Improved, ~ 20% faster cleaning) | Yes (LDS + SLAM, Improved, ~ 20% faster cleaning) | Yes (LDS + SLAM) |
| Carpet recognition | Si | Si | Si |
| Room recognition | Si | Si | No |
| Room suction planning | Si | Si | No |
| Room washing planning | Si | No | No |
| Multi-floor support | Up to 3 saved maps | Up to 3 saved maps | No |
| Automatic refill and recovery of cleaning | Yes (AI algorithm) | Si | Si |
| Map management | Zone cleaning, virtual suction walls, virtual washing walls, prohibited areas | Zone cleaning, virtual suction walls, prohibited areas | Zone cleaning, virtual suction walls, prohibited areas |
| Number of sensors | 14 | 14 | 13 |
| App | Roborock (iOS, Android) Mi Home (iOS, Android), Roborock (iOS, Android) Mi Home (iOS, Android) | Mi Home (iOS, Android), Roborock (iOS, Android) | Mi Home (iOS, Android) |
| filters | E11-grade washable HEPA | E11-grade washable HEPA | E11-grade washable HEPA |
| Barrier limits (cm) | 2 | 2 | 2 |
| Weight (kg) | 3.5 | 3.5 | 3.5 |
| Thickness (cm) | 9.6 | 9.6 | 9.6 |
| Diameter (cm) | 35 | 35 | 35 |
| Price | €334 | €415 | €339 |
Roborock S6 Pure White (S6P02-00)
5 used by 255,18 €
4 December 2022 23: 55

Amazon.it
Price updated on: 4 December 2022 23:55