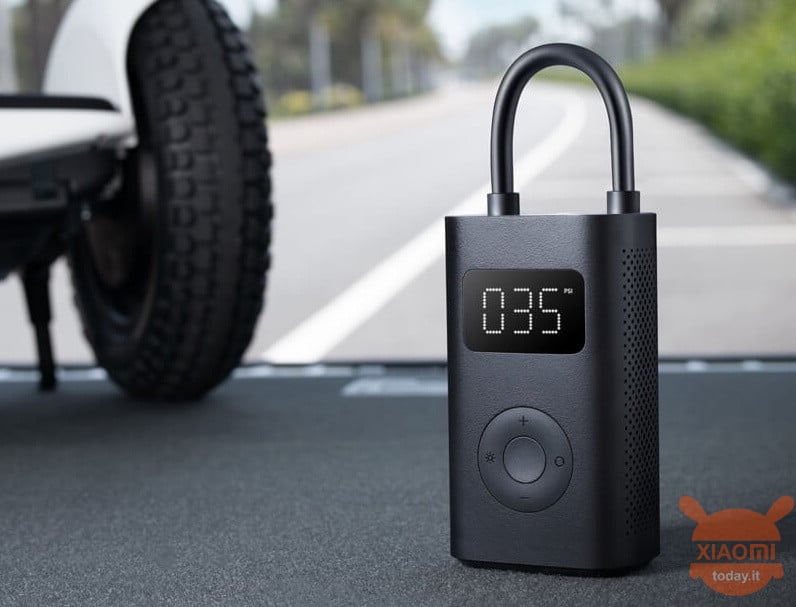 There are things that you value only when you need them, one of them is the Xiaomi portable compressor today on offer HERE on Amazon at 30 €.
Made of aluminum alloy, it delivers a maximum pressure of 150psi ed is able to inflate up to 8 bicycle tires in about 3 minutes each and up to 5 car tires with an average time of about 6 minutes. Let's not talk about soccer balls .. with a single refill we will be able to inflate 41 and it will only take one minute per ball.
Furthermore, thanks to four preset programs, we just need to select the value in bar or psi that we need to reach and simply wait for the Xiaomi portable compressor to do its job.
Xiaomi portable compressor gets you out of trouble

The connecting cable between the compressor and the wheel is about 18cm long, the dimensions are 124 x 71 x 45.3mm for 430Gr, the lithium battery is 2000mAh and can be fully recharged in less than 3 hours. Excellent then portability given its weight and small size! Very useful the LED light present on the front that will give us a hand when the lighting is not enough.
It is also useful alone to check the correct tire pressure of the machine thanks to the large and bright display. With the Xiaomi portable compressor you will no longer have the doubt of having them too deflated, in fact a minute will be enough to check the pressure and possibly inflate them
In package In addition to the compressor, you will find an adapter for a French valve, a needle for inflating the balloon, a charging cable and a comfortable velvet case.
On the front, under the display, we will find a pad that will allow us to:
Left button: turn on a very comfortable LED light in case we have to operate at night
Up / down key: increase / decrease the inflation pressure up to the value we want
Right button: change the pressure value between PSI and BAR (holding the button down for 2 seconds)
Right button: switch between the 4 preset values ​​which will be represented by a small logo on the left (bike, motorbike, car, ball).
Take advantage of THIS AMAZON OFFER for the Xiaomi Portable Electric Air Compressor 1S and you will have no regrets in your time of need.