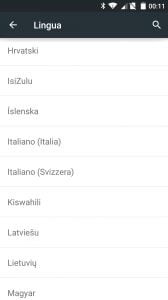 La CyanogenMod 12 has finally arrived on the Nubia Z7 Mini.
I am very happy with the work the guys have done and they will do, but unfortunately the ROM still has a small problem.

The only one Bow detected is the inability to record video with the camera, we could only take the photos.
Downloads & Links
Here you find the link to the thread in case of any updates (use Google Translate, also to access the links is required to subscribe to the forum): Link to the thread.
Here is the link to the ROM personally uploaded by me on Dropbox (I will try to update it for each update). Link ROM
Here is the link to Gapps 5.0.X and its link to the XDA thread. gapps e Thread.
Installation Guide:
Once downloaded, move ROM and GAPPS to our device. We can do this by connecting the phone to the PC via USB cable.
Turn off the device and go into recovery. (Power key + Volume + key).
If you do not have a recovery, follow this guide: Click here
Using the TWRP recovery, we stop on the entry "Wipe", And we execute the Factory Reset doing the Swype of the Blue circle.

Now let's go back, and let's go on the voice "install"At this point we have to find the ZIP file of the rom"cm-12-2014xxxx-UNOFFICIAL-nx507j_encrypt"(They will be in the folder used when copying) the" x "stands for the build number.
Let's tap on it and let's swype blue circle again.
Before installing GAPPS, we run a "Wipe Dalvik & Cache" through the appropriate entry.
Let's go back to the file manager, and look for the GAPPS, the same procedure as the ROM, then a final Wipe Dalvik & Cache and finally we could restart the device.
Here is the Nubia Z7 mini with Android 5.0.2
via | [email protected]