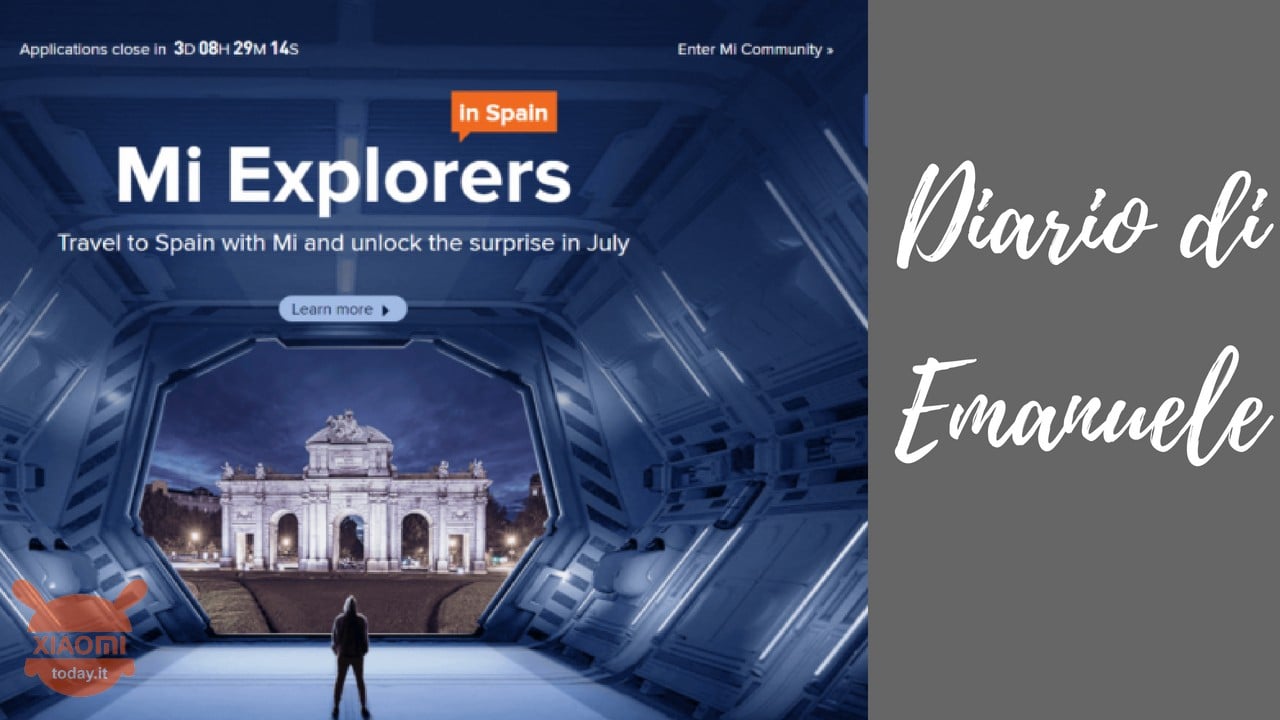 Hello to all friends, here I am again to share thoughts and emotions with you the adventure #MiExplorers, that will allow me to participate in Xiaomi events and get to know other explorers like me, from all over the world. But I preferred this time to enrich everything with a video, that you can see below, in which I will try to make a reasoning to understand what could be the mysterious product that the company has in store for us, in order to test it in world premiere. I would like to clarify, that if I guess, but also not, I will not in any way reveal the true nature of the test, but it's still fun to understand your opinion as well.

Xiaomi Mi8 Lite Global
FREE Shipping 8 / 10gg - Cover and Complimentary Film - Italy Guarantee 🇮🇹
249.99€
Diary of a #MiExplorers - Emanuele / Day 8
On balance I have I exclude the new Xiaomi Mi A2, because probably the smartphone of the Android One project, the 24 July will be officially presented in Madrid in Spain. Mine are suppositions, but all the rumors and leaks come from Spanish sources, so if 2 + 2 does 4 then I would say that I'm not far from what was said. I also excluded the new Mi Max 3 phablet, as according to Lei Jun, the terminal will be officially launched by the end of July, so it would not make sense to feed testers a device that is actually already marketed. Moreover, news of a few hours ago, tomorrow we will see the revelation of the date of presentation of Mi Max 3.
I have excluded from the program #MIExplorers also the brand new fitness tracker Mi Band 3, the top of the range My 8 and the performing Mi Notebook Air from 13,3, products that almost certainly the 14 July will arrive on Italian soil, a day in which the Mi Store of Novate Milanese has organized a sort of special event. I did not mention it in the video, but I also exclude Mi 8 SE, which according to internal rumors is ready to launch with 20 band, and in any case it would not represent a novelty on a global level as it is already present on the market and, moreover, reviewed by many of its industry colleagues. So what is left?
Well I personally expect to find a probable Xiaomi Mi Note 4, of which we hear very little talk, or the discussed Mi Mix 3 and why not, one new fitness band or similar. In short, from the #MiExplorers program I expect some juicy news that one day will allow me to say, I was there. And do you have any suggestions?
Are you interested in bidding? Follow our Telegram Channel!
A lot of discount codes, some exclusive offers from the group, phones, gadgets and gadgets.