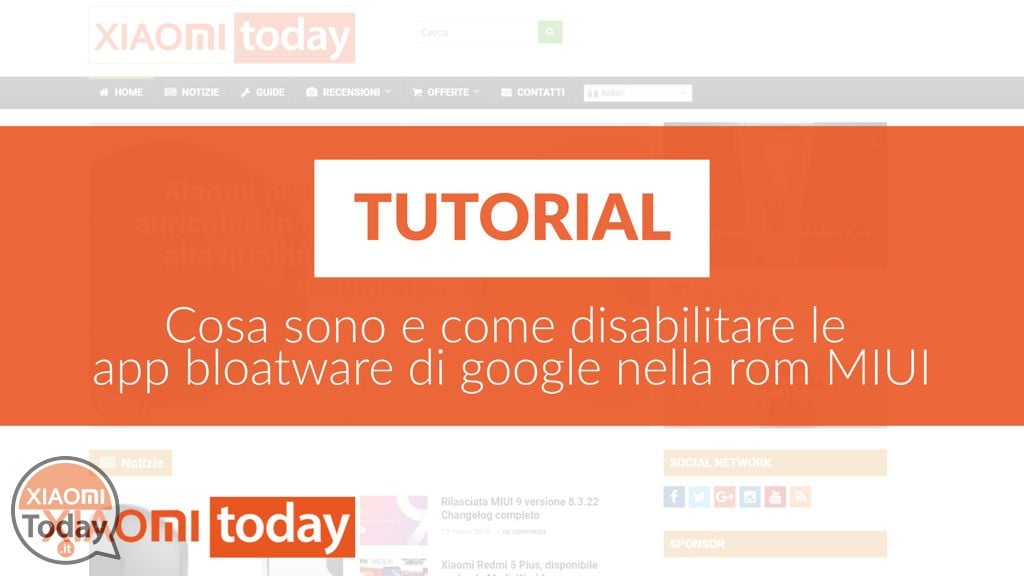 Welcome back guys! I present you a very simple tutorial to get one ROM lighter in the device in our possession. Let's begin by specifying what these are bloatware (translatable into Italian with inflated program) installed in our device.
Generally, in our terminal we find a dozen apps bloatware, most often with mysterious and unintelligible features. These are often trial versions of paid applications, installed with the aim of inducing the user to purchase the full version. Or small utility developed directly by the smartphone manufacturer and used to collect personal data and user information.
The problem? They can not be eliminated, or at least not as easily as one might hope. Most of the smartphones Android, even our beloved ones Xiaomi, they leave the factory with a rich suite of applications already installed in memory.
Do you want to activate the gesture on the display of your Xiaomi? Here is the solution!
An example? Hangouts, is a messaging app that only uses data and battery connection. I never used it, and you?
* This tutorial is exclusively for those who own an Xiaomi smartphone with any MIUI GLOBAL ROM (8 or 9). Attention, no unlocked bootloader or root is required. Furthermore, we remind you that the Xiaomitoday team is free from damage, layoffs, exploded terminals, thermonuclear wars and much more ... 🙂
Requirements to disable Google's bloatware apps
Xiaomi device with MIUI GLOBAL (8 or 9);
---
1
Go to your Xiaomi device settings, then to "Additional Settings". Press "Language" and change the language to English (United Kingdom).
2
Open the Google Play Store and in the sidebar you will find "Help & Feedback";
Then click on "Browse all articles";
Scroll down until you find "Delete or disable apps on android";
Press on "Tap to go to Aplication Settings".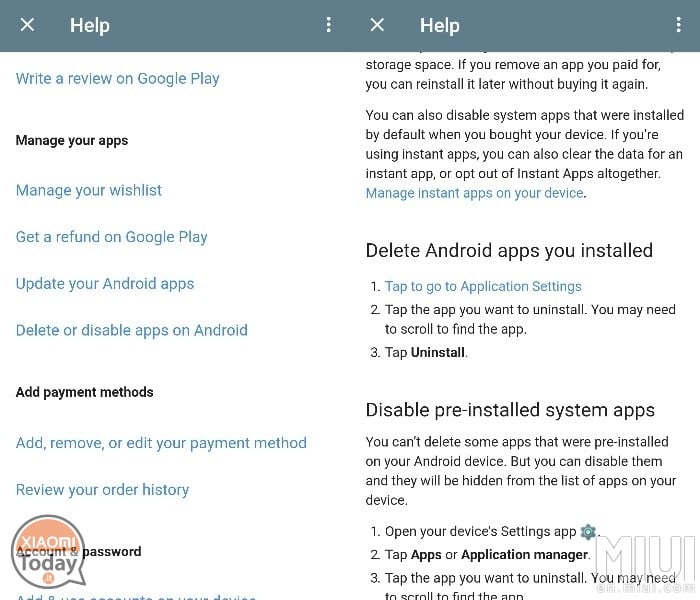 3
Here's an alphabetical list of all the apps on your terminal. Click on the one you want to disable (for example: hangouts). Then click the "Disable" button.
4
Well done! Now you can safely re-enable the default language
* NOTE: if you want to cancel this operation, repeat this guide and finally click on the "Enable" button (see step 3)
Smartphone manufacturers and telephone operators have made sure that only a user with system administrator privileges (root permissions) can delete these applications from the device memory. But with this simple guide we overcome this obstacle!
[SOURCE]
Are you interested in OFFERS? Follow our TELEGRAM Channel! Many discount codes, offers, some exclusive of the group, on phones, tablet gadgets and technology.