Are you interested in OFFERS? Be smart and subscribe to our Telegram channel! Lots of discount codes, offers, pricing errors on technology from Amazon and the best online stores.
Today we offer you the best panoramic cameras Insta360 capable of recording at very high resolution. Take advantage of the discounted price now.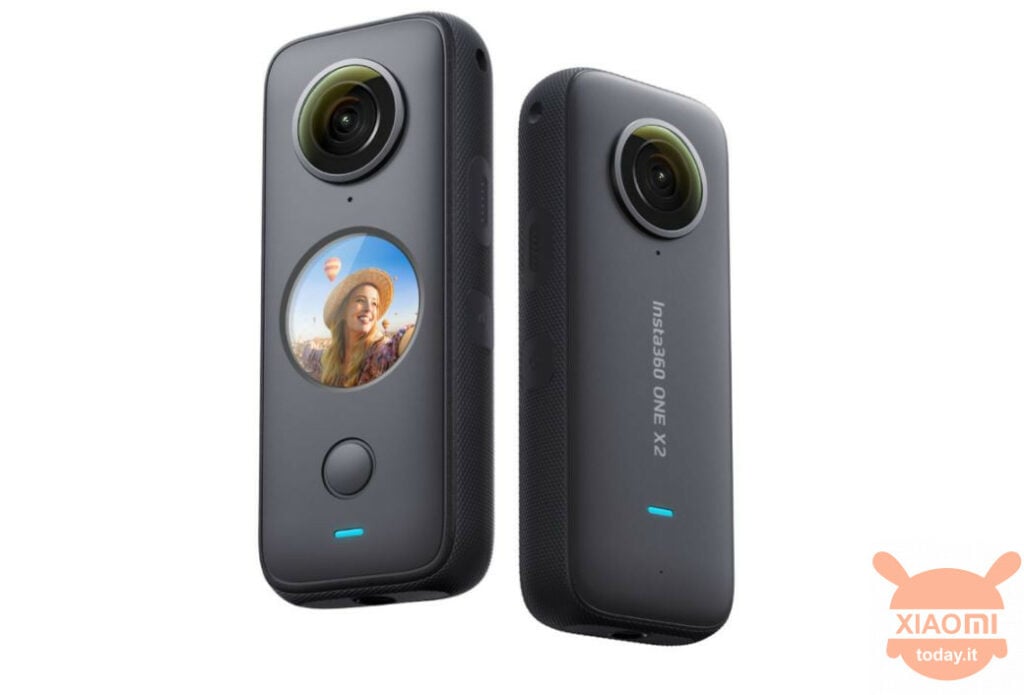 This fantastic camera is able to record in 5.7K resolution thanks to the 18 Mpx sensor. 360 degree rotation gives you great freedom when shooting. Excellent stabilization through six-axis, interesting the possibility of live streaming. Ability to record in bullet time and timelapse mode. The subject recognition function allows you to always have the shot centered by making a video of classic dimensions. Battery autonomy is 80 minutes and waterproofing is guaranteed up to 10m. Bluetooth 4.2 connectivity is very useful.
Here are the models on offer today:
All offers for Insta360 cameras
⭐BANGGOOD
📷Insta360 GO 2 for € 290
💰 Coupon: BG19bf6e
📌 Buy https://xiaomi.today/30QOWib
🇨🇳 FREE EU Priority Line Shipping (No Customs)
Specifications
Video Resolution
FlowState Stabilization (Pro Video mode) 2560 × 1440 @ 50fps, 30fps 1920 × 1080 @ 50fps, 30fps
Timelapse 2560×1440@30fps 1920×1080@30fps
Basic Stabilization (Video mode) 2560 × 1440 @ 50fps, 30fps 1920 × 1080 @ 50fps, 30fps
TimeShift 2560×1440@30fps 1920×1080@30fps
HDR 2560 × 1440 @ 25fps, 24fps 1920 × 1080 @ 25fps, 24fps
Slow Motion 1920 × 1080 @ 120fps
Photo Resolution 16: 9, 2560 × 1440 1: 1, 2560 × 2560 9:16, 1440X2560
Film Panorama, 2938 × 1088
Video Format MP4
Photo Format
INSP (can be exported via App or Studio)
DNG (can be exported via App or Studio)
Photo Modes
Standard, Interval, Night Shot, Starlapse, PureShot
Video Modes
Video (Basic stabilization), Pro Video (FlowState stabilization), HDR, Timelapse, TimeShift (Hyperlapse), Slow Motion
Video Exposure Modes
Car
Manual (Shutter 1/8000 - 1/30, ISO 100-3200)
Shutter Priority (1 / 8000s-1s), ISO Priority (100-3200)
Photo Exposure Modes
Car
Manual (Shutter 1 / 8000-120s, ISO 100-3200)
Video Coding H.264 Max. Video Bitrate 80Mbps
Max. Clip Length
Pro Video mode: 10 mins
Video mode: 15 mins
FPV mode: 30 mins
Timelapse: Adjustable interval, record up to 110 minutes with the Charge Case for a 7-minute clip
Compatible Devices iOS : A11 or above (iPhone 12/12 Pro, iPhone 11/11 Pro / 11 Pro Max ,, iPhone XS / XS Max, iPhone XR, iPhone X, iPhone 8/8 Plus iPad Pro, iPad (2018)
Android
Kirin 980 or above (Huawei Mate 20, P30 and above)
Qualcomm Snapdragon 845 (Samsung Galaxy S9, Xiaomi Mi 8 and above)
Exynos 9810 or above (Samsung S9, S9 +, Note9 and above)
* Devices that do not meet the above requirements can still use the app to control GO 2, however, performance of some operations with high processing requirements such as AI-powered functions and video playback may be sub-optimal.
WB
Auto, 2700K, 4000K, 5000K, 6500K, 7500K
Bluetooth
BLE 5.0
Aperture
F / 2.2
ISO
Auto, 100-3200
USB
Type-C
storage
32GB (~ 28GB usable)
Charging Method
GO 2: Charge Case
Charge Case: Type-C
Charging Time
GO 2: 23 mins - 80% / 35 mins - 100%
Charge Case: 47 mins - 80% / 65 mins - 100%
Run Time
Stand alone:
30 mins (Video mode)
20 mins (Pro Video mode)
In Case:
150 mins (Video mode)
110 mins (Pro Video mode)
Use Environment
14 ° F to 104 ° F (-10 ℃ to 40 ℃)
Weight
GO 2: 26.5g (0.93oz)
Charge Case: 63.5g (2.24oz)
Dimensions (W x H x D)
GO 2
52.9 x 23.6 x 20.7mm (2.08 x 0.93 x 0.81in)
Charge Case
Closed: 68.1 x 48.5 x 26.5mm (2.68 x 1.91 x 1.04in)
Open: 132.5 x 26.0 x 26.6mm (5.22 x 1.0 x 1.05in)
Color
White
Exposure Value (EV)
± 4 EV
35mm Equivalent Focal Length
11.24 mm