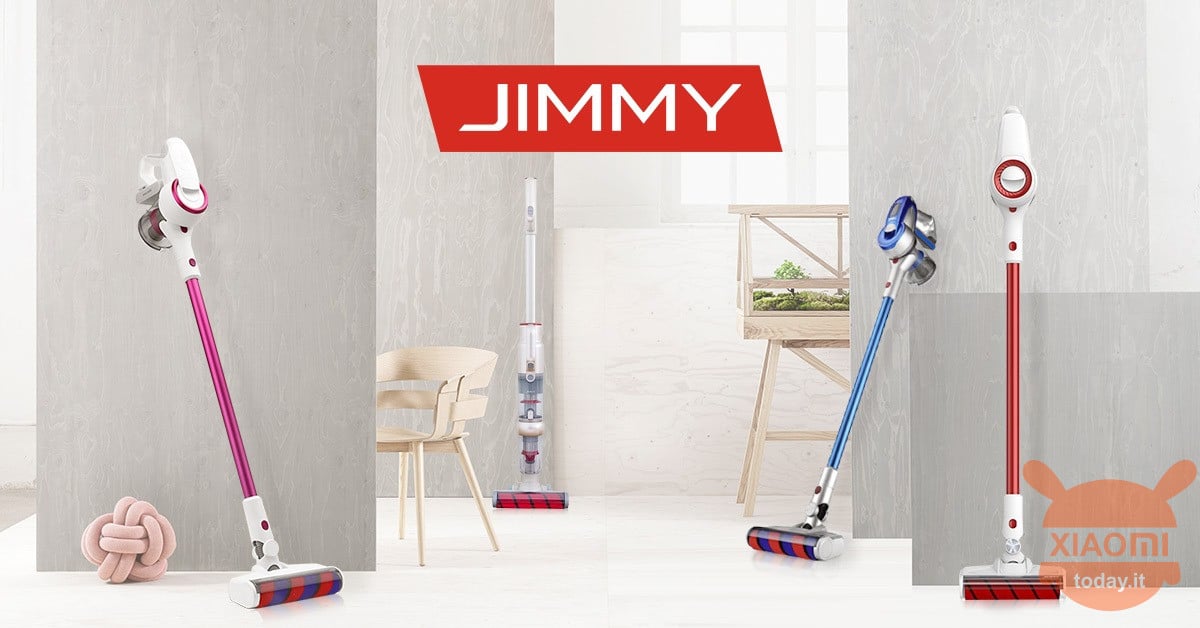 In the wide panorama of smart devices for the home, an important role is played by Jimmy products, the Xiaomi ecosystem. From today it will be possible to purchase the products directly and officially in Italy (therefore with an official 24-month warranty and shipping from an Italian warehouse). Here is the press release:
The JIMMY brand, already known to most people for its partnership with Xiaomi, has officially landed in Italy. From today, his catalog, which includes an interesting variety of products, is available on the site WWW.JIMMYITALIA.IT (on which you can use the welcome coupon from 20€: XTJIMMY valid until September 30)
For those who want to buy from Amazon, they can find the products from the official seller: JIMMY AMAZON
The specialty of JIMMY? Without doubt its highly innovative cordless electric brooms with a modern and attractive design. The technical characteristics of its models are clearly and proudly displayed, as only the most important brands in the sector do. And there is a reason: the specifications are those that immediately make it clear that JIMMY products are technologically among the most advanced in the industry, and how they compete and surpass even the "colleagues" of the most renowned brands. Digital brushless motors, multi-cyclonic filtration technology and HEPA filters are just some of the features that make JIMMY products of cutting-edge products.
However, all the research and technological development of JIMMY, as well as the quality of its materials, do not weigh in the pockets of customers. The goal of the brand has always been to offer the best technology at prices that are always accessible. For JIMMY, products do not have to sacrifice quality and technique to chase the lowest price, just as customers do not have to be forced to sacrifice something in order to afford the electric broom they want. From today, thanks to JIMMY, a high-performance and aesthetically beautiful electric broom is no longer a luxury item, but affordable for everyone.
This philosophy was also appreciated by another great brand, now very popular in Italy and in the world: Xiaomi. Xiaomi, which has always offered high-performance devices at low prices, has selected JIMMY and added the products to its exclusive sales platform in China, Xiaomi-Youpin.
The incredible quality-price ratio of JIMMY is made possible by a perfect balance between costs and benefits and by a highly optimized production chain. In fact, the JIMMY brand benefits from the 25 years of experience of its owning company, KingClean, a Chinese giant currently listed on the stock exchange, which since its foundation in 1994 has established itself as a leader in the cleaning and household appliances sector.
In the JIMMY catalog, in addition to the cordless electric brooms, there are many other innovative products, such as a smart water purifier, a portable vacuum cleaner with UV sterilization, perfect for allergy sufferers, a sonic toothbrush, and much more. All JIMMY products can be purchased on the major marketplaces, such as Amazon, Ebay or E-Price, or in the best appliance stores.
For those who want to stay up to date on Jimmy news here are all the incredible benefits of subscribing to the newsletter:
An 3 ° year of additional free warranty for all JIMMY products
Exclusive discount codes
Access to confidential Private Sales
A discount of 5% on JIMMY original accessories and spare parts
Invitations to special events organized by JIMMY
Possibility to be selected to test our products in preview
Please note that until 30 September, an 20 € welcome coupon will be active on the official website: XTJIMMY
Are you interested in OFFERS? Follow our TELEGRAM Channel! Many discount codes, offers, some exclusive of the group, on phones, tablet gadgets and technology.