Are you interested in OFFERS? Be smart and subscribe to our Telegram channel! Lots of discount codes, offers, pricing errors on technology from Amazon and the best online stores.
Do you want to have the convenience of charging your wireless smartphone even in the car? Here is the definitive product, the Xiaomi 20W Wireless Charger!
Xiaomi Wireless Car Charger 20W
Banggood Express Shipping Included (No Customs)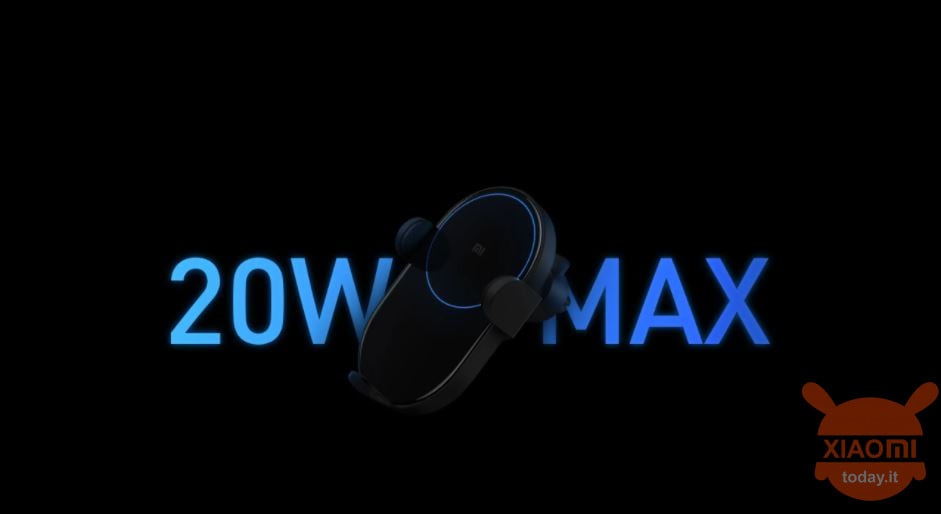 Here are the technical characteristics of the product (compatible with most smartphones with wireless charging):
Product description:
● Supports electrical deformation and wireless charging. It is both a car holder and a convenient high-speed wireless charger. Supports a high-power MAX output from 20 W, which can quickly return the Mi9 to 45% in half an hour, and it only takes 90 minutes to fully load it
● The Xiaomi wireless car charger from 20W adopts the integrated 2.5D glass as a charging panel. After connecting the power, the blue ring-shaped power light will turn on automatically and can also be seen when driving at night.
● The car charger has its own fan, which can adjust the air volume based on the temperature, and has a built-in metal bracket to improve the cooling effect during charging. When charging at high power, the charging time can be significantly reduced.
● The arm of the wireless car charger can be opened up to 81,5 mm and is suitable for most mobile phones that support wireless charging on the market, even Apple iPhone XS Max.
● The built-in hidden infrared sensor detects the phone and automatically locks or releases it when you want to remove it.
Specifications
General
Brand: Xiaomi

Model: WCJ02ZM

USB Type: USB-C

Input: 5V / 3A 9V / 2A 12V / 2A

15V / 1.8A 20V / 1.35A

Output: 20W MAX

Size: 117.2 * 73.4 * 91.7mm
Offers for Xiaomi 20w Wireless Charger
⭐BANGGOOD
⚡️ Xiaomi Wireless Car Charger 20W for € 25
💰 Coupon: BG63a843
📌 Buy https://xiaomi.today/2DxVTW6
Banggood Express Shipping Included (No Customs)