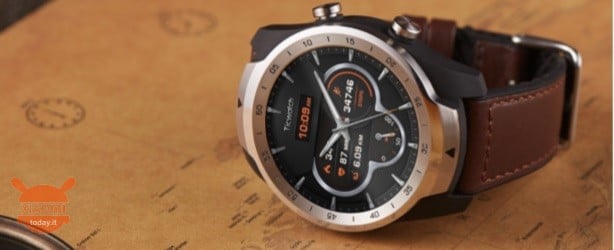 Recently we announced the official arrival of AmazFit in Italy, which will probably offer the possibility to buy directly from their site, but above all the products will dialogue with the user finally in Italian without having to resort to modding operations. The Chinese company led by the technology giant Xiaomi has always baked true best buy, which in my opinion hardly find rivals, naturally in comparison to the price range to which they are sold. In relation to my "career" as a pseudo-reviewer I came across a company founded as a start-up and that today has proved a valid alternative to many smartwatch / sportwatch and werabale various, present on the market, offering the Android Wear 2.0 operating system at a very low price.
Xiaomi Redmi 7 Global
ATGRATIS Shipping from Italy 24 / 48h - Cover and Film free
We are talking about MobVoi, Chinese aizenda founded in 2012 of which we have tested the glorious TicWatch S, and that seen l'excellent value for money offered, Now tries to raise the bar by announcing the new TicWatch Pro globally. The smartatch will always be marked by the Google's Wear OS operating system but it will be the innovative Layered Display technology and the incredible autonomy offered by the Pro model to be under the lens of users. The high quality of the materials used and of the components will be another central theme of the new TicWatch Pro It will target a more business audience, adopting an elegant stainless steel case reinforced with glass fiber nylon, which goes well with a traditional but refined design.
However, the possibility of customize the essence of TicWatch Pro thanks to the replaceable strap, Available at three variants: silicone, Italian leather and a hybrid made of a layer of leather and one of silicone. Naturally, a decisive role will have them millions of watchfaces that can be installed on the device, which will offer two color variations such as Silver (silver crown and buckle) or Black. Although elegance is one of the aspects that differentiate the new TicWatch Pro from the younger S & E brothers, the sporting soul that offers an IP68 certification is not missing for water dives up to 1,5 meters up to 30 minutes, a Integrated GPS, 24 hours active heart rate monitor, pedometer mode, burned calorie counter, speed and support for Mobvoi Fitness applications, with which to monitor sports sessions such as running, cycling, walking, treadmill, weightlifting. Also full support for external applications such as Google Fit, Strava and Runtastic.
TicWtach Pro integrates the operating system Wear OS on Android 8 base, therefore full compatibility with Android smartphones but also iOS, thus exploiting the potential of Google Assistant, listen to music and receive notifications, as well as make phone calls and reply to messages if paired with Android devices. Under the body we find other interesting innovations such as the adoption of a Qualcomm Snapdragon Wear 2100 quad-core processor clocked by 1.2 GHz but also an NFC sensor with support for payments (currently Italy is not supported).
Here is the new Ticwatch Pro: available on Amazon at a low cost price
But it did not end here as the MobVoi company makes available on the TicWatch Pro, a AMOLED touch display from 1,39 inches with Layered Diaplay technology, which consists of overlay of an FSTN LCD panel (Film compensated Super Twisted Nematic) above the AMOLED screen which also integrates an ambient light sensor, able to calibrate the correct brightness according to the scenarios. You can then choose whether to use the Smart Mode, characterized by the use of all the features of Wear OS and AMOLED panel, or the new one Essential Mode, where only certain information will be visible via the FSTN panel by deactivating connectivity. However, the sensors for measuring heart rate and the pedometer remain active and will be synchronized with the smartphone as soon as the watch returns to Smart mode.
This new technology allows you to get a 'excellent visibility under direct sunlight but above all to extend the autonomy of the built-in battery, a unit from 415 mAh, performing up to 2 continuous days in Smart mode and 30 days in Essential mode. It will be possible to select the preferred mode via the presence of two physical buttons. You will be thinking that it will require the sale of at least one lung for the purchase and instead wrong, because they will be necessary only 249,99 euro, a really amazing price. You can complete the purchase through the store Amazon Italy, which offers 30 days of money back guarantee without necessary reason and warranty in Europe for all aspects related to quality.