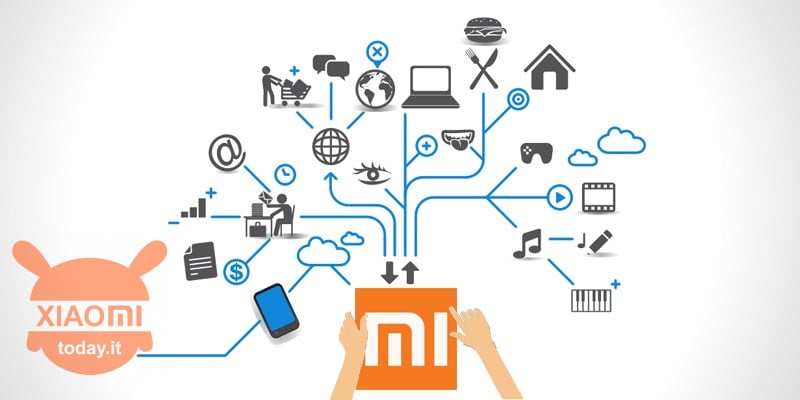 When it comes to Xiaomi the first thing that comes to mind are the smartphone or at the limit the pc. Then you think a little 'up and comes to mind that Xiaomi is that company that does everything. In fact it is true but not everyone knows that it is not really Xiaomi that produces all those devices that are not smartphones or pc and who knows it often makes a lot of confusion: the reality is that Xiaomi has always invested in other small satellite companies and sub-brands (making a minority investment and thus leaving them autonomous) to create an ecosystem, which in turn have "sold" their brand to the Chinese giant. So slowly we can insert the concept of "differentiation", Referred for now only to the products offered.
If instead we talk about Xiaomi Ecosystem many think immediately of the Smart Home built with products exclusively branded by this brand: of course, the link is fast but also in this case the reality is different because the ecosystem is not only made up of this type of device, but also from all those produced by these small satellite companies, all different, that revolve around Xiaomi.
The company led by Lei Jun is among the most active investors in local Chinese start-ups, that not only are financially supported by it, but also help you position yourself in the market. Over the course of 3 years Xiaomi has provided assistance to over 89 start-ups. At the beginning of the 2017, the hottest year since the company was born, Xiaomi has invested around 1 billion dollars to support local Chinese start-ups.
SMART HOME
Mijia 米 家
The characters that make up the name of this company are Rice that we know to mean "rice" e Home what does it mean "Home, family". It is rather a sub-brand that a satellite company and as the name suggests, is mainly concerned with the development of products for the home and for home automation, but not only because of the many devices there are also action cams and scooters.
Yunmai 云 麦
Although in a different way than Mijia, Yunmai produces accessories for the Smart Home but specifically aimed at people. In fact, this sub-brand tries to offer through technology a way to stay in tune with your health: with more 5 million users this small company has managed to win the trust of them by monitoring their health. Among the products that introduced we find weight scales and fitness products.
Viomi
Did you expect a Chinese meaning? But no! The etymology of the word comes from the Latin: vi stands for "vitae" e omi for "omega", to take on the meaning of "Great life, infinite technology". This company, unlike the other two, focuses its work on the construction of smart appliances and IoT devices.
Yeelight
This small company that has grown a lot over the years, It produces smart light bulbs. What characterizes its products is not only being smart, but above all coloring: in fact all products are equipped with bright colors which can sometimes change according to taste. It does not only produce smart products, of course, but also classic bulbs without any frills. We find for example:
Roborock
This start-up is basically about cleaning and therefore he builds robots that are dedicated to our luster in our home. Even these "droids", to put it to Geroge Lucas, are really smart and we give you a try in our review:
Aqara
Based on Latin words acutulua ie "intelligent / smart" or e era that is "house", Aqara embodies our belief that the future home will become increasingly intelligent. Aqara aims to improve the user experience in their own home (which lately we see poco because of the hard work that is killing us) e increase comfort by reducing energy consumption. Aqara products can be composed of a simple device kit, such as a light switch and a lamp, or a complete suite of products that allow the automation of the whole house, including sensors, smart controllers and apps. The team developed a powerful and easy-to-use mobile app and an advanced data analysis platform. Since Aqara launched its first product, it has achieved impressive growth by selling over 1 million units in a year, expanding the product categories from 4 to 15 devices. we find:

SMARTPHONE
POCOPHONE
The abbreviated name in the acronym "POCO"Indicates the philosophy of the sub-brand or"Play Often Creates Overjoy". As we know POCOPHONE is the Xiaomi sub-brand which produces the "top" of the range Pocophone F1. It is a device that focuses all on technical specifications that envy the most noble top of the range and that saves on construction, made of polycarbonate. This decision was made to allow all users to have a high-end device at a very low price. For the moment the only product launched by POCOPHONE is:
Black Shark
The aggressive name says it all, does not need any introduction. The most perfect among smartphones dedicated to gaming. This beast was introduced in the market this year and the hype that has been around its release is not only due to technical specifications, but to the revolutionary technology of liquid cooling. The products presented so far are:
We also refer to this article since, to celebrate the Black Friday, Black Shark thought of an absurd discount.
Redmi
At the beginning Redmi it was not a sub-brand of Xiaomi house, but a family of smartphones, part of the Chinese giant, born in the 2013 which aimed at the development and production of devices aimed at one middle band market, that of the so-called budget-phone. After 5 years of existence, precisely the 10 January of the 2019, Redmi became an independent brand and to all intents and purposes one Xiaomi sub-brand just like POCOPHONE e Black Shark. Known all over the world as a smartphone brand mid-range, has produced devices of the caliber of:
zimi
Known by all as ZMI, few know that the powerbank company is actually called Zimi. It is the company producing accessories for mobile power supply Xiaomi e one of the first companies, part of the ecosystem, funded by it; is specialized in design and manufacture of power banks, power adapters and charging cables for smartphones, tablets, laptops and other mobile devices.
AUDIO, PHOTOS AND VIDEO
Xiaoyi
Again the name has poco to do with the Chinese language, since Yi stands for "Young Innovator". XiaoYi, better known as Yi it is now a great company that deals with imaging technology, beauty algorithms for use in cameras and mobile applications. The mission of this company is to provide the best photographic technology to users and boasts several records: 1 March 2016, when the company was launched on the market, in just 10 seconds, it sold 15.000 units of dash cams (the cameras that you put in the cars); moreover, after 24 hours from the release of the YI 4K Action Camera, this was awarded as the release of Amazon's 1. These are some products:
1MORE
1MORE is a consumer electronics company that focuses on the search for acoustic technology, headphones, hardware and design of devices for audio reproduction. This company believes that the music is the monologue of the soul and through modern excellence in form and functionality 1MORE offers audio powerful and pure. The goal of this start-up is to create an all-Chinese excellence without the need to create links with other international companies. Among their products we talked about:

ALTERNATIVE TRANSPORT

Ninebot
Thanks to Xiaomi's funding, the Ninebot acquired Segway, a company that dealt precisely with the transport of electrical devices. The collaboration between Ninebot and Xiaomi is so close that the products appear directly on the Xiaomi home. Currently it is difficult to see them in Italy but we assure you that in China they are depopulating, a little because they are trendy and a little bit because people are lazy. We have for example:
WEARABLE
Huami / Amazfit
Launched in the 2014, Huami is the largest wearable device company in the world with over 50 million units sold and 17,1% of the global market share. The Huami wristwear line is called Amazfit, including Pace, Arc, Beep, Moonbeam and Equator. obviously Huami is also the exclusive supplier of wearable devices for Xiaomi as well as a producer of the beloved Mi Band; in the 2016, 2017 and 2018 this company has won theiF Product Design Award, the most important international product design award, prize that also won i Mi Mix, Mi Mix 2, Mi 6.

CIGA Design
CIGA Design is a Chinese brand of designer-designed watches, as its name suggests. It's thethe only Chinese watch manufacturer to have won eight "Red Dot Design Award", one of the largest and most important world design awards held annually in Germany and an "iF Product Design Award", the same as the series Mix he won some time ago. The designer of the brand Zhang Jianmin he has also worked in the same field of design for occasions like the Beijing Olympics and Shanghai World Expo. Among the products there are:
PRODUCTS FOR CARS
RoidMi
RoidMi is a young company, which became part of the Xiaomi ecosystem in 2015, which deals with the production of all those intelligent products that can be used on any type of four-wheel vehicle. The goal of this company is only one: make the driving experience safer, more comfortable and enjoyable. It does not only produce smart products for cars, but also vacuum cleaners. Not everyone knows that Xiaomi is not the only one to provide this "small company": indeed also Apple uses a lot of RoidMi products for its devices (but they never told us!). Among the various products we find: