Are you interested in OFFERS? Be smart and subscribe to our Telegram channel! Lots of discount codes, offers, pricing errors on technology from Amazon and the best online stores.
Le Electric fat bikes they are depopulating both for their captivating design and for the safety they offer and in particular some models like the Eleglide Tankroll that I tested, they give a lot of fun on all terrains and without particular effort.
Technical sheet Eleglide Tankroll
| | |
| --- | --- |
| Engine power | 740W 48V |
| Maximum torque | 57 Nm |
| Chassis | Aluminum Alloy (AL6061) |
| Dimensions: | 189 x 66 x 119 cm |
| Handlebar width | ? cm |
| Recommended rider heights | 165-200 cm |
| Gears | Shimano 7-speed |
| Brake type | Front and rear disc mechanics 16 cm |
| Display | 2.4″ monochrome LCD |
| Fork | Hydraulics with 80mm travel – Lockable |
| Autonomy | 65 / km 70 |
| Weight/size | 31 Kg |
| Charging time | 6.5 hours |
| Maximum capacity | 120 Kg |
| Battery | 10Ah, 480Wh, 48V |
| Pedal assistance | 0-5 Levels |
| Recommended height | 1,60 m - 2 m |
| loader | 54.6V 2A |
| Tyres | CST 26″ × 4″ (22PSI front, 26PSI rear) |
| impermeability | IPX4 |
| Price | €1,199 |
Assembly and Package Contents
The bike it arrived in a week from Eleglide warehouse in Europe, perfectly packed with protective polystyrene e partially assembled. We just have to fix the handlebar, the front wheel, the front mudguard and the disc brake which is mechanical, so it doesn't need any particular care. It's all done in an hour even alone and if you have a minimum of practicality.
Il accelerator kit which transforms the bike into full-electric is optional even if very convenient, which is why I installed it. Know that this type of mode is not legal in Italy, but given that the engine is already beyond the permitted specifications, it makes little difference.
As always, I advise you to check the tightness of all the screws because even if it is checked by the factory in China, during the journey with vibrations, it is not uncommon to find how many screws are loose.
This is the contents of the package:
Complete electric bike
Charger (100-240V 2,2A input, 54,6V 2A output)
User Manual
Accelerator kit
Assembly tool kit
Front/rear mudguards
Front/rear/wheel reflectors
Design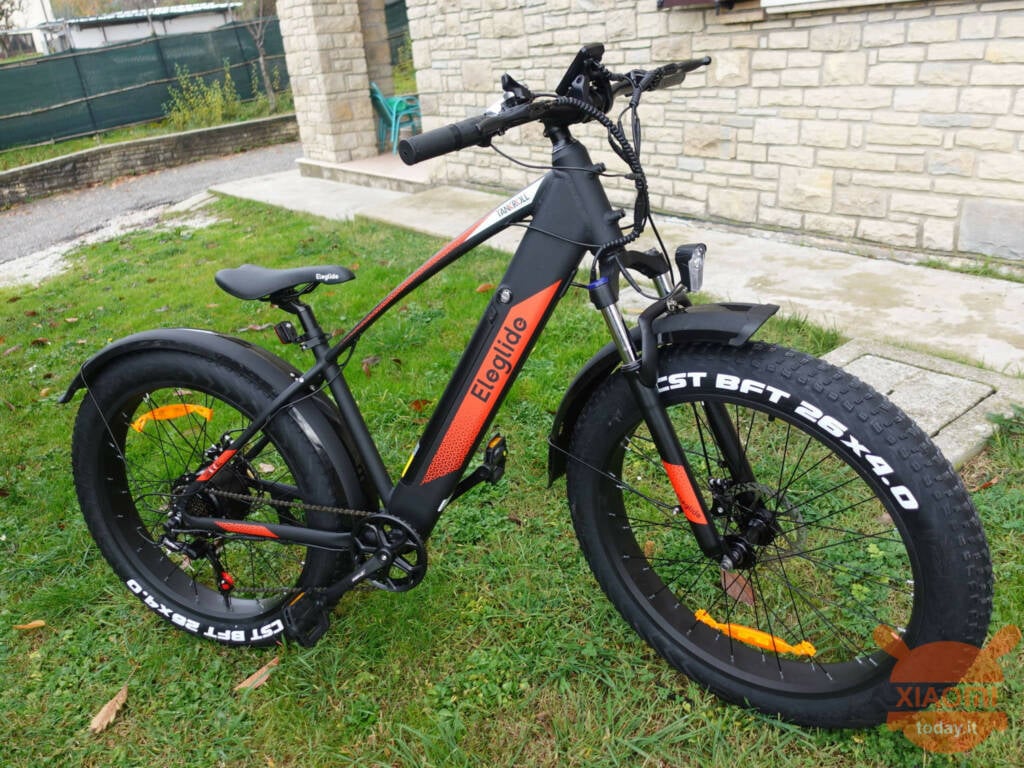 The Eleglide Tankroll has a design that does not go unnoticed, a bit like all fatbikes, due to the large 26×4″ tires. THE'appearance is massive but also sinuous thanks to the aluminum frame that has curves that accompany the line of the frame offering a feeling of compactness. It helps a lot in this the battery which is perfectly integrated into the frame while remaining extractable for the benefit of practicality and safety.
Excellent welds and robustness in general which allow it to be tolerated loads up to 120kg. I also appreciated the passage of some cables in the tubular, which is very rare in these models. It was only possible to achieve this level of design and robustness thanks to the absence of a folding mechanism as is the case in some models. There are those who need it, if anything keep in mind.
The dimensions are generous (189x66x119 cm) as well as the weight of 31kg, nevertheless it drives very easily as long as the battery will support you. It is a medium-large bicycle suitable for heights between 165-200 cm.
Sul handlebars we find on the left the three control buttons. Two to change the assistance mode and one to turn the bike on/off, turn on the front LED, change the data shown on the display.
In the center we find the on-board computer with 2,4″ display which shows all the total and partial information on our journey. It uses very large numbers and is sufficiently visible even in sunlight, and is also IPX4 certified for use in the rain.
La gear shift it is only one, since it is a mid-range 7-speed Shimano single chainring.
Performance and autonomy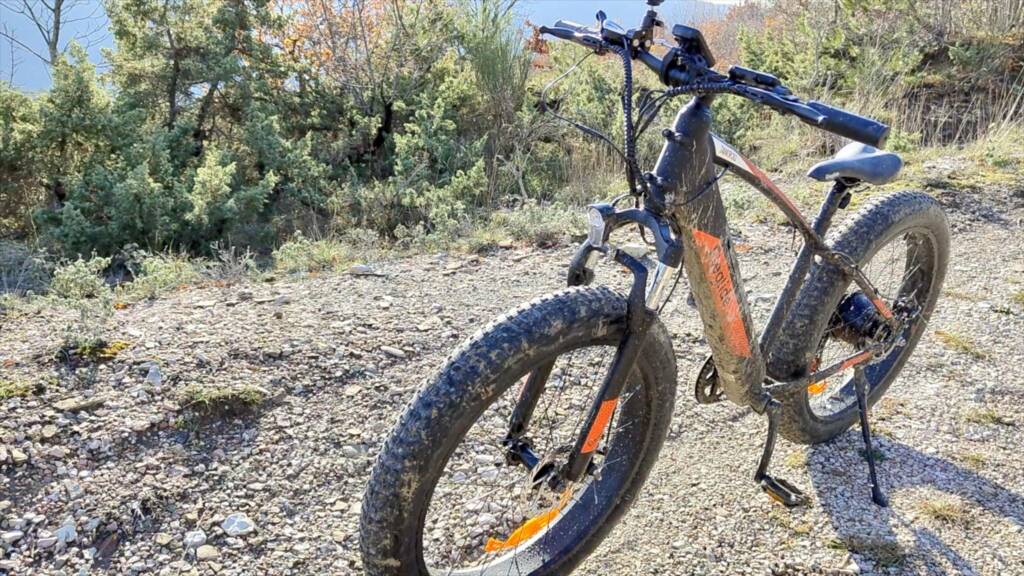 The Eleglide Tankroll mounts a 740W motor supported by a 480Wh battery that reaches the remarkable thrust of 56Nm sufficient to climb quite easily on slopes of 30% in assisted mode. I confess that I was pleasantly surprised by the push which is obviously even more decisive in the plains and also offers moderate emotions and fun.
We have 5 levels of assistance available which interrupt assistance when reaching speed: Level 1 at 12km/h; level 2 at 16km/h; level 3 at 20km/h; level 4 at 23km/h; level 5 at 25km/h (or 32km/h if you unlock it).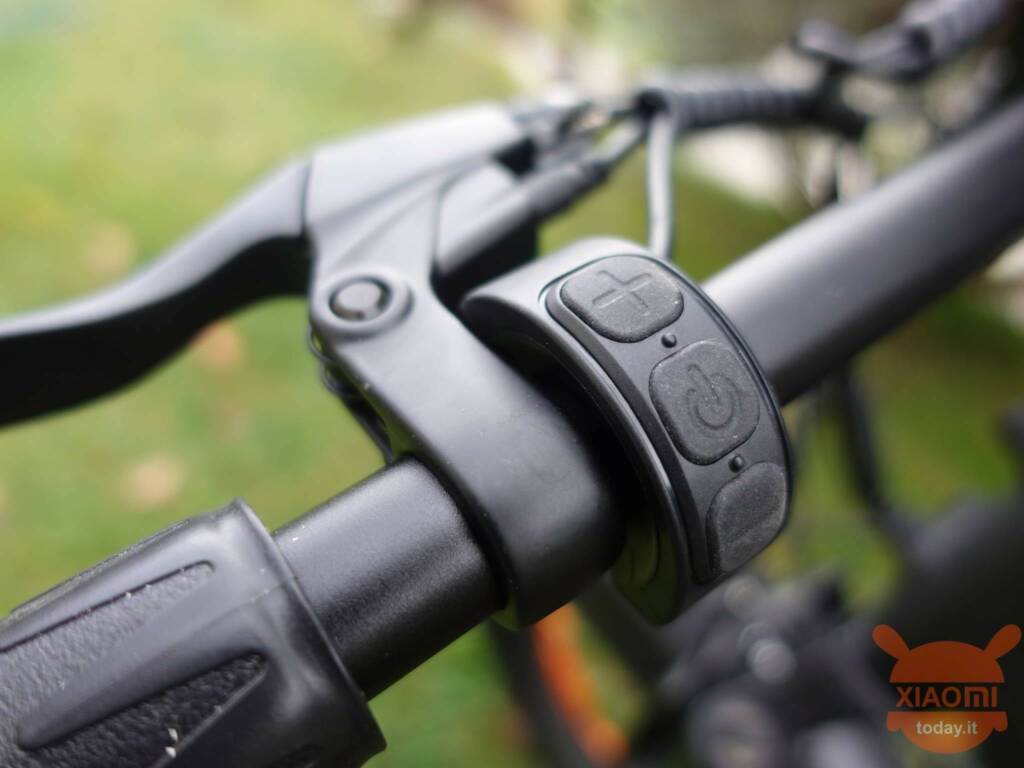 The thrust is well managed and offers a progression not far from that with a torsion sensor. As in all e-bikes like this one with a speed sensor, we have a small initial gap which can be problematic when starting uphill but which is easily compensated for with the manual accelerator. Overall theWhole electric assist mechanism works very well and better than other tested models.
In fact, the maximum speed set is 25 km/h but it is sufficient to access the secret menu by pressing the + and + buttons simultaneously to change parameter P02 and bring the limit to 32 km/h
La 10Ah battery recharge in 6 and a half hours and "should" guarantee a range of 65km in optimal conditions. In my tests rather pushed in which I made excessive use of the assistance to face the very demanding climbs of the Umbria-Marche Apennines, it behaved very well. I have always recharged to 100% before each outing (the fear of running out of power is too much) but in the 20km outings I came back with about 60% and therefore reasonable to hope for a range of 40/45km even in extreme conditions.
👉 Check out ours video review
Comfort and safety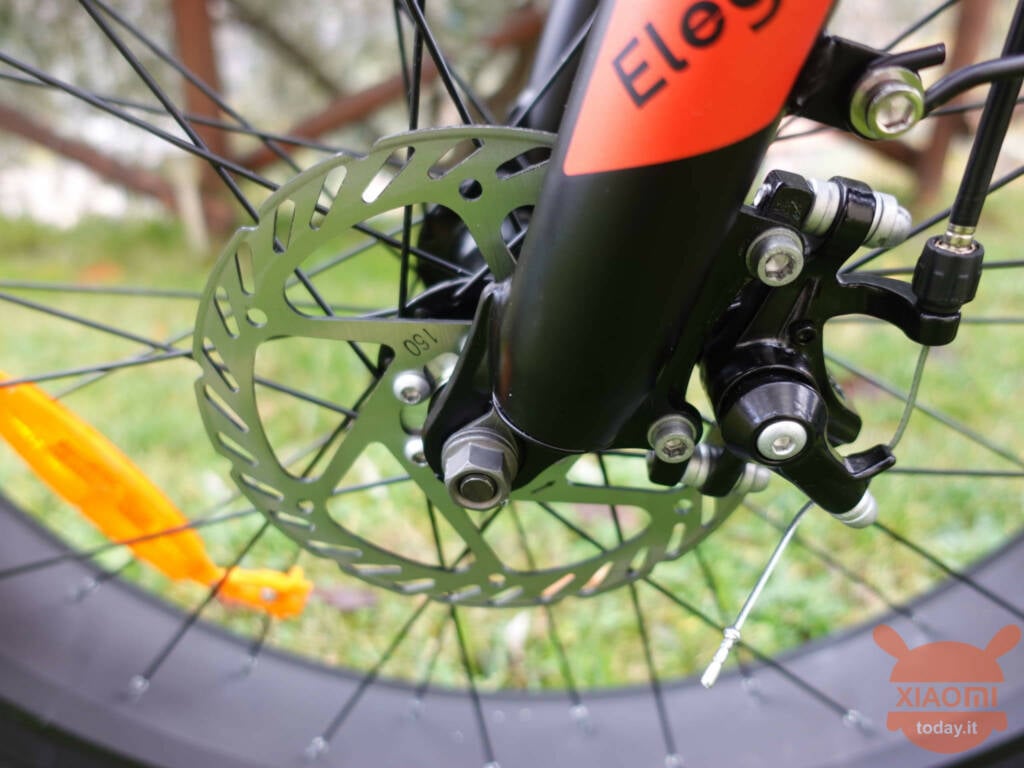 The Eleglide Tankroll is a bicycle decidedly devoted to off-road thanks to a fairly good level of technical equipment starting from the huge tires which offer perfect grip even on dirt roads. In this period of the year, inevitably, in the woods I found only a lot of mud and yet I had a lot of fun always feeling safe and in full control of the bike.
The advantage of having large tires is also appreciated when it comes to comfort because they are able to absorb the roughness of the ground. In addition, the fork is hydraulically cushioned with an excursion of 8 cm, the possibility of adjusting its hardness or blocking it if you prefer a more rigid set-up.
Il braking system it is of the mechanical disc type, both on the front and on the rear, with 16 cm discs that generate firm but sufficiently modulable braking, but I warn you that it will take a few km of adjustment to fully appreciate its performance. Considering that I faced very demanding and technical climbs (and therefore also descents), I was afraid I was asking too much of this e-bike which instead behaved very well even in this situation.
However, good braking also depends on the grip of the vehicle and therefore, even in these situations, FAT tires are very useful for guaranteeing reduced braking distances and maximum safety.
Speaking of security it is right to mention the the integrated LED light on the front, powerful and orientable. But also the reflectors placed both on the spokes of the wheels and on the rear saddle allow you to be clearly visible when the sun sets.
Eleglide Tankroll – Conclusions and Price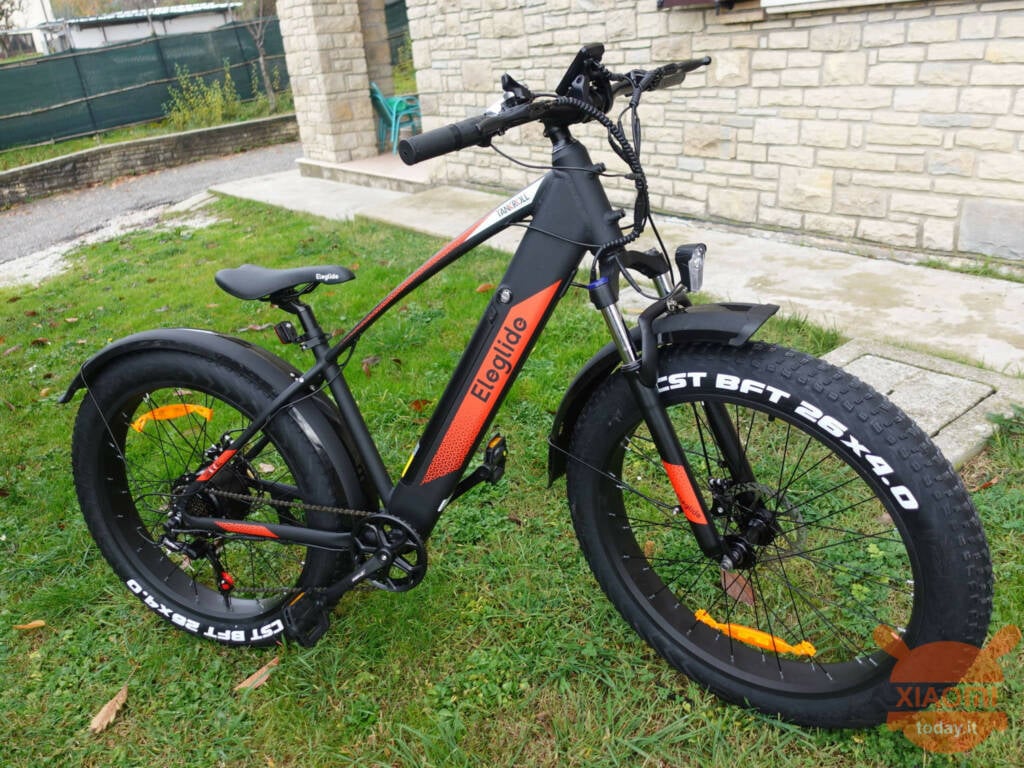 The Eleglide Tankroll is an electric bike for those who want to enjoy off-road riding. The powerful engine and all the technical equipment allow you to have fun in safety on practically any possible terrain: from asphalt to the beach.
The value for money is excellent and the only shortcomings I can point out are the brakes with hydraulic calipers which are an inexpensive but valid upgrade and which could have been included without weighing on the cost. Furthermore, the impossibility of being folded, for some people, could be an aspect that weighs in the choice.
The list price of €1.199,99, in my opinion, is very competitive considering the technical equipment and the general quality. Occasionally there are offers that allow you to save as in this period using the discount code XMAS50.
Il Eleglide official site ships free and fast from warehouses in Europe and offers up to 3 years warranty for manufacturing defects.
Choose Tankroll
Eleglide Tankroll is a high-performance electric fatbike capable of guaranteeing lots of fun in safety
PROS
FAT TIRES
DISK BRAKES
SUSPENSION FORK
POWER
Add your review