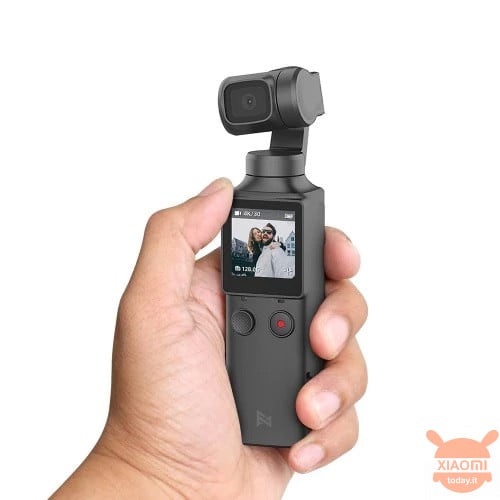 If you follow the biggest Italian YouTubers, but also foreigners, you will have certainly noticed that they often run their Vlog with a sort of professional "selfie stick", that is the DJI Osmo Pocket, a video camera that has created a novelty in the sector, as much that there is still no definition for it. Many call it the handheld video camera, but apart from the name, what has surprised is that in very small dimensions it can offer a very high stabilized video quality.
Therefore, Xiaomi's answer could not be missing, as he did with GoPro in his time by launching his first Yi sub-brand action camera, and now ready to challenge the DJI Osmo Pocket with his FIMI PALM. As the name suggests a video camera to hold in the palm of the hand, to be used anywhere and able to offer 4K videos to 100 Mbps with an 128 ° FOV angle, so beyond the 80 ° of the solution proposed by DJI.
Unfortunately it is not clear which sensor controls everything, even if it is rumored to belong to the noble Sony. But apart from that, to make the new FIMI PALM special is also the connectivity associated with it, thanks to standard WiFi and Bluetooth, compared to the DJI Osmo Pocket which needs accessories to buy separatamento. In addition we also find greater autonomy, thanks to an 1000 mAh battery which should guarantee a duration of about 240 minutes.
FIMI PALM has a stabilized optics on 3 mechanical axes and a series of interesting video features, such as Smart Tracking, Story Mode, FPV Mode, Follow Mode, Pitch Lock Mode, Full Lock Mode, Time Lapse and the much sought after Hyper Lapse.
Really convenient, like a gimbal, is the joystick at 5 positioned below the touch display. They compleat the equipment from vlogger, even two integrated microphones in order to capture a clean and crystal clear sound. Unfortunately we have no further information about the new Xiaomi FIMI PALM, but for sure it is interesting the price at which it is currently offered on online store like Gearbest.
We are talking about a price of around 182 euro, but currently the product is in pre-order at the price of 132,13 euro by paying a deposit of 9,12 euro, with shipping beginning in early January 2020. Probably the price could even go down, maybe keeping up to date with ours Telegram channel where we daily publish the best technological coupons. But if you want to be among the first to receive the product, you can click on the banner at the end of the article. And what do you think? DJI has a new rival not just for drones.