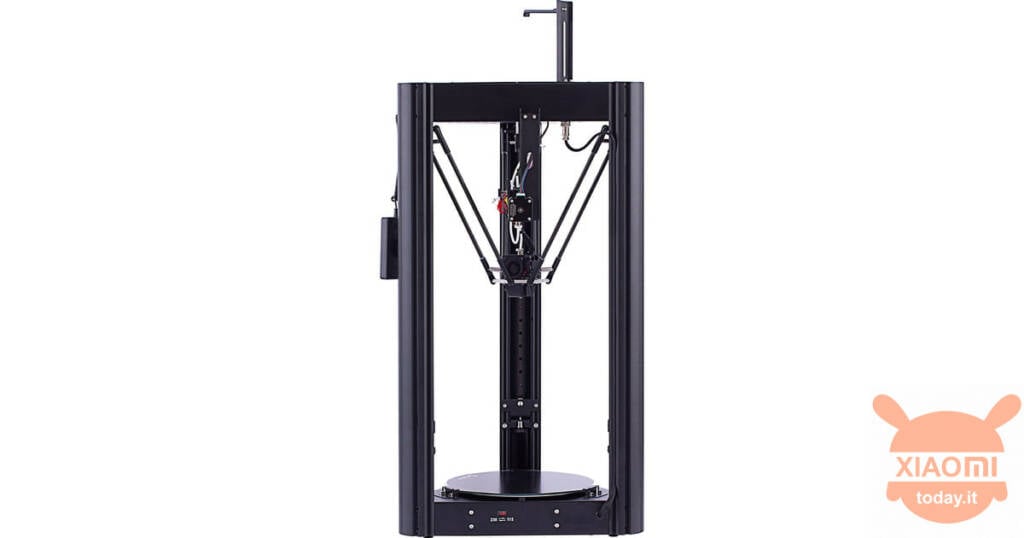 The Super Racer of FLSUN is a cheap Delta 3D printer, equipped with numerous smart features, such as automatic leveling, a color capacitive touchscreen and 4 ultra-quiet TMC2209 stepper drivers. Right now it is on offer on the Madethebest store. Let's find out all the details.
The technical specifications of Flsun Super Racer
The Super Racer's sleek all-metal design not only gives the 3D printer a high-quality look, it also ensures clean movement and less vibration. A double gear extruder ensures greater torque, stronger extrusion, stability and durability.
THEVolcano hot-end, with a high melting capacity, it is equipped with two turbo fans and a pre-installed cooling fan to avoid clogging of the nozzle. This hot-end also allows you to experiment with different sizes and flow rates of nozzles and to better express your creativity in 3D printing.
The coated glass plate and the aluminum plate are attached separately, which facilitates cleaning, maintenance and disassembly. Flsun Super Racer also has a heated bed, which can reach a temperature of 100 ° C and has a good adhesive effect, regardless of whether you are molding PLA or ABS.
The linear guide has a 10mm belt, high rigidity and a quiet, fast and high precision high torque stepper motor which ensures not only sufficient power but also the desired accuracy at high printing speed. Furthermore, a 3K carbon fiber parallel arm high strength ensures precision of movements and guarantees stability.
At the software level, the Open Source firmware developed independently and based on Marlin 2.0.6. supports print resume and filament sensor function. Finally, the capacitive touchscreen display from 3,5 inches with redesigned user interface and operating logic optimized with user habits. The display supports 8 display languages ​​and has a one-button factory reset function.
The offer is now active on Flsun Super Racer
Here is all the information related to the offer now on Madethebest.
Coupon code (with $ 30 discount): Flsun30
Final price: $ 449
Free shipping and taxes for European regions
To purchase CLICK HERE.
Madethebest is a professional website dealing with DIY tools, selecting high quality tools on the market. It has currently partnered with many 3D printer and laser engraver brands, such as QIDI, Flsun, ATOMSTACK, Zonestar, Ortur, Creality, Artillery and Xtool. On Madethebest, you can get the latest products at great prices, with free shipping and taxes included (for almost all products in EU / US regions). You are completely free to shop on Madethebest and choose the machine you prefer.