Are you interested in OFFERS? Be smart and subscribe to our Telegram channel! Lots of discount codes, offers, pricing errors on technology from Amazon and the best online stores.
It is no secret that Xiaomi Mi 11 is an excellent device from a photo and video point of view. The sector with which the device is equipped is undoubtedly thick and for this reason the company has decided to put it in the hands of an esteemed Italian director. Gabriele Muccino, known throughout the national but also international scene, used the new flagship of the company to shoot a short film. What's strange will you say: well, the short film was ENTIRELY shot with the smartphone. Effects, shots and everything we see in a film, all through Mi 11. Let's go and see the details of the short.
"Living in a movie" the title of the short film shot by Gabriele Muccino entirely with one

Xiaomi

Mi 11: who knows what tricks the director will have used
The latest film by Gabriele Muccino it was "The Best Years" in 2020. After that, we didn't hear the director working on any other projects. Most likely because he had already been contacted by Xiaomi at the time. The project that the company proposed to him, and he accepted, was that of shoot a short film using only a Xiaomi Mi 11
. A really interesting publicity stunt considering the
resonance of the name
. But let's see what the short will be called and which actors will be present.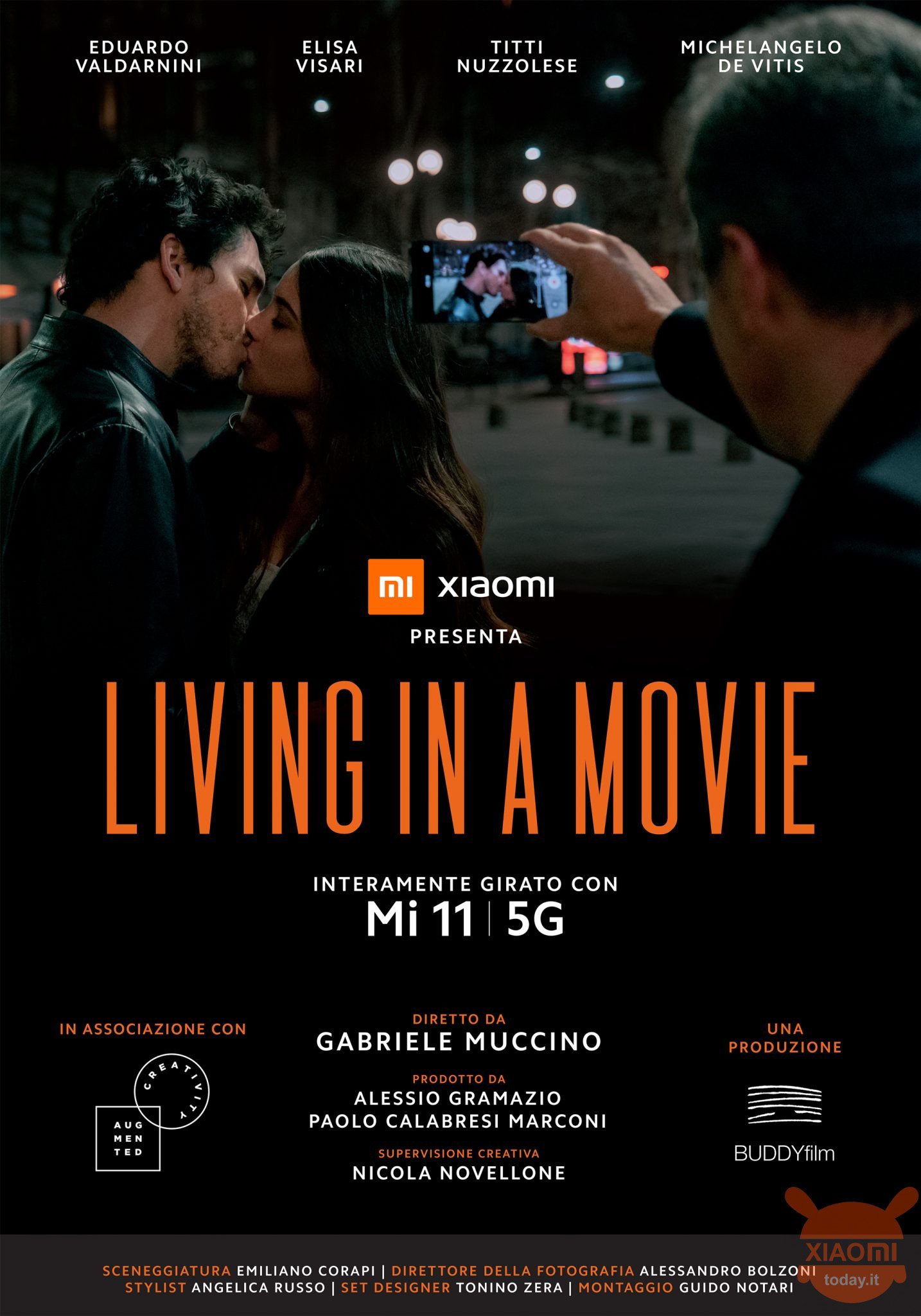 Read also: Xiaomi Mi 11 Ultra will be among the first with Samsung ISOCELL GN2
The production was clearly not by Xiaomi, but by BUDDY film. The actors who took part in the short are Eduardo Valdarnini, Elisa Visari, Titti Nuzzolese and Michelangelo De Vitis. The entire photographic sector of Xiaomi Mi 11 will be exploited, which we recall below.
main sensor: Samsung ISOCELL Bright HM2 from 108 megapixel with aperture f 1.85 and pixel size 1.6 µm
ultra wide angle sensor: 13 megapixel with f 2.2 aperture and viewing angle up to 123 °
macro sensor: 5 megapixels with f 2.4 aperture
Being a short film, it is worth remembering that the device is capable of record video with resolution up to 8K at a maximum of 30 fps. We expect this to be the resolution used. But how to watch it? The short will be put in live on Monday 1st March at 18:00 on Facebook and Youtube.
Buy on Amazon
248,85€
available
10 new from 248,85 €
3 used from 214,00 €
as of 19 October 2021 21:55
Last update of the 19 October 2021 21: 55