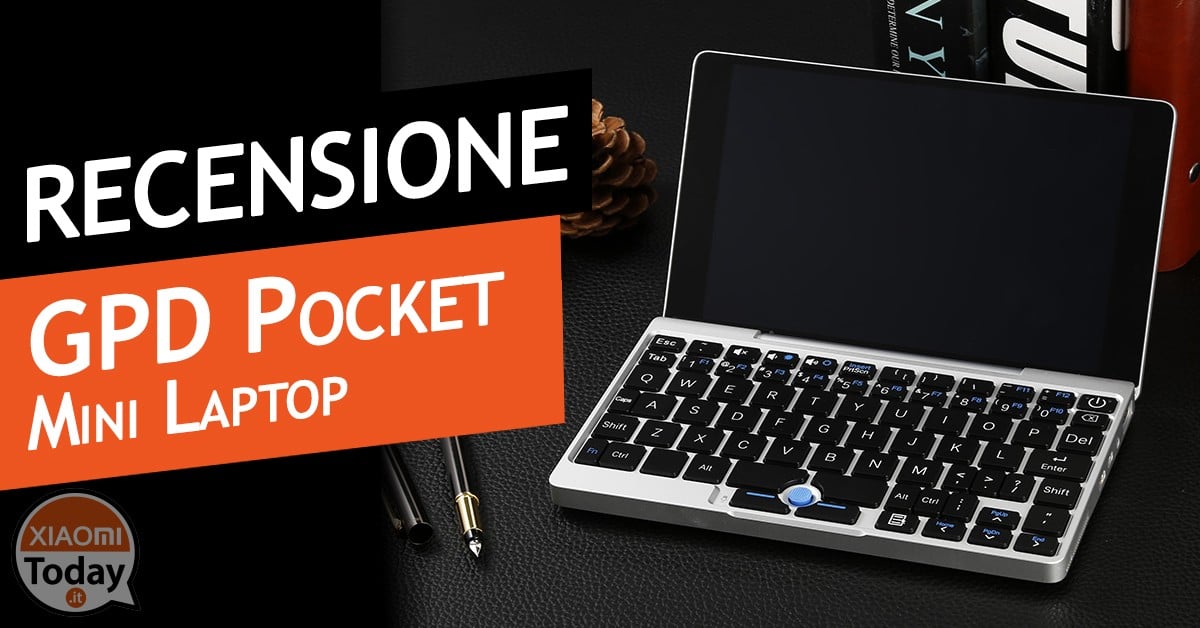 There are many alternative solutions to our desktop PC, such as 2-in-1 tablets or top-of-the-range smartphones, but they do not always manage to fulfill our requests as the former are still bulky while the others anyway poco performing not to mention the limitation at the software level. However, a solution is provided to us byGPD company than with her GPD Pocket offers a real pocket computer with Windows 10 operating system. thank Gearbest.com for sending a sample that as always reveals the store for excellence from which to buy Chinese products and offering professionalism and guarantees at a very competitive price.
I've been using GPD Pocket for several days and I was pleasantly surprised, much more than I expected. The smaller dimensions of 180 x106 x 18.5 mm for a weight of 0,480 Kg, undoubtedly conceal limits too the end result is still fulfilling.
The packaging comes in very minimal, black color with inside the small compartments that hold one network charger with 5V output - 3A / 9V - 2.67A / 12V - 2A but with Chinese attack, one Cable with Double Type-C Attachment and Chinese-language user manual as well as of course our little technological jewel.
Let's start this review starting right from the design that is very anonymous, with a square shape that looks like a small pocket diary or an old MacBook. The top and bottom panels are made of CNC magnesium alloy which give a premium and robust aspect to the small PC. The frame accommodating the keyboard is instead made of plastic as well as the profile and cover of the display hinge.
All profiles are smooth with the exception of the front where we find a small slot to open the display, operation that will still turn into two hands given the strength of the zipper and the right where we find 1 3.0 USB Port, 3.5 mm Jack Input, 1 Micro HDMI Port, USB Type-C Input and Fan Grid. On the lower profile, we also find 4 anti-slip rubber, system speaker grille and 6 hexagonal screws to remove the cover even if the components can not be updated. Once opened, the Pocket GDP is unveiled display from 7 inches and keyboard with integrated mouse.
There are no crunches, weaknesses in general or any other feeling of thinking of a cheap and low leverage product, but the GPD Pocket is solid, elegant and really well realized. IS maybe the keyboard is one of the weaknesses of this compact PC as if you thought about writing long documents or emails you might be disappointed. All the main function keys are present such as Alt, Ctrl, Shift, Windows etc .. Overall, the keyboard is well-executed and the keys return a good feed but the really compact size is a handicap, for those who do not have the same fingers as me, worse by the fact that the keys are not backlit.
Also the keyboard has the American layout settable in Italian via software but the search for accented letters as well as accented characters could create annoyances slowing down any writing work. Also the small integrated mouse works well on its job and to command it just take a little pressure on the blue silicone joypad and the two function keys that emulate those of a desktop mouse accentuate usability even if the size is reduced. It is, however External hardware solutions can be used like wireless keyboards with integrated mouse to benefit from greater productivity even if it becomes a weight and an extra accessory to carry behind.
Il display is a 7 inch multitouch IPS drive with 1900 x 1200 resolution covered by one protection Corning Gorilla Glass 3. The top and bottom frames are extremely thin giving a look to the display 16: 10. IPS technology provides us with great viewing angles, crisp colors and no opacity, and the texts are easy to read and clear even in the small size. The display has one Density of 323 PPI approaching that of a Retina Display so that any multimedia content can be fully enjoyed.
The display is also of touch type to touch 10 which is well calibrated and responsive, and if the size of the icons is small we can change them by zooming in from the display. There is no support for an active pen that would have been the icing on the cake but overall the panel mounted on the GPD Pocket is really of great quality and if I really have to find a fault I guess it does not have a front camera for video calls that might be integrated on the side frames.
The GPD Pocket integrates a port USB Type-C which will act as an attack to reload the PC or it can be exploited to attach a USB hub expand ports and features or directly to a monitor but also to transfer data. But also the door USB 3.0 can be used to connect keyboards, Internet Key, external mouse / keyboard, a DVD player, or a Hub to connect multiple devices. And if we want to expand the view of our display then we can use the micro HDMI port for connecting the GPD Pocket directly to a monitor or TV. I can not but point out the lack of a micro SD card reader that would really enriched the mini PC's connectivity, which still has a module Bluetooth 4.1 e 802.11 Wi-Fi 2.4 a / ac / b / g / n dual band 5 / XNUMX GHz which is slightly under tone.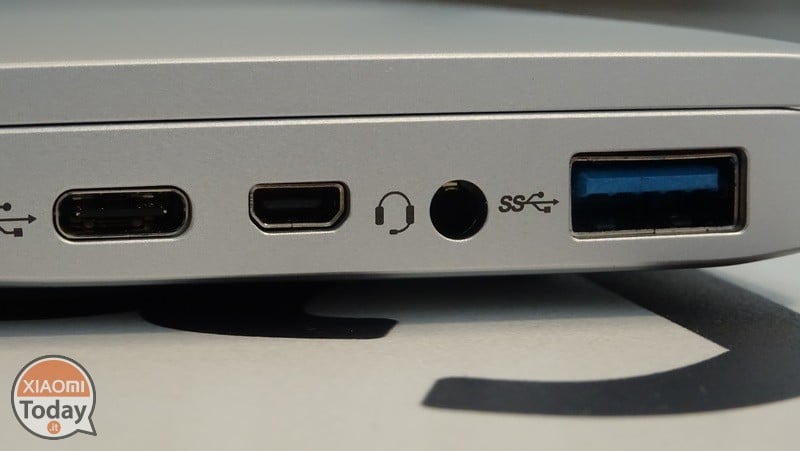 Despite the small size and the lack of a dual stereo speaker, the audio output from the single Realtek ALC5645 speaker is still of good quality, ideal for listening to music or watching them XiaomiToday.it reviews on YouTube channel but also to view our favorite TV series or movies. The sound is not bushy, but the volume is pretty good, as it sounds like it's ringing through the keyboard slits. An awesome sound but definitely better than the general average where our small PC is placed per price range.
Performance is guaranteed by a processor Intel Atom x7-Z8750 with 1.6 Ghz (Turbo 2.56 Ghz), 8 GB of RAM memory LPDDR3-1600, Graphic card Intel HD Graphics 405 200 MHz base / 600 MHz burst and one storage from 128 GB eMMC Samsung DJNB4R. The Intel Atom processor is nothing exciting but an Intel Core i5 or i7 could not be included because these processors require additional space considering the power that needs more heat dissipation needs with 3 times higher than that of an Intel To Tom.
Also the system Windows 10 Home 64 bit it is a good marriage with this processor all in all it can also be used to make video editing or photo editing. With native or downloadable applications from the Windows Store, we also do not have no problem with very fast launches. Even streaming videos on YouTube from 1080p to 60 fps are reproduced fluidly and combined with the display transform the GPD Pocket for a while into a small portable movie theater.
Also the storage on eMMC is good considering the values ​​of 142 MB / s for reading and 89.78 MB / s for writingPerhaps poco comparable to the speed of an SSD which, however, would have required much more space. Even in the gaming phase the processor performs very well and is You can connect a Bluetooth controller like that of an Xbox to increase playability. If we are stressing the CPU, such as an operating system upgrade or benchmark, the temperature starts to rise up to 40 degrees that remain in standards when compared to a laptop but far higher than when compared to a smartphone size.
Fortunately there is a small cooling fan that dissipates the heat on the right side of the PC. The fan under normal conditions of use with medium temperatures around the 32 degrees is quite silent while being more audible when the processor is under stress. Furthermore the GPD Pocket Mini Laptop can also be used in a Linux environment, with the largest distributions on the market, with full hardware compatibility.
BENCHMARK
The GPD Pocket is powered by one battery from 7000 mAh Li-Po that as stated by the manufacturer should guarantee 12 use. Unfortunately, these values ​​are so exaggerated and out of the ordinary even for a small-sized PC like the GPD Pocket that actually manages to perform around 3,5 hours of use in normal mode, that is, internet surfing, streaming video, listening to music and typing lyrics as we move on "slow-motion" mode allora consumption drops dramatically even at 2 hours. The packet is packaged fast charge but with a Chinese attack and then you will need to have an adapter, but anyway the charge from 0 to 100 takes approximately 2 hours and 15 minutes.
In conclusion the GPD Pocket is undoubtedly a novelty which could offset the price it is offered. In fact, with the same amount we can equip a notebook directly though the extreme portability of the terminal should be emphasized and can be literally inserted into the pocket of a trouser. The ways in which you can use the GPD Pocket are truly versatile. For example, it can be better than a laptop on an airplane, or on a train which, even if combined with a wireless keyboard / mouse, is more compact in size. Or it can be exploited by a business man in conjunction with his smartphone, which acts as a hotspot for navigation in 4G, taking advantage of the greater computing processing than a tablet, or comuqnue to all those people who need applications that can only run. on a PC. In short, each of us can find the right location at the GPD Pocket based on real needs. It should also be emphasized the total absence of bugs or problems in general. Perhaps this is a niche product that would have been perfect if you had already integrated an 4G LTE module for example, making it difficult to recommend this product to someone else, more so in relation to the price, but if you are interested in purchasing I remember that the GPD Pocket is available at the store Gearbest.com which is once again the most reliable and professional store to turn to for purchases.
GPD Pocket Mini Laptop
Does a PC with Windows 10 ever carry with it and that it can satisfy most of every user's daily needs? GPD Pocket Mini Laptop succeeds in this business in a really great way. Hardware and constructive quality give you a truly fulfilling and complete experience experience.
PROS
Minimal design
Constructive quality
Completeness at hardware level
Really pocket PC
Display
Audio Volume
CONS
Battery life
Keyboard too compact
Keyboard Layout
Add your review