Are you interested in OFFERS? Be smart and subscribe to our Telegram channel! Lots of discount codes, offers, pricing errors on technology from Amazon and the best online stores.
The beauty of MIUI is that it is an ever-changing interface. Just in recent weeks we have been able to see the progress of the new progress and the new features that Xoaomi has integrated in the Chinese ROM of MIUI 11, sometimes functions not essential to the western world but most of these instead decidedly interesting, therefore leaving hype between users who want to see them approved also in the global ROM.
Unfortunately we have no certain dates of when the company will release these features also for our territory but in the meantime we will refresh what will be the new 8 most interesting features that Xiaomi will add to MIUI 11 without doubt making our smartphone a more complete and functional.
1. New icons in the status bar
Much of MIUI's success is also due to the graphics and for MIUI 11 Xiaomi has renewed a good part of this, starting with the icons of the status bar. Among these we will find a new battery icon as well as a renewed warning that will inform us more visually that the battery of our device is running low.
Furthermore, if we put a call in progress in the background, a new green button will appear in the upper status bar, in which the total time of the call will be displayed and by clicking on it we could put the call itself in the foreground again. Even for multiscreen the behavior will be similar, but this time the button that will come out will be pink.
2. New multimedia notifications
This new feature is definitely linked to the design, in fact if we play a song from the Music app, Youtube or other streaming platforms such as Spotify, a shader will be added with the cover of the song in question and a new controller to jump from one point to the other of the current song.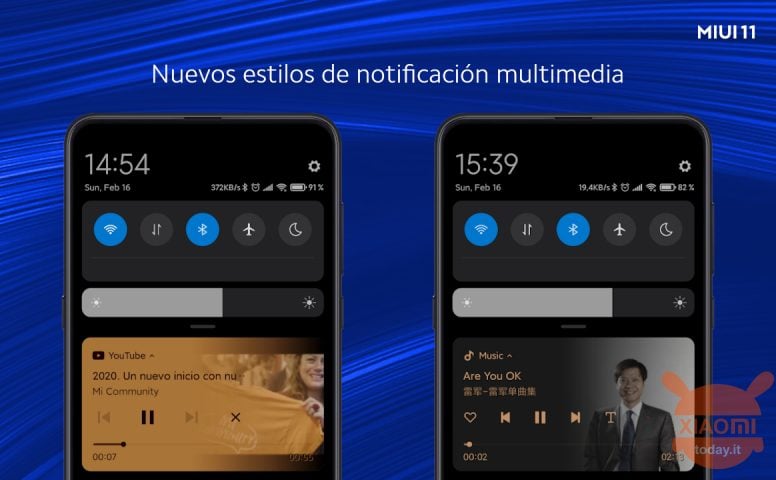 3. New screen calibration settings
With the increase in quality of the panels used on smartphones, this new function becomes necessary, which in MIUI 11 will allow us to have greater control relating to the settings of color, tone, brightness and saturation, all seasoned with a new colored graphic.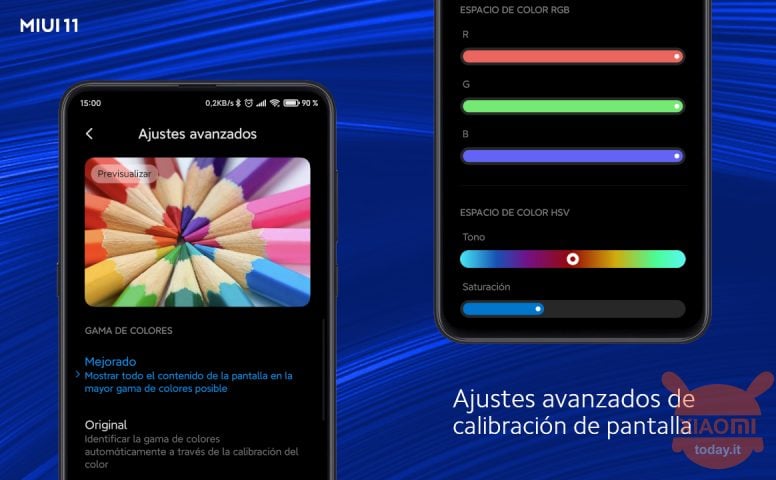 4. New more functional gallery with new effects
The MIUI 11 Gallery is also renewed, including not only a new interface as the photo album section acquires another more compact aspect, but also a Recycle Bin, without the need to synchronize our Mi Cloud account. In addition, two new filters have been added for editing images: the first, Color POP, which allows us to transform the background of our photographs into black and white, blocking the main character in color. The second filter instead will allow us in certain photos to modify the sky in our photographs.
5.

More personalization for Always On Display
And given the increasing increase in AMOLED screens, the functionality dedicated to them, that is, the Always On Display will also become much more customizable. For example, we could add custom effects, text, icons and images.
6. More security on our smartphone
We have already talked about BEHAVIOR RECORDS in this article, a new function of MIUI 11 that allows us to have greater control of applications, informing us in detail, of any authorization obtained from each of them. With this new feature Xiaomi tries to let its users know if they are really granting more permissions than necessary to a particular application.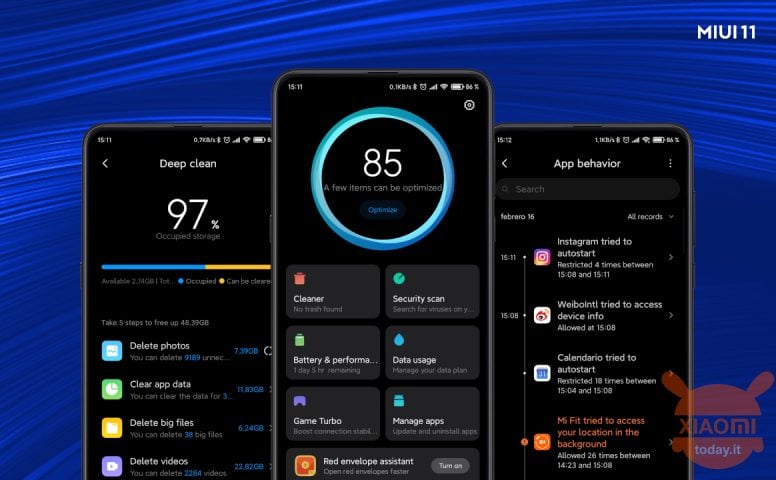 7. New graphics of the WEATHER app
The Weather application has also been renewed, now showing the weather forecast for the next days in a simpler and more intuitive way.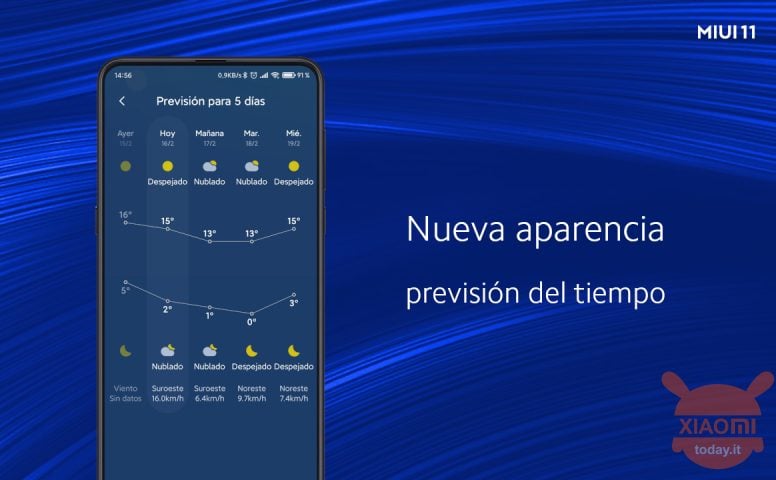 8. New animations and gestures with MIUI Launcher
Among the novelties of MIUI 11 also those dedicated to the launcher, which will allow to show a blurred effect in the background when opening folders but also a new type of APP transition gesture in the style of Android 10, choosing to have a bar or not as a guideline.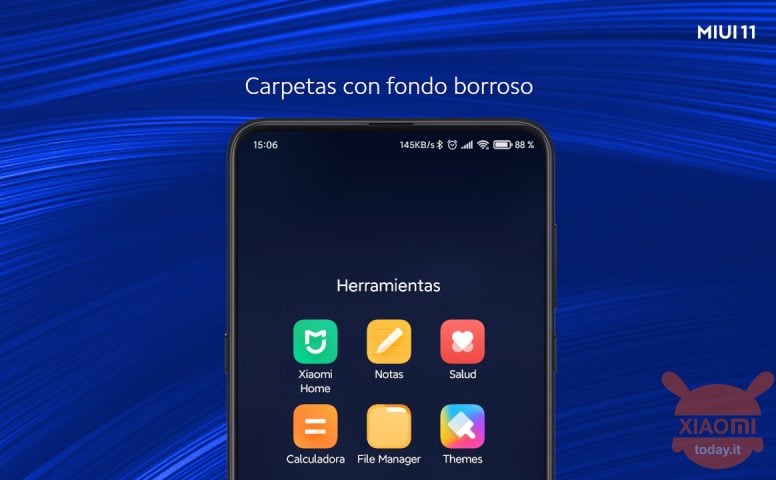 For now, as we said, it is not known exactly when these new features will arrive to the global version of MIUI 11, but we are sure that you can not wait to have them on your device, as long as you have not already resorted to Custom ROMs like the Xiaomi .eu.
Of course MIUI 11 integrates many other functions, but as mentioned many are dedicated to the Chinese version of the ROMs, such as those dedicated to the virtual assistant, with which to interact in an incredible way. And did you already know these functions?